The Lisboa Stone Arch Will Redefine Your Backyard
Searching for authentic taste and authentic cooking methods?  You deserve the Lisboa outdoor pizza oven! The Lisboa brick pizza oven is a beautiful, handmade, white brick wood-fired oven with a gorgeous stone face, handmade by generations of craftsmen in a rural village just north of Lisbon, Portugal.
Don't let the name fool you; you can cook much more than a pizza. Plus, the Lisboa oven also has the capability for spit-fire rotisserie roasting so you can have mouth-watering rotisserie chicken, turkey, lamb, and more!
You've heard the phrase "often imitated, never duplicated" before - don't be fooled by imitations that claim to be "improved" or "upgraded." The oven makers in Lisboa have been making the Lisboa ovens by hand for generations, so the love and skill are evident in their craftsmanship. Our Lisboa ovens are 100% handmade and hold the original patent for their dome shape.
Premium Hardware:
Upgraded Lisboa oven with a black NON-RUST CAST ALUMINUM Door showcasing a high-heat window pane allowing you to watch your food cook to perfection. It also includes an upgraded high-quality ALUMINUM / STAINLESS STEEL Chimney Flue system.
The Lisboa Stone Arch brick oven is built on a 3.15-inch concrete base so you only need to build 2 strong brick walls (or concrete) with each 6 inches wide, as a base for this oven.
For a limited time, when you order the Lisboa Pizza Oven, you'll also get a Free Authentic Terracotta Dish, great for cooking casseroles, chicken, fish, veggies and so much more in your wood-burning oven
Authentic Pizza Ovens is the recipient of the Best Wood-Fired Oven
Producer in the US! Awarded by LUXlife Magazine in 2022 ⭐️

Lisboa Oven Features
The patented design, which combines 100% clay, refractory cement, ROCKWOOL insulation, and a steel door, holds heat for up to 3 hours.
The patented dome shape creates intense yet non-damaging heat which is perfect for pizzas, bread, roasts, cooked dishes, grills, and others.
Can be used indoors (with proper ventilation)
6" long spout with flu/damper - a longer chimney with rain cap(shown in pictures) can be easily added
The inside of this oven has ROCKWOOL insulation, and the outside is made with refractory cement and 100% natural clay
There is no need for additional exterior insulation
Dome and floor are completely built-in refractory bricks
Retains heat, with the door closed, more than 3 hours
Keeps its superb appearance even after many years of use - can be painted, tiled, or built-in - just cure it first and use 'high heat' products
To simplify oven's shipping and prevent damages, the Lisboa oven is delivered with a wood frame protection

Lisboa Stone Arch Specifications
The patented dome of this pizza oven is perfect for authentic pizza, steak, roasts, fish, vegetables, desserts, and perfectly baked bread!
External: 39" W   x   39" D   x   31″ H
Internal: 31-33″ W x 31-33" D x 19" H
Chimney Outlet Diameter: 5.5″ ø
Chimney Outlet Height: 6" H
Oven door: 15.5" W   x   12" H
Weight: 1,200lbs
Note:  As these ovens are handmade, no two are exactly the same - the dimensions may not be exact but are close.
Productivity: 30 pizzas per hour. Cooks pizza's in 60-90 seconds and has the capacity to cook two 12″ pizzas at a time. The oven uses approximately 4-6 lbs of hardwood per hour depending on the moisture and wood type.
All Authentic Pizza Ovens brick ovens are made with steel eyelets in each corner for hoisting into place. These can be easily cut off after it's put into position.
All our ovens REQUIRE "all-weather" protection from rain, snow, sleet, and fallen leaves, and protection from harsh elements when not in use. If you don't have a cover, you can purchase one of our brick pizza oven covers that will fit snugly over your brick oven and secure with a pull tie.  You are investing in a beautiful oven that is meant to last for a very long time, so please take care of it.
Some areas of the base of the oven may appear to be chipped when you first receive it but do not worry because it is perfectly normal. It is not damaged. The base is designed to protect the oven itself especially while in transit. The chipped part can easily be painted using the Ultrafire Repair Kit once the oven has been placed in position and it will look good as new!

Your Lisboa Oven will include:
500° Celsius Thermometer (0-932°F) - know when your oven is the perfect temperature for cooking your entrees
Ultrafire Patch Kit - all of the ovens by Authentic Pizza Ovens are 100% insulated with ROCKWOOL and cracking will not affect your oven. Your oven will be delivered with a special Ultrafire product patch kit to address superficial cracks that may develop. However, it is normal for authentic handmade ovens to crack, and is considered seasoned and most desired in Europe! Cracks do NOT affect the function of the oven and your pizzas will still be marvelous!
Rotisserie Capable - you can add a rotisserie for added cooking options (spitfire rotisserie can be purchased separately)
Free Terracotta Baking Dish!

Optional Accessories We Recommend:
(Click on the image to view the product description. Each Sold Separately)
 This quick FAQ will show you how to set up your Lisboa brick oven.
The Lisboa oven also has the capability for spit-fire rotisserie roasting so you can have mouth-watering rotisserie chicken, turkey, and more! 
These ovens are one of our fastest sellers and don't last long!  Buy yours today!
Watch this video on how this Lisboa Brick Oven is masterfully built.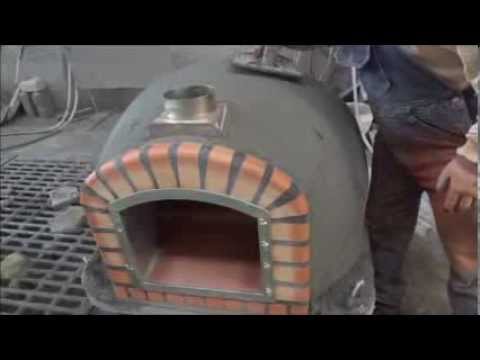 Warranty
Read Authentic Pizza Ovens Warranty here
Similar Pizza Oven Comparisons
Ventura PREMIUM Red Brick Pizza Oven
- Price: $2795.00
- Weight: 1200 lbs
- Double Dutch Door
- External dimensions: 39"W x 39″D x 31″H
- Internal dimensions: 31″W x  31″D x  19″H

- Oven door: 14.5″W x 12″H
Buena Ventura PREMIUM Black Brick Pizza Oven
- Price: $2795.00
- Weight: 1200 lbs
- Drop Down Single Door
- External dimensions: 39"W x 39″D x 26″H
- Internal dimensions: 33″W x  33″D x  15″H

- Oven door: 19.7″W x 10.6″H
Pizzaioli PREMIUM Brick Pizza Oven
- Price: $2795.00
- Weight: 1200 lbs
- Drop Down Single Door
- External dimensions: 39"W x 39″D x 25″H
- Internal dimensions: 31″W x  31″D x  15″H

- Oven door: 19.7″W x 10.6″H