Transport to Portugal with the Stone Lisboa Pizza Oven
Lisboa. The name itself rolls off the tongue, and it's befitting of a rolling, ornate city with a rich history and a storied contribution to the world of cooking. Nestled on the coast in lush Portugal, Lisbon was the artisan inspiration for this beautiful, handmade, brick oven.

What makes the Lisboa with a stone finish so great?
✓ Handcrafted artisan design
Expertly crafted in a village near Rio Maior, just north of Lisbon, this outdoor brick pizza oven combines rustic charm with jaw-dropping efficiency. You'll fall in love with the way this cooks delicious pizza at unparalleled speeds, all without sacrificing its historical styling and traditional construction.
If you want a classic pizza oven for your backyard, the Lisboa is the right choice for you. Unparalleled insulation for heat retention
The brick dome of the Lisboa outdoor pizza oven is faithful to tradition; covered with an intriguing mixture of unique masonry shapes and fitted with a sturdy, yet stylish, stone door face. The Lisboa's four layers of brick and insulation give it a unique appearance you won't find anywhere else.
✓ Cooking versatility
The Lisboa oven is surprisingly versatile, too. Equipped with a Dutch door, this oven has the capability of spit-fire rotisserie roasting much more than a pizza. Your imagination is the limit; we've seen delectable dishes that range from roasted chicken and turkey to vegetables, barbecue-inspired recipes, and so much more.
✓ Superior craftsmanship
The Lisboa's deep black, rust-resistant, and durable aluminum door is fitted with a heat-resistant window pane that gives you a front-row seat to the culinary magic that happens inside. You can watch your food roast to delicious perfection without opening the door; though we will advise you that staring at cooking food while hungry can drive you insane!
The flue chimney system on the Lisboa was designed to safely carry smoke out of the oven and up into the air, all while looking great at the same time. The aesthetic cues of the aluminum chimney were taken from classic Portuguese ovens, and that influence shows in this oven's stellar looks and amazing cooking potential. It's this world-class functionality and beautiful creative flourish that make the Lisboa one of our most popular ovens by far.
Authentic Pizza Ovens is the recipient of the Best Wood-Fired Oven
Producer in the US! Awarded by LUXlife Magazine in 2022 ⭐️

Lisboa Oven Features
Dome and floor are completely built with heat-resistant, durable refractory bricks to guarantee a long-lasting oven and perfectly cooked food.
The dome's interior is triple-insulated, keeping your fire's heat contained within the oven. The outside of the dome is covered with refractory cement and 100% natural clay decorated with eye-catching stones that both look great and keep your oven hot.
The Lisboa can reach temperatures of up to 1000 degrees, making it perfectly suited to countless dishes. The Lisboa can handle pizza at 700 degrees, pies at 300, and beautiful chars at 900.
Built with its own 3.15-inch concrete base so you only need to build two strong brick or concrete walls (each minimum of 6 inches wide), to hold the Lisboa oven.

Lisboa Stone Finish Oven Measurements:
External: 39" W   x   39" D   x   31″ H
Internal: 31-33″ W x 31-33" D x 19" H
Chimney Outlet Diameter: 5.5″ ø
Chimney Outlet Height: 6" H
Oven door: 15" W   x   12" H
Weight: 1,600 lbs
Note: As these ovens are handmade, no two are exactly the same - the dimensions may not be exact but are close.
Productivity: 30 pizzas per hour. Cooks pizza's in 60-90 seconds and has the capacity to cook two 12″ pizzas at a time. The oven uses approximately 4-6 lbs of hardwood per hour depending on the moisture and wood type.
All Authentic Pizza Ovens brick ovens are made with steel eyelets in each corner for hoisting into place. These can be easily cut off after it's put into position.
All our ovens REQUIRE "all-weather" protection from rain, snow, sleet, and fallen leaves, and protection from harsh elements when not in use. If you don't have a cover, you can purchase one of our brick pizza oven covers that will fit snugly over your brick oven and secure with a pull tie.  You are investing in a beautiful oven that is meant to last for a very long time, so please take care of it. 
Some areas of the base of the oven may appear to be chipped when you first receive it but do not worry because it is perfectly normal. It is not damaged. The base is designed to protect the oven itself especially while in transit. The chipped part can easily be painted using the Ultrafire Repair Kit once the oven has been placed in position and it will look good as new!

What's included?
500° Celsius Thermometer (0-932°F) - This Celsius thermometer was designed for overall measurements of your oven's temperatures, giving you peace of mind by ensuring your oven has reached the optimum temperature for any dish you want to cook inside of it.
Terracotta Baking Dish - Capable of far more than just pizza, the Lisboa includes a durable and heat-distributing terracotta dish suited to roasting and baking of just about anything that you can imagine.
Rotisserie-ready - (spit/rotisserie can be purchased separately) The Lisboa has a small divot in the back of the oven, making rotisserie cooking as simple as placing the skewer in the oven.

Optional Accessories We Recommend:
(Click on the image to view the product description. Each Sold Separately)
 This quick FAQ will show you how to setup your Lisboa brick oven.
Concerned about how to move the brick oven into place?  Read this blog post showing options for moving a heavy oven.
Videos
Watch this video to see how the traditional brick ovens are handmade in Portugal.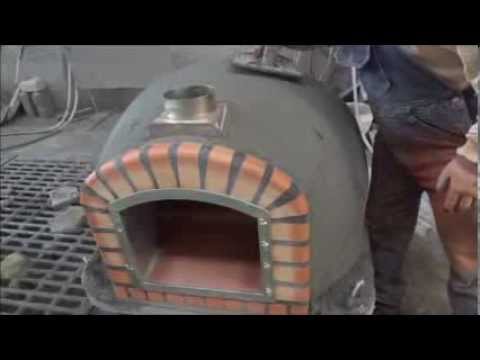 Warranty
Read Authentic Pizza Ovens Warranty here
Similar Pizza Oven Comparisons
Ventura PREMIUM Red Brick Pizza Oven
- Weight: 1200 lbs

- Double Dutch Door
- External dimensions: 39"W x 39″D x 31″H
- Internal dimensions: 31″W x  31″D x  19″H

- Oven door: 14.5″W x 12″H
Buena Ventura PREMIUM Black Brick Pizza Oven
- Weight: 1200 lbs

- Drop Down Single Door
- External dimensions: 39"W x 39″D x 26″H
- Internal dimensions: 33″W x  33″D x  15″H

- Oven door: 19.7″W x 10.6″H
Pizzaioli PREMIUM Brick Pizza Oven
- Weight: 1200 lbs

- Drop Down Single Door
- External dimensions: 39"W x 39″D x 25″H
- Internal dimensions: 31″W x  31″D x  15″H

- Oven door: 19.7″W x 10.6″H