Pizzaioli Brick Oven with Stone Arch
Imagine sitting on the porch this summer, sipping brandy, while your meal is infused with amazing smoked flavoring in your new wood-fired oven. The authentic Pizzaioli is 100% hand-made with a patented design in Lisbon, Portugal, and cooks up to two 12" pizza pies in 90 seconds! 
Premium Hardware:
Upgraded Pizzaioli oven with a black NON-RUST CAST ALUMINUM door showcasing a high-heat window pane allowing you to watch your food cook to perfection. It also includes an upgraded high-quality NON-RUST CAST ALUMINUM / STAINLESS STEEL chimney flue system.
The Pizzaioli Premium oven was built on a 3.15-inch concrete base so you only need to build 2 strong concrete or brick walls with each 6 inches wide, as a base for this brick oven.
For a limited time, when you order the Lisboa Pizza Oven, you'll also get a Free Authentic Terracotta Dish, great for cooking casseroles, chicken, fish, veggies and so much more in your wood-burning oven
Authentic Pizza Ovens is the recipient of the Best Wood-Fired Oven
Producer in the US! Awarded by LUXlife Magazine in 2022 ⭐️

Pizzaioli Oven Features
The Pizzaioli handmade brick oven comes straight from Portugal and is our number one traditional outdoor kitchen pizza oven choice!  
The lower dome of this outdoor pizza oven assures more direct heat reflection to the oven floor and the wider mouth of the Pizzaioli makes it ideal for your larger pizzas.
The door of the Pizzaioli opens down making it easier to put food into and take out of the oven. 
The oven is triple insulated under the stone which means the outside of the oven is cool to the touch while the inside is blazing hot!
6" long spout with flu/damper - a longer chimney with rain capcan be easily added to move smoke away from you and protect the oven from rain
The oven's exterior may be painted or tiled to match your specific color and/or design needs.
The patented dome shape of the Pizzaioli creates intense yet non-damaging heat which is perfect for pizzas, bread, roasts, cooked dishes, grills, and others.
Can be used outdoor and indoor (with proper ventilation)
Dome and floor are completely built in refractory bricks
Retains heat, with the door closed, more than 3 hours
Keeps its superb appearance even after many years of use
To simplify oven's shipping and prevent damages, the Pizzaioli oven is delivered with a wood frame protection
Oven uses approx. 5-6 lbs of wood per hour depending upon moisture and wood type. Aromatic hardwoods are recommended (pecan, walnut, apple, mesquite).

Pizzaioli Stone Arch Specifications:
External Dimensions: 39" W x 39" D x 26" H
Internal Dimensions: 31-33" W x 31-33" D x 15" H
Chimney Outlet Diameter: 5.5″ ø
Chimney Outlet Height: 6" H
Oven Door: 19.7" W x 10.6" H
Weight: 1,200 lbs
Note:  As these ovens are handmade, no two are exactly the same - the dimensions may not be exact but are close.
Productivity: 30 pizzas per hour. Cooks pizza's in 60-90 seconds and has the capacity to cook two 12″ pizzas at a time. The oven uses approximately 4-6 lbs of hardwood per hour depending on the moisture and wood type.
All Authentic Pizza Ovens brick ovens are made with steel eyelets in each corner for hoisting into place. These can be easily cut off after it's put into position.
All our ovens REQUIRE "all-weather" protection from rain, snow, sleet, and fallen leaves, and protection from harsh elements when not in use. If you don't have a cover, you can purchase one of our brick pizza oven covers that will fit snugly over your brick oven and secure with a pull tie.  You are investing in a beautiful oven that is meant to last for a very long time, so please take care of it.
Some areas of the base of the oven may appear to be chipped when you first receive it but do not worry because it is perfectly normal. It is not damaged. The base is designed to protect the oven itself especially while in transit. The chipped part can easily be painted using the Ultrafire Repair Kit once the oven has been placed in position and it will look good as new!

Included for FREE with your Pizzaioli:
500° Celsius Thermometer (0-932°F) - know when your oven is the right temperature for cooking your authentic pizzas
Ultrafire Patch Kit - all of the ovens by Authentic Pizza Ovens are 100% insulated with ROCKWOOL and cracking will not affect your oven. Your oven will be delivered with a special Ultrafire product patch kit to address superficial cracks that may develop. However, it is normal for authentic handmade ovens to crack, and is considered seasoned and most desired in Europe! Cracks do NOT affect the function of the oven and your pizzas will still be marvelous!
Authentic Clay Roasting Ceramic Dish - perfect for baking!

Optional Accessories We Recommend:
(Click on the image to view the product description. Each Sold Separately)
 This quick FAQ will show you how to set up your Pizzaioli brick oven.
Don't delay - scroll back and click "add to cart" today before they sell out again! 
Not only can the patented dome-shaped pizza oven bake delicious pizza and bread loaves, but it can also be used for cooking steak, fish, roasts, stews, and vegetables. 
The design of the Portuguese Pizzaioli brick oven allows for the entire oven to heat perfectly so there are no cold areas because the bricks radiate heat inside the oven at every possible angle.
Watch this video on how this Brick Oven is masterfully built (the video shows the Lisboa Mediterranean design front but the patented construction is the same for the Pizzaioli)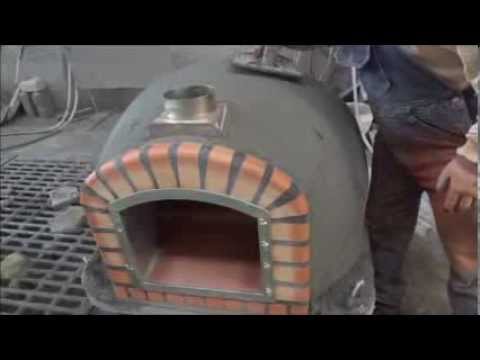 Authentic Pizza Ovens - Unique and Authentic!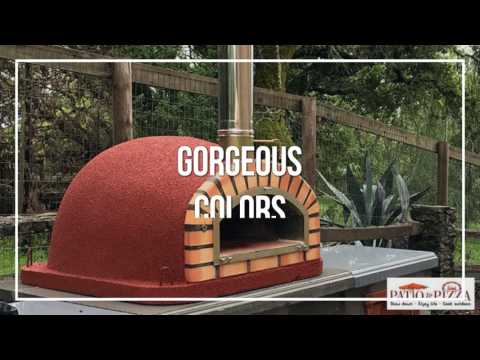 Warranty
Read Authentic Pizza Ovens Warranty here