Experience True Authentic Cooking with the Rustic Brick Oven
Countless tales have been told about the best backyards in history, whether they're because of beautifully manicured lawns, topiary, or impressive orchards of trees. What we don't often hear about, though, is the backyard that beats them all. No matter how many hours you spend trimming hedges and painting fences, no backyard will match the nonstop party of a yard with its own brick pizza oven.
Cookouts for days, delicious food for weeks, and memories that will last a lifetime all come with the territory of a backyard brick oven, and now that show-stopping potential can be all yours with the Pizzaioli Rustic Pizza Oven. 
Authentic Pizza Ovens is the recipient of the Best Wood-Fired Oven
Producer in the US! Awarded by LUXlife Magazine in 2022 ⭐️
What makes the Rustic so great?
✓ Premium Hardware
Upgraded Pizzaioli oven with a black NON-RUST ALUMINUM Door showcasing a high-heat window pane allowing you to watch your food cook to perfection and a high-quality ALUMINUM Chimney Flue. The Pizzaioli brick oven's patented design combines 100% clay, refractory cement, and ROCKWOOL insulation. The Pizzaioli pull-down door has a high-heat window pane allowing you to watch your food cook to perfection.
✓ Sturdy standards
Triple-layered Rockwool insulation, 100% clay refractory cement, and a healthy dose of traditional love hold this oven together in a design that will stand the test of heat and time. Non-rust components on metal pieces, like the aluminum door, give you peace of mind that everything on the Rustic will last for as long as you're around to keep cooking inside of it.
The Pizzaioli Rustic brick oven is built on a 3.15-inch concrete base so you only need to build 2 strong brick walls(or concrete) with each 6 inches wide, as a base for this oven.
✓ Blazing-fast cook times
Capable of baking two pizzas to perfection in just 90 seconds, the Rustic guarantees you can keep a hungry pack satisfied, whether it's your family, a party, or a cookout that's gotten out of control. The revolutionary dome design traps heat inside the dome in a manner that keeps things toasty on the inside without needlessly burning the food you've placed on the cooking floor.
The Rustic holds onto heat for as long as 3 hours with its door shut, letting you walk away from the oven without worrying your cooking temperature will sink like a rock.
✓ Timeless style
What's old is new, and the Rustic is here to prove that once and for all. Constructed out of a traditionally-influenced brick exterior paired with the modern capabilities of refractory mason and aluminum, the Rustic is an oven capable of adding classic charm to any space without sacrificing quality or expediency.
Built brick by brick by Portuguese craftsmen, the Rustic is exactly what any outdoor space needs to truly become unique. What is it about the Rustic that makes it a must-have for any enthusiast of outdoor space or delicious food? Read on to find out!
Nothing complements an outdoor space and its array of earth tones, grays, and wood finishes like classic red brick. The Rustic breathes an air of comfort into any location you place it, whether it's on a countertop on your patio, or in a stand on the corner of your outdoor living space. Touches of black and silver aluminum keep the oven looking modern, but not futuristic, making it a great choice for just about any home.
For a limited time, when you order the Lisboa Pizza Oven, you'll also get a FREE authentic terracotta dish, great for cooking casseroles, chicken, fish, veggies and so much more in your wood-burning oven

Pizzaioli Oven Features
The Rustic brick oven is handmade near Lisbon, Portugal and is becoming a favorite choice of outdoor kitchen pizza ovens!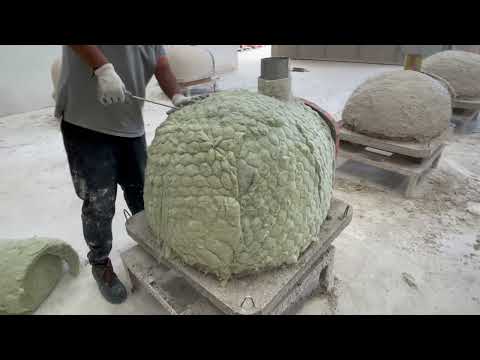 The door opens down making it easier to put food into and take out of the oven. 
The oven is triple insulated which means the outside of the oven is cool to the touch while the inside is blazing hot!
6" long stainless steel spout with flu/damper - a 39" chimney with rain capcan be easily added to move smoke away from you and protect the oven from rain
The patented dome shape creates intense yet non-damaging heat which is perfect for pizzas, bread, roasts, cooked dishes, grills, and others.
Dome and floor are completely built in refractory bricks
Retains heat very well, with the door closed, more than 3 hours
Keeps its superb appearance even after many years of use
The Rustic brick oven is delivered with a wood frame crate to protect it during shipping

Pizzaioli Rustic Specifications:
External Dimensions: 43" W x 43" D x 32" H
Internal Dimensions: 31-33" W x 31-33" D x 15" H
Chimney Outlet Diameter: 5.5″ ø
Chimney Outlet Height: 6" H
Oven Door: 19.7" W x 10.6" H
Weight: 1,800 lbs
Note:  As these ovens are handmade, no two are exactly the same - the dimensions may not be exact but are close.
Productivity: 30 pizzas per hour. Cooks pizza's in 60-90 seconds and has the capacity to cook two 12″ pizzas at a time. The oven uses approximately 4-6 lbs of hardwood per hour depending on the moisture and wood type.
All Authentic Pizza Ovens brick ovens are made with steel eyelets in each corner for hoisting into place. These can be easily cut off after it's put into position.
All our ovens REQUIRE "all-weather" protection from rain, snow, sleet, and fallen leaves, and protection from harsh elements when not in use. If you don't have a cover, you can purchase one of our brick pizza oven covers that will fit snugly over your brick oven and secure with a pull tie.  You are investing in a beautiful oven that is meant to last for a very long time, so please take care of it.
Some areas of the base of the oven may appear to be chipped when you first receive it but do not worry because it is perfectly normal. It is not damaged. The base is designed to protect the oven itself especially while in transit. The chipped part can easily be painted using the Ultrafire Repair Kit once the oven has been placed in position and it will look good as new!

Included with your Rustic Oven:
500° Celsius Thermometer (0-932°F) - know when your oven is the right temperature for cooking your authentic pizzas
Mortar Patch Kit - all of the ovens by Authentic Pizza Ovens are 100% insulated with ROCKWOOL and cracking will not affect your oven. Your oven will be delivered with a special Ultrafire product patch kit to address superficial cracks that may develop. However, it is normal for authentic handmade ovens to crack, and is considered seasoned and most desired in Europe! Cracks do NOT affect the function of the oven and your pizzas will still be marvelous!
Authentic Clay Roasting Ceramic Dish - perfect for baking!

Optional Accessories We Recommend:
(Click on the image to view the product description. Each Sold Separately)
 This quick FAQ will show you how to setup your Rustic brick oven.
Don't delay - scroll back and click "add to cart" today before they sell out! 
Warranty
Read Authentic Pizza Ovens Warranty here
Similar Brick Pizza Oven Comparisons
Ventura PREMIUM Red Brick Pizza Oven
- Weight: 1200 lbs

- Double Dutch Door
- External dimensions: 39"W x 39″D x 31″H
- Internal dimensions: 31″W x  31″D x  19″H

- Oven door: 14.5″W x 12″H
Buena Ventura PREMIUM Black Brick Pizza Oven
- Weight: 1200 lbs

- Drop Down Single Door
- External dimensions: 39"W x 39″D x 26″H
- Internal dimensions: 33″W x  33″D x  15″H

- Oven door: 19.7″W x 10.6″H
Pizzaioli PREMIUM Brick Pizza Oven
- Weight: 1100 lbs

- Drop Down Single Door
- External dimensions: 39"W x 39″D x 25″H
- Internal dimensions: 31″W x  31″D x  15″H

- Oven door: 19.7″W x 10.6″H