Whether you're an avid entertainer, or if you're raising a pack of hungry wolf-children, a DIY pizza oven is a fantastic project that will last for years, provide countless hours of entertainment and meals, and add value to your home.  A great example is the brick oven below built by a Chicago Brick Oven customer.
Once you build your own outdoor pizza oven, your yard will become nothing less than a social mecca. Moreover, you'll be able to enjoy with your family and friends a combined pleasure of pizza, outdoors, and the unique experience of a wood fire. Whenever you throw a party for any gathering at your home – everyone will be crazy about quick-baked pizza with the super delicious flavors of maple, ash, oak, beech, or birch wood smoke.

A residential brick oven is a home addition that will pay for itself in no time in the form of a comforting fire hearth, delicious home-cooked meals, and an impressive showcase if you ever decide to sell your home.

 Constructing a sturdy and sound brick pizza oven isn't the simplest thing to build in the world, however. The challenge of building a masonry pizza oven comes from the necessity of a consistent, yet very hot, source of flame, according to Giordano's. We get asked all the time about how to build an indoor or outdoor brick oven.

Before setting out on the challenge, here's a bit of a reference guide on the steps you need to take to build your own pizza oven before breaking ground, and a short summary of what the construction process looks like.
What Do You Need To Build A Brick Oven?
The right location. Any information on how to build a brick oven would be incomplete if it didn't include some consideration of location. After all, a brick pizza oven is a permanent fixture; it's not an easy task to pick up a structure weighing hundreds of pounds and attached by concrete to the ground.

The task of finding the right place for your new brick pizza oven can be made simpler by considering a few factors. 

Who will be using it?  Do you want it indoors, near the patio or in an outdoor kitchen area? Perhaps maybe closer to another feature like a pond or garden? 

Think about what you will need for prep every time you are cooking in your oven so serving is easier. Will you need water or lighting near the oven?  What about if it rains?

You should also think about the overall appearance of your oven, and how well it will fit into its surroundings like the color or material of your home.

Permitting. Check your local ordinance codes and apply for a permit in your jurisdiction if one is necessary.  You must check your local permitting department to determine if there are any restrictions for building your dream outdoor pizza oven. 

If you are living in a property that is controlled by a homeowner's association (HOA), you may need clearance before proceeding with the project. In some cases, your county or city may not have a category for a pizza oven. In these cases, a permit for an outdoor fireplace usually works fine.

Tools and Materials. 
There are lots of variations in tools for building your outdoor pizza oven. It basically depends on the design and the materials you choose to work with. But these are the common hand and power tools necessary for every pizza oven build.

• Heavy-duty buckets to mix the mortar.
• Mixer drill with a paddle attachment to mix the mortar.
• Handheld circular saw that can cut brick and stones
• Hammer and chisel
• Vent piping and cap
• Wire brush

Other basic construction tools like a spirit level and shovels, and those needed for concrete construction like a mobile mixer and some kind of straight level are recommended.

Depending on the type of oven you are building, the most common materials include:

• Concrete or mortar
• High-temperature mortar or fireclay mortar
• Natural stone
• Bricks
• Refractory fire bricks
• Roof underlayment
• Roofing sealant
• Vermiculite
• Rebar mesh
• Gravel
• Ceramic fiber blanket

Time. Double the amount of time you think it will take to build your oven.  While some parts of the process may be accomplished quicker than you think, others will take much longer. Most pizza oven plans will give you an estimation of build time.

It's important to remember that the actual construction process of a brick oven is very time-consuming. Even if you can afford to devote all of your time and energy to the project for a while, parts of the project involve curing and drying which takes days at a minimum. It's also a realistic assumption that you may need to work around weather issues so prepare ahead of time for a lengthy building process. 

Budget. You will need to know how much money you have to invest in your new pizza oven.

 In regards of the cost:
a) There will be your initial estimate;
b) There will be the amount you'll tell your wife;
c) To know the final cost, multiply "a" by 2;
d) Don't tell your wife about either "a," or "c"

Seriously, check the pricing for locally sourced materials to determine how much it costs to build a pizza oven in your area. 

The table below gives a general estimate of what it might cost for an experienced contractor to build a custom brick oven.

Small brick oven:  $3,000 - $6000
Medium brick oven:  $6,000 - $10,000
Large or commercial brick oven: $10,000 - $25,000

The price of building a pizza oven yourself ranges greatly depending on the oven size, shape, materials used, and your masonry experience.
The Construction Process
Once you've assembled your materials and made a plan for your oven design, make sure you've educated yourself on the properties of the material you'll be using.

Since true refractory material is designed to be laid tight, most brick and mortar installations call for the thinnest joints possible. It takes time and practice along with a good sense of construction experience and knowledge to maintain tight joints throughout the oven.

Building the Base.
Whether you build your own dome or buy a ready-made pizza oven insert, you will need a solid base for your pizza oven.

• Make sure you build the base on a sturdy surface that won't move. The safest way would be to have a concrete slab reinforced with rebar mesh.

• In this case, a concrete block is preferred because the base has to support a few thousand pounds of stone, brick, and mortar.

• If you are designing everything on your own, make sure you design a perfect ratio between the height and base. Also, make sure you keep enough space for the oven door placement while designing.

Note: if you buy an insert, there will be guidelines for how tall and wide the base needs to be in the manufacturer specs.

When you're ready to break ground, you'll start with digging out a base for your concrete foundation. How deep this foundation is depends on a number of factors, including the area's climate, and the softness of your soil.

It may be tempting to pour concrete directly into your dig, but a dreaded cracked foundation is best avoided by putting down a level layer of gravel and a grid of rebar before pouring. This will help keep your foundation intact for years, and able to support a heavy brick oven on top of it.
For more in-depth base information, check out our blog post on Building a Pizza Oven Base. After the foundation is set, you'll be spending the remainder of your time adding bricks layer by layer.

Building the Oven Dome. There are two options for you, you can build a dome or simply buy a ready-made insert for your DIY pizza oven. Both these options will totally depend on the range of your budget and DIY chops.
If you've never built a brick pizza oven from scratch before, this will be the most daunting task. If any part of this process goes wrong, the consequences could range from cracks in your oven, poor circulation resulting in undercooked or burnt pizza (and a lot of smoke in your yard), or worst of all: A collapsed oven.

There are a lot of factors to consider when designing your oven.  These include the height  and width of the dome, the size of the tunnel, the thickness of the mortar joints and the size of  bricks you are using.  The traditional pizza ovens are dome but there are styles like an igloo or airplane hangar-shaped form. 


The height of the dome and door dimensions both affect heating and air circulation so make sure those measurements are correct when building your dome. A good rule of thumb is to make the dome height 3/4th the width.

Build a Sand Base: You can create a uniformly shaped dome, even if you are not a veteran stonemason, by creating a sand base first. Build a dome with mason's sand in the shape you want. To keep its shape, you may need to dampen the sand occasionally. Now around your sand mold – form the masonry dome using fire bricks and refractory mortar. Next dig out the solid sand once the masonry is completely set.

Use a Dummy Insert to Build: It's really hard to build flawless arches and vaults using a sand base but there is a way to solve this problem! You can buy a ready-made dummy form and now you can easily make your oven vault with refractory mortar and firebricks. Once the mortar is set, finish it by sliding the Styrofoam form and see the masonry vault.
Pizza Oven DIY Kits
There are a lot of reasons why you might want to build your own pizza oven. Maybe you're an avid do-it-yourselfer and you're looking for a new project, or maybe you just really love pizza and want to make the best pies possible.
Whatever your reason, building your own pizza oven can definitely be a rewarding experience. But before you decide to take on the challenge, it's worth considering whether using a kit might be a better option. Here are four reasons why DIY pizza oven kits might be the better option for you.
4 Reasons To Use A Pizza Oven Kit
Ease of use

Increased safety

Time savings

Lower cost
1. Ease of use
One of the big advantages of using a pizza oven kit is that they are typically much easier to build than a traditional DIY oven. This is because the kits come with detailed instructions and all of the necessary components, so you don't have to worry about figuring out how everything goes together. This can be a big plus if you're not particularly experienced with home improvement projects. 

2. Increased safety
Pizza ovens can be quite dangerous to build, especially if you're not familiar with how they work. This is why using a kit can be a safer option, as the kits come with all of the necessary components and detailed instructions to help you stay safe while you're building your oven.

3. Time savings
Building your own pizza oven can be a time-consuming project, especially if you're not familiar with the amount of time each brick oven layer takes to dry. This is another reason why using a kit can be a good option, as the masonry pizza oven kits come already built and are designed to be as easy to use complete. This can help you save time and avoid frustration while you're building your oven. 

4. Lower cost
Building your own pizza oven can be a costly project, especially if you need to buy all of the materials yourself. This is another reason why using a kit can be a good option, since they include the components you need to build an oven capable of the steady, evenly convected blaze that an authentic pizza needs to let its flavor shine through.

So, if you're considering building your own pizza oven, it's worth considering whether a kit might be the better option for you. Kits are typically easier to use and come with all of the necessary components and instructions, which can help make the process easier and safer. They can also be a more cost-effective option, as you don't need to purchase all of the materials yourself.
By starting with a kit like the Belforno 36 above, you'll have the perfectly engineered oven dome for the final pizza oven design. Each kit will come with the exact instructions to build your oven so you can take the guesswork out of your DIY project.  If building indoors, you will want to use a brick oven kit that is certified for indoor use.

For the ultimate entertaining space, there are also prefabricated outdoor fireplaces with pizza ovens! These DIY components allow you to create a beautiful focal point in a day rather than a month.
The fireplace with the built-in brick pizza oven above is by Round Grove Products.
When you are ready. There are many styles of oven kits in varying shapes and sizes that you can finish with the material of choice.  Finding one that works for your outdoor kitchen and budget shouldn't be a struggle!
Building kits for success. Though we aren't ones to make assumptions, it's statistically likely you aren't a tenth-generation Neapolitan mason; and that's okay! An enthusiasm for DIY construction is enough to fuel your drive for this project, but a pizza oven's design is the culmination of centuries' worth of baking pies.

Avoid unnecessary planning.  Building the entire thing yourself is a process fraught with potential pitfalls, since it entails constructing the vital dome oven top yourself, as generations of oven builders have done for centuries.

Finding a DIY kit that comes with exhaustive instructions, essential tools for the finished project, and most importantly, an oven base that's modeled carefully after efficient and time-proven design for an optimal pizza oven setup will let you focus on building the oven, instead of how to design the oven.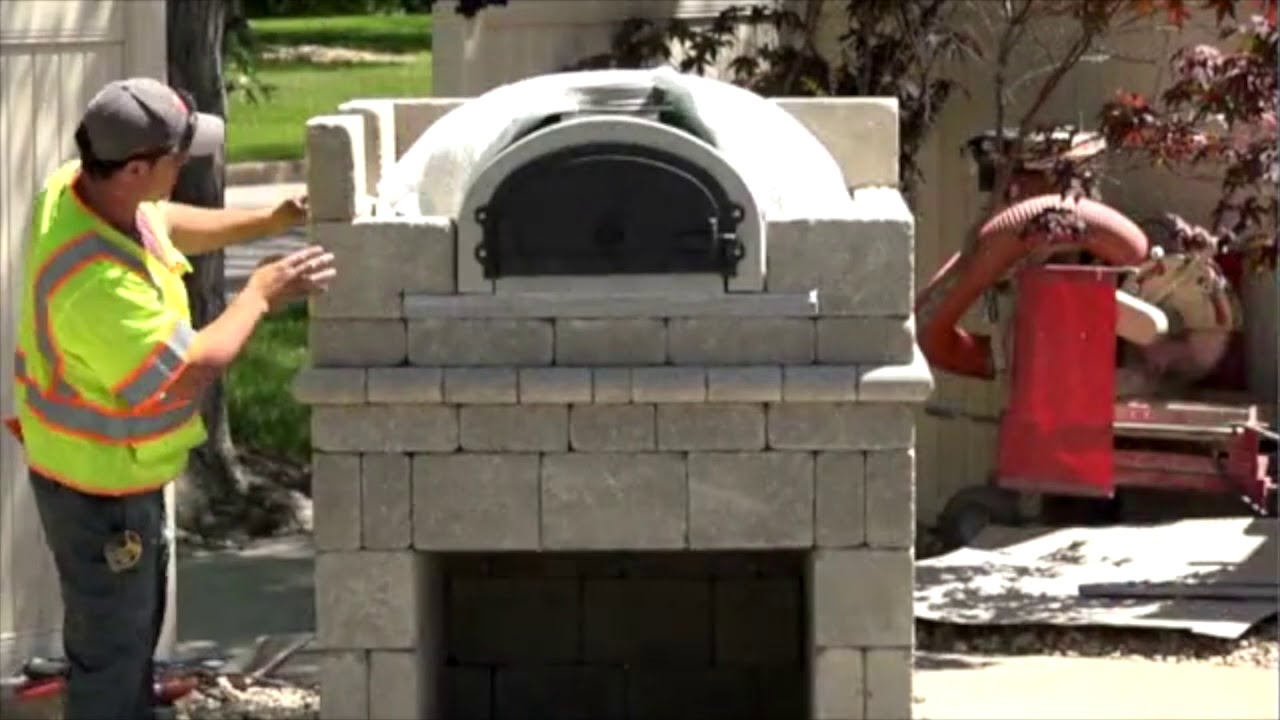 Choosing the right kit
Aesthetic considerations

Questions to ask yourself before starting this project should also include those about what you want your homemade pizza oven to look like when it's finished. Depending on where you'd like to put your oven, whether or not you'd like to add artistic touches in the form of paints, stains, or tiles, and how large it should be, your decision on what the oven should look like can change.
The easiest method is to begin with an outdoor pizza oven kit, as DIY network points out. Fortunately, there's no shortage of DIY pizza oven kits available in varying sizes, dome shapes, and support for varying kinds of masonry that can be used to build the roof and foundation of the oven.


As an example, the CBO-750 pizza oven kit comes with everything you need to complete the oven. This includes the Insulating Board, Insulating Blanket, Anchor Plate, and Mortar as shown below.
Other kits may require you to purchase the mortar and insulating materials locally. The right DIY kit should give you ample opportunity to tweak its superficial design to something that will look great, and more importantly, still cook great.

If you want an outdoor fireplace and pizza oven, you can still find kits that allow you to build both in a fraction of time.

Stone and Brick Work for The DIY Pizza Oven

You've already done the major works and now the fun time starts. Now the beauty of the oven's façade totally depends on your masonry skills and thought power.

Some DIYers cover their oven dome with refractory cement and stucco, that's it. But you can increase your creativity by building a domed, flat, or gabled roof on top of your oven.

Design the front side of your oven with bricks. You can also use the combination of brick and stone and that will also give an old-world look as well.

Important notes to keep in mind while designing the façade:
• The main thing you'll need for the dome and floor of the oven is refractory mortar and firebricks. However, you can use quality bricks and mortar.

• Make sure you leave space for the chimney. You must attach and seal it before starting masonry work.

• If you notice some space between the oven dome and the façade – use mild, non-flammable vermiculite to fill the space.


Wood or gas-fired?
The question of the century. Purists, like the industry experts at Chicago Brick Oven, will say that true pizza is cooked over a wood fire. That said, they also admit that a gas-fired oven has the advantages of maintaining the temperature inside the oven without constantly tending to a fire. This may be a valid concern if you're attempting to be a party host with the most or are chasing down crazed children on the loose before dinnertime.
When it comes down to it, however, your decision won't jeopardize the choices in DIY kits available to you. The wide variety of shapes and sizes that DIY pizza oven kits offer also extend to variations in gas (NG or Propane) or wood-fired designs that offer the same attention to detail, tradition, and enjoyable home use regardless of how it gets hot.

That being said, if you go with gas, try not to invite a Neopolitan over for your 4th of July party.

If a DIY project just isn't for you, don't fret because there is always another option!
Installing a prefabricated brick oven
A handmade, brick pizza oven can be installed with a fraction of the labor involved in building it yourself and comes with a fraction of potential pitfalls. Don't worry, you are definitely not cheating by not making on yourself! You'll still need to site your new oven, build a sturdy foundation, and make customizations so that it will fit your home and yard.
When starting with an oven that was already built for you, you simply put it in place and build it in.

What Do You Need To Do Next?

If you're ready to start a project that will let you, your family, and your dog spend countless hours outdoors cooking great food, then let us help you get the process started with one of our industry-standard DIY pizza oven kits. You'll thank us when the kids stop asking for delivery.

Or, if you've decided a DIY project is too much, we also offer prefabricated, handmade pizza ovens. We have a large eclectic selection of ovens to match your taste, needs, and budget.

At the end of the process, you'll have an awesome new centerpiece to your yard, delicious pizza, and a un-broken back.

As the Italians might say, benissimo!

Note: All CBO images were provided by Chicago Brick Ovens.