Have you ever wondered how those big, beautiful outdoor brick ovens are built? Well, we took a trip to Rio Maior, Portugal where we took a closer look at what it takes for a true artisan to build an authentic outdoor brick oven.
From the initial planning stages to the final product, we'll share all the nuances of these amazing ovens in this post. So whether you're a budding pizza enthusiast or just curious about how these brick ovens are made, read on for everything you need to know!
What is a Fire Brick?
The name "fire brick" may conjure images of traditional red clay bricks but this specialized brick, also known as a refractory brick, is made from heat-resistant materials such as fire clay and alumina. These bricks are able to withstand extremely high temperatures, making them essential for use in brick ovens. The fire brick lining the inside of an oven helps to retain and evenly distribute heat, allowing for more precise cooking control.
In comparison, regular clay bricks can crack or even explode when exposed to high temperatures. Along with their heat resistant properties, fire bricks also have excellent insulating qualities and can be used in fireplaces, furnaces, and boilers. 
Portuguese Fire Bricks
Have you ever noticed that the fire bricks used in wood-fired ovens often have three holes in them? These unique bricks, known as Portuguese fire bricks, are specially designed for optimal heat distribution.
These holes serve an important purpose for brick makers and brick layers alike. The first hole allows steam to escape during the manufacturing process, preventing the brick from exploding in the kiln. The second and third holes allow air to circulate more efficiently, increasing the effectiveness and lifespan of a brick oven or fireplace.
The holes also allow hot air to circulate evenly throughout the oven, resulting in more efficient cooking and a more evenly-baked crust on your pizza or bread. In fact, food cooked in a wood-fired oven using Portuguese fire bricks often has a distinct smoky flavor and crisp, bubbly crust.
So next time you see a fire brick from Portugal, remember that those holes are more than just decorative – they serve a functional purpose in keeping fires hot and strong. 
Creating the Oven's Face
Each unique oven face is built in the warehouse using forms to ensure exact dimensioning.  The individual pieces of the oven's face may be terracotta, stone, or brick.  They are put into forms matching the oven's dimensions along with rebar before mortar and adhesive is poured into the forms.
How Authentic Brick Ovens Are Crafted
The Portuguese brick ovens we carry are hand-made in Rio Maior by brick-oven makers who have been perfecting their skills for generations. 
Watch how these incredible brick oven pizza ovens are masterfully built.  This 12-minute video shows every step that goes into building these beautiful and authentic hand-crafted authentic wood fired ovens.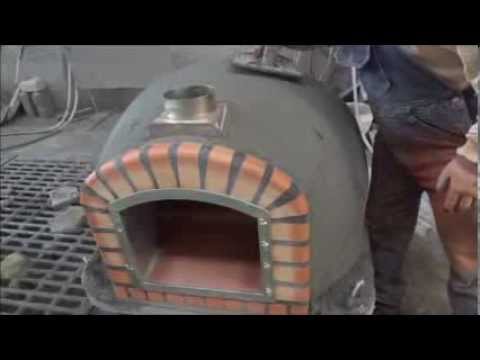 As shown in the video, the oven sits on a very thick cement base.  The purpose of the base is to protect the oven during travel and give it a flat surface once in place.  Since the oven is built on its own thick concrete base, you only need to build (2) 6-inches wide strong brick (or concrete) walls to hold these ovens.
There is a one-piece rebar structure inside the concrete that has hooks at each corner.  This heavy-duty structure allows you to safely hoist the oven to your outdoor kitchen counter.
After the cement base is poured, the first layer of fire bricks are arranged on the base to outline the oven floor.
Next, the front of the oven is added along with the flue system are added. The first layer of floor bricks are covered with a thick layer of natural yellow sand before the cooking tiles are cut and placed.
When it comes to wood-fired brick ovens, insulation is key. A well-insulated cooking floor allows for even distribution of heat and retention of high temperatures. This not only improves the overall cooking experience, but it also saves on fuel as the heat doesn't escape as quickly during cooking.
A well-insulated oven means less time waiting for it to heat up before beginning to cook. The level of insulation can also affect the authenticity of the final product, as different levels of heat create unique characteristics in wood-fired pizzas and breads. 
You can see from the image below how thick and insulated the floor of these brick ovens are below the cooking tiles.  This is why these authentic pizza oven floors hold their heat so well when cooking.
Next, the dome is built from natural kiln-fired rounded fire bricks. The dome shape is perfectly designed using their patented system. The dome shape of a brick oven is not just for aesthetic purposes - it is essential for the proper cooking of pizzas and breads.
The correct dome shape allows heat to evenly circulate throughout the oven, providing an even cooking surface. In addition, the dome traps heat effectively, allowing the oven to reach and retain high temperatures giving the food that delicious smoky flavor.
Building an oven in any other shape can lead to uneven cooking and lackluster results. This is why true craftsmen know that, before you start building your own brick oven, you must make sure that shape is at the top of your list of priorities. A good dome will result in mouthwatering meals time and time again. 
Once the bricks for the dome are installed, any excess mortar is cleaned from the front of the oven. When building a brick oven, it's important to pay attention to the amount of mortar being used and remove any excess before it has a chance to set.
The best time to remove excess mortar is while it's still wet, which typically means within the first few minutes after applying it. However, if you accidentally leave some excess on the face of the oven, it's not necessarily a problem as long as it's done before the mortar starts to dry and harden.
At this stage, the oven dome is ready for the next layers of insulation.  The brick ovens built by ImpexFire are the only ones with the patent to use the highly insulated rockwool for longer heat retention and reduced exterior temperatures. 
This is why you can touch the outside of the oven even when the fire is raging inside.  Wire is put over the rockwool to keep it secure.  The craftsman then tightens the wire to create a tight dome before the refractory cement layer is added.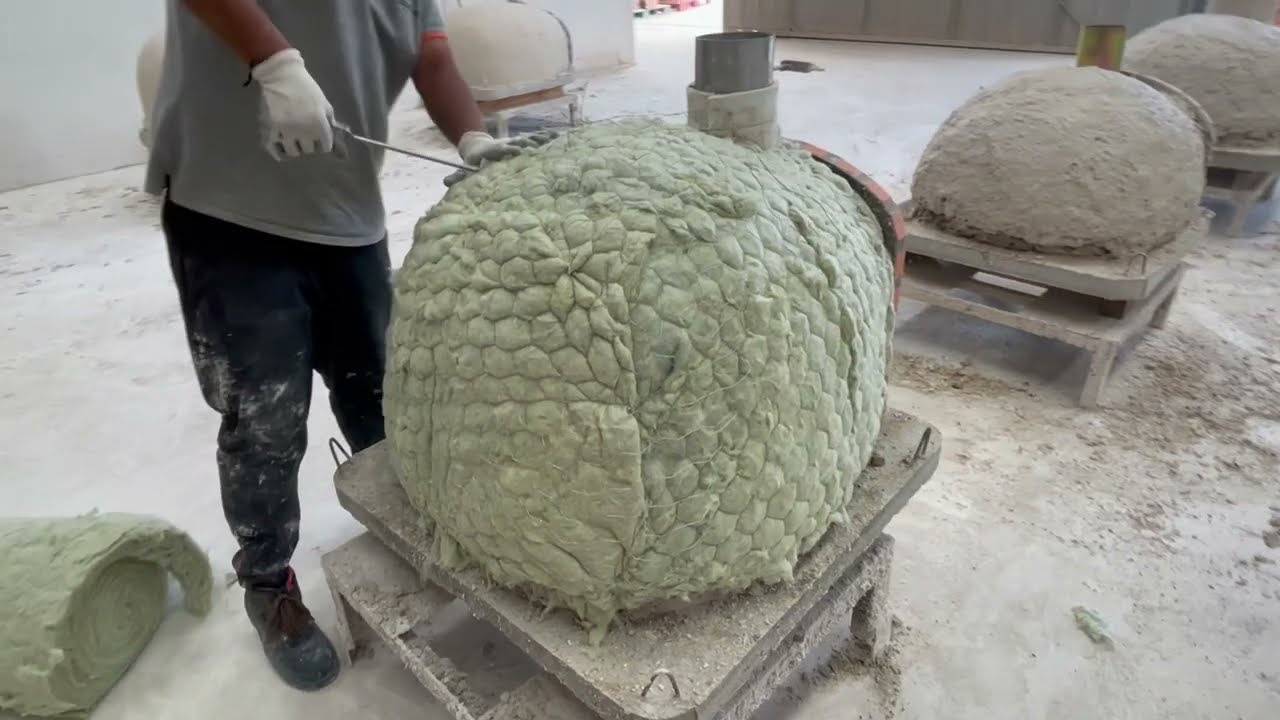 A thick layer of high-quality refractory cement is smoothed over the rockwool and painted for a beautiful pizza oven.  The oven dome is smoothed over and over to create the beautiful look of these authentic pizza ovens.
There brick ovens are ready to be packed in crates and shipped to their new homes. When a brick oven is shipped, it is carefully packed in a crate to protect it from damage during the journey. The bricks and mortar used to build the oven are strong and durable, but can be vulnerable to cracking or breaking if not properly protected during shipping.
In addition, the crate helps to keep the delicate inner components of the oven safe, such as thermometers and clay dishes. To ensure the brick oven arrives in one piece, packing it in a crate helps to minimize any potential delays and is just one step in delivering a high-quality product that can provide years of delicious wood-fired cooking.
While these ovens are beautiful as is, you can easily enhance these brick pizza ovens to match your style by applying tiles, stucco, stone veneer, brick, or paint to them.
Below is one of our favorite customer's Pizzaioli authentic pizza ovens that was painted black.
So, there you have it.  It was a super fun trip visiting the home of our authentic pizza ovens.  We already knew that these brick pizza ovens are the perfect addition to any outdoor kitchen or backyard, and will make your home the envy of all your friends and neighbors.  But, seeing them built in person made us love these ovens even more!
Whether you're baking pizzas, breads, or roasting meats, the brick oven will give your food a flavor that can only be achieved with a wood-fired brick oven.
If you're looking for an authentic brick pizza oven, look no further than our selection of Portuguese brick ovens. Order yours today and start enjoy the taste of Portugal in your own backyard!