Make A Statement With This Gorgeous Fire Pit That Will Surely Get People Talking About It For Years To Come!
Looking to add some heat (and style) to your next outdoor party? Empire's 48-inch Outdoor Linear See-Through Fireplace is the perfect way to do it! Made from stainless steel, this fireplace features an integrated LED lighting system and a 55,000 Btu burner, ensuring that your guests will be kept warm – and entertained – all night long.
The large bed of clear-frost crushed glass creates a beautiful display of flames while the lighting system illuminates the glass from beneath. A glass deflector shield helps protect the flame from wind (Optional taller deflectors are available for fireplaces installed in windier locations) and makes it easy to enjoy the show and make sure your party goes uninterrupted.
The Empire Carol Rose Outdoor Linear See-Through Fireplaces 48" is a highly efficient and beautiful fireplace that is perfect for any outdoor setting. With a tilt-up cover that conceals all of the controls, this fireplace is easy to operate. The LED lighting can be customized to your preference, and the "program" settings will cycle through the colors automatically.
So bring on the next outdoor gathering – with Empire's Outdoor Linear Fireplace, you're sure to make a lasting impression.

Fireplace Dimensions
Product Dimensions:
Width: 51 3/4"
Depth: 22 5/16"
Height: 24 5/16"


Features
Ventless Fireplace for Outdoor Installation
Stainless Steel Construction
3-Stage Manual Variable Flame Height Control
Pre-Programmed Color LED Lighting beneath Burner
Choice of Seven LED Colors
Concealed Controls via Tilt-Up Cover
Glass Deflector Shield (Tall Glass Deflector Shields available for Windy Applications)
Opening 16 3/16" H x 48" W
Framing 40 13/16" H x 52" W x 22 5/16" D (See manual before framing)
Manual Electronic Valve with Push Button Ignition and AA Battery
BTU Max / Min: 55,000 / 35,000
Weight: 198 lbs.
Clearances:

Side Walls: 6"
Ceiling: 24"
Ground: 10 ¼"

Type of Gas: LP or Natural

This Unit Includes:
✓ Pre-Programmed-Color LED Lighting beneath burner
✓ Manual Electronic Ignition with AA Battery
✓ 3-Stage Manually Variable Flame Height
✓ Weather Deflector Glass Panels (Taller panel available for windy applications)

This Unit Requires:

Decorative Crushed Glass (Requires 8 sq. ft.) - Translucent, place over LED lighting

Clear Frost Crushed Glass (DG1CLF)
Copper Reflective Crushed Glass (DG1BCR)
Bronze Reflective Crushed Glass (DG1BZR)

Optional Recommdended Accessories
Decorative Media (Opaque Crushed Glass, Glass Drops, and Glass Droplets For Accent Only) Glass Drops and Droplets may be added to the area surrounding the burner.

Black Polished Crushed Glass, approx. 1 sq. ft. (DG1BKP)
Blue Clear Crushed Glass (DG1BUC)
Onyx Solid 1-in Drops (DG1NXS)
Glacier Ice 1/2-in Droplets (DG1GC)
Fireplace Accessories




Stainless Steel
Drain Tray
(DT48LSS)

Stainless Steel
Weather Door
(WD48LSS)

Linear Tall
Glass Deflector (1 Panel)
(WG48LT1)

E-Stop 1 - 60 Minute
Gas Timer
(GT060)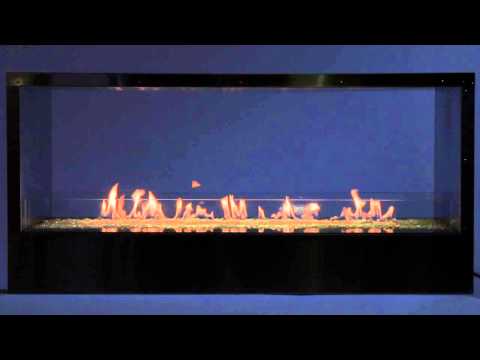 Empire Carol Rose See-Through Fireplace 48"
Specification Guide
Empire Carol Rose See-Through Fireplace 48"
Installation Manual