Outdoor fireplaces with pizza ovens are the new must-have backyard fire feature!
Do you love hosting get-togethers but dread the idea of cooking for a crowd?
Round Grove has the perfect solution - an outdoor pizza oven fireplace that cooks pizzas in just minutes. You'll be the hit of the party, and your guests will love getting to enjoy fresh, delicious pizza right at your home.
This is more than just a pizza oven - it's also a beautiful wood fireplace that will add charm and character to your outdoor area. With our easy installation process, you can have it up and running in no time. So invite your friends over for a pizza party and show them how much fun you can have in your outdoor space!
Leave the BBQ grills to amateurs and up your outdoor wood cooking skills in a wood-fired brick oven!  When you're ready to create a fully entertaining experience in your outdoor kitchen, this is the focal point you need. Plus, it comes at an unbeatable price point at a fraction of the cost of purchasing building materials to build it yourself - you won't find a better deal anywhere else.
Rather than spending months building a pizza oven or fireplace, you can have a completely manufactured ready-to-finish outdoor pizza oven fireplace delivered and set up in a day. The best part is that you can finish this modular unit with different materials of choice. Fire up the combo fireplace and wood-fired pizza oven in days rather than months!
IMPORTANT:  On the day of delivery you will be required to provide a forklift or Bobcat to offload your outdoor fireplace with pizza oven from the truck.
Take 60 seconds to watch how this Round Grove fireplace with pizza oven is delivered and set up.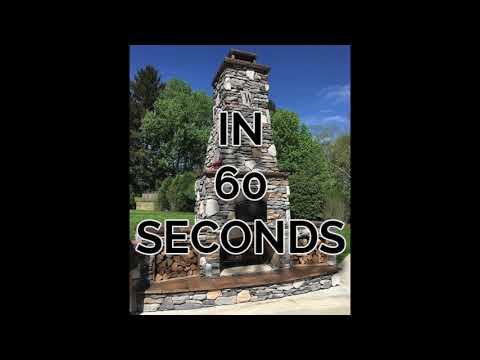 Round Grove Products are built with 18-gauge galvanized steel U-channel framing, with glass-fiber reinforced sheathing and factory-applied scratch-coat on all sides. The outdoor fireplace kits not only feature heavy-duty stainless steel construction, but are resistant to corrosion, are non-combustible, and are built with inert materials so there is no rotting, swelling, or rusting. They can easily be finished with your choice of stone or brick veneer to match the design of your fireplace area.
The Fiesta model combination unit boasts larger brick oven dimensions. The Fiesta was designed and built with the outdoor cooking enthusiast in mind. Like the Kiva, it has a wood-fired fireplace and wood burning pizza oven built together with a patented two separate flue systems that combine into a single chimney vent.  
This great outdoor fireplace with pizza oven combo was featured on This Old House in 2021.  The Round Grove fireplace/brick pizza oven combo unit blends the best of leading ready-to-finish, quality products.
As shown on the show, a contractor, homeowner, or DIY'er can easily install and finish this fire feature in their outdoor living space in a couple of days by themselves or with the aid of a stone mason. The appearance of a custom build is only limited by your own design ideas.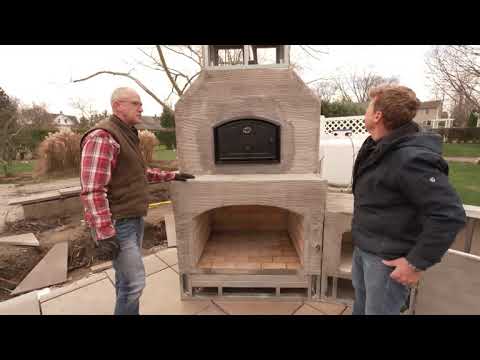 Fiesta Fireplace and Pizza Oven Combo Features
Weight starts at 1800lbs
Outdoor chimney extensions are available to increase the size of your chimney
Chimney cap included
18-Gauge galvanized U-channel framing with glass-fiber reinforced sheathing and factor-applied scratch-coat on all sides.
Heavy-duty steel construction, corrosion resistant, non-combustible, and are built with inert materials.
Real, pre-installed firebrick rather than a precast refractory insert that is prone to crack.
Built to UL127 material standards
The traditional fireplace can be modified to permit a propane log insert (EXTRA CHARGE TO MODIFY) with a gas line, however, the brick oven is a wood-fired oven only. If you want a gas fireplace with a gas pizza oven, check out the Round Grove Baha Alfresco combination units.
The Fiesta Mini and Fiesta Poco brick ovens are large enough for a small amount of wood and one 14-16" pizza while the Fiesta Mezzo and Fiesta Largo can easily accommodate multiple delicious pizzas. But outdoor fireplace pizza ovens aren't just for personal pizzas! The high temperatures achieved on the cooking chamber fire bricks allow you to cook high-quality meals that just won't cut it on outdoor grills.

Round Grove Fiesta Fireplace and Pizza Oven Combo Size Chart


| | | | |
| --- | --- | --- | --- |
|  Size | Overall Dimensions  | Oven Dimensions | Weight |
| Mini | 39" w x 42" d x 120" h | 21" x 25" | 1800lbs |
| Poco | 48" w x 42" d x 120" h | 29" x 25" | 2000lbs |
| Mezzo | 55" w x 42" d x 120" h | 37" x 25" | 2100lbs |
| Largo | 63" w x 42" d x 120" h | 45 x 25" | 2400lbs |
IMPORTANT: Please note these units arrive with JUST a scratch-coat on the exterior and the exterior design must be finished to your liking upon installation. If you need help with customization or stone finish, click on the link above or click here.
Kindly note that these stones may vary in color and size, and may not look exactly like the sample photos.
This video discusses the various widths of the firebox and cooking space: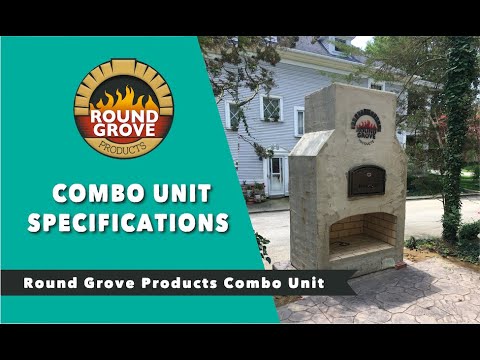 Fiesta Fireplace/Pizza Oven Combo
Spec Guide
Purchase your Round Grove Outdoor Pizza Oven Fireplace today and get free shipping!