Outdoor Living Just Got A Lot More Glamorous! ✨
The Empire Carol Rose Outdoor Linear Fire Pit will be the star of your backyard. This fire pit is available in two sizes, 48" and 60", with integrated multi-color LED lighting that will set the mood for any gathering. The reliable spark ignition system and three-position gas valve make it easy to light the fire and adjust the flame height.
The exterior surfaces are built with 11-gauge marine-grade 316 stainless steel, making it durable enough to withstand years of use. With its beautiful sparkle, this fire pit will be a showstopper in your outdoor space.
For outdoor installation only. Available with Pre-PProgrammed-Color LED Lighting beneath the burner

Fireplace Dimensions
Product Dimensions:
Width: 53"
Depth: 23 7/8"
Height: 7 3/8"

Features
11-Gauge Marine Grade 316 Stainless Steel Construction
3-Stage Manual Variable Flame Flame Height Control
Integrated Lighting System
Opening 13 11/16" H x 46 7/8" W (See manual before framing)
Manual Electronic Valve with Push Button Ignition and AA Battery
BTU Max / Min: 55,000 / 39,500
Weight: 103 lbs.
Type of Gas: LP or Natural
Use 3/8-inch male flare connection
LED-equipped systems require sufficient clear or translucent crushed glass to cover the burner and lighting system. Additional colors and shapes may be added as accents. Non-LED systems may use any color crushed glass. See installation manual for glass placement details.

This Unit Includes:

✓ Manual Electronic Ignition with AA battery
✓ 3-Stage Manually Variable Flame

This Unit Requires:

Decorative Crushed Glass (Requires 6 sq. ft.) - Translucent, place over LED lighting

Clear Frost Crushed Glass, approx. 1 sq. ft. (DG1CLF)
Copper Reflective Crushed Glass, approx 1 sq. ft. (DG1BCR)
Bronze Reflective Crushed Glass, approx 1 sq. ft. (DG1BZR)

Optional Recommdended Accessories
Decorative Media (Opaque Crushed Glass, Glass Drops, and Glass Droplets For Accent Only) Glass Drops and Droplets may be added to the area surrounding the burner.

Black Polished Crushed Glass, approx. 1 sq. ft. (DG1BKP)
Blue Clear Crushed Glass, approx. 1 sq. ft. (DG1BUC)
Onyx Solid 1-in Drops, approx. 1 sq. ft. (DG1NXS)
Glacier Ice 1/2-in Droplets, approx. 1 sq. ft. (DG1GC)
Fireplace Accessories




Stainless Steel Tilt-out
Propane Tank Door
(BBA)

Stainless Steel
Register Kit
(BRB)


Stainless Steel
Drain Tray
(DT48LSS)

Stainless Steel
Weather Cover
(WC48LSS)

Tall Wind
Deflector Glass
(WG484LT)

E-Stop 1 - 60 Minute
Gas Timer
(GT060)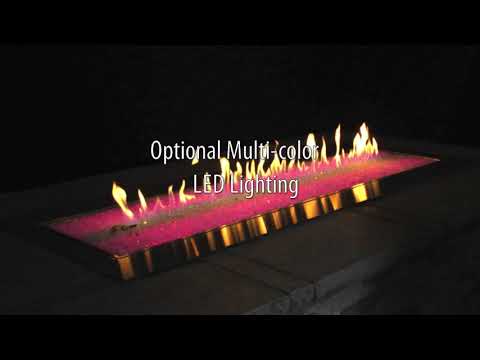 Empire Carol Rose 48"
Specification Guide
Empire Carol Rose 48"
Installation Manual