A New and Unique Cast Iron Free Stand Wood Fireplace
The Lynwood W76 is a welcome addition for wood burners everywhere, and is what a wood stove should be: efficient, low emissions, and provides great flames with a maximum viewing area.Versatile, the Lynwood W76 wood stove adapts to any room and will create a cozy atmosphere in any space. EPA 2020 certified, the Lynwood W76 wood burning stove brings warmth without compromising on air quality.
Product Dimensions
Weight: 500 lbs
Height: 32 5/8"
Width: 30 3/4"
Depth: 22 5/8"
Features
2020 EPA Compliant
78% Maximum Efficiency
13,784 to 57,674 BTU/hr
Heats up to 2000 ft²
Maximum Log Size - 21"
Massive Glass for Fire Viewing
Manufactured in Belgium

Specs
Type: Solid Fuel Room Heater
Type of Combustion: Non-catalytic
Fuel Type: Dry Cordwood (15% moisture)
Main Material: Cast Iron
Firebox Isolation:  Vermiculite
Flue Exit: 6" (150mm) Back to Top Connector
Recommended Heating Area: 450 to 2,000 ft.2 (43 to 185 m²)
Nominal Firebox Volume: 1.55 ft.3 (0.044 m3)
Maximum Burn Time: 14 hours
Maximum Heat Output (dry cordwood): 57,000 BTU/hr (16.91 kW)
Overall Heat Output Rate (min. to max.): 13,784 BTU/h to 57,684 BTU/h
(4.04 kW to 16.91 kW)
Average Overall Efficiency: 71% (HHV) 4 76% (LHV)
Optimum Efficiency: 78%
Average Particulate Emissions Rate: 1.81 g/h (EPA/CSA B415.1-10)
Average CO: 120 g/h
Accessories:
Mandatory to complete the unit: Reduce Clearance Heat Shield
NOTE:  You will need to supply the appropriate chimney pipe and components to complete the installation.
Watch this video on How To Light the Lynwood W76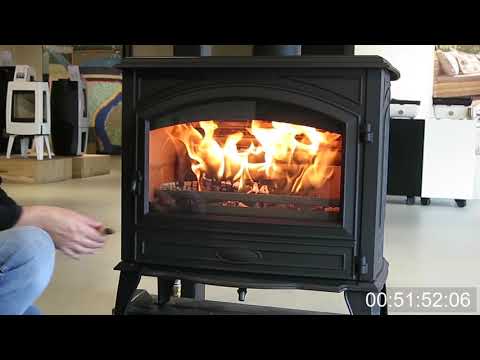 Lynwood W-76 Specification Sheet
Lynwood W-76 Installation Manual