Perfect Entry Into Wood Fired Oven Cooking!
You don't need to buy a plane ticket to experience authentic European cuisine. When you create an amazing outdoor escape that includes a Premium Lisboa Brick Outdoor Pizza Oven, you are magically transported across the pond!
What makes the Lisboa Bundle so great?
There's no need to figure out what you need because this bundle comes with everything necessary to get set up and cook quickly. Purchasing as a bundlesaves you $$$ over purchasing separately.
The Lisboa Bundle Includes:
Lisboa Premium (APO-LISPREM)
Stainless Steel Chimney with Cap (APO-CHMSS / APO-CHMCPSS ).
Custom Cover (APO-COVER100 )
5-pc 48" Peel set  (AC-5PSET48BK)
Fire Starter (QWIKWIK)

Lisboa Oven Specifications
External: 39" W   x   39" D   x   31″ H
Internal: 31″ W x 31" D x 19" H
Chimney outlet diameter: 5.5″ ø   x   6" H
Oven door: 15.5" W   x   12" H
Weight: 1,200lbs
Note: As these ovens are handmade, no two are exactly the same - the dimensions may not be exact but are close.
Productivity: 30 pizzas per hour. Cooks pizza's in 60-90 seconds and has the capacity to cook two 12″ pizzas at a time. The oven uses approximately 4-6 lbs of hardwood per hour depending on the moisture and wood type.
All Authentic Pizza Ovens brick ovens are made with steel eyelets in each corner for hoisting into place. These can be easily cut off after it's put into position. 
Some areas of the base of the oven may appear to be chipped when you first receive it but do not worry because it is perfectly normal. It is not damaged. The base is designed to protect the oven itself especially while in transit. The chipped part can easily be painted using the Ultrafire Repair Kit once the oven has been placed in position and it will look good as new!
Premium Hardware:
The Premium Lisboa has a HIGH-QUALITY STAINLESS STEEL Chimney Flue and a black NON-RUST ALUMINUM Door.   The door has a high-heat window pane that allows you to see the food you are cooking. The door on the Premium Lisboa Oven opens from left to right and is split like a barn/dutch door.
The oven makers in Lisboa have been making these wood-burning pizza ovens by hand for generations, and the love, care, and skill are evident in their craftsmanship. Our Lisboa ovens are 100% handmade and hold the original patent for their dome shape.

Lisboa Brick Pizza Oven Premium Features
The patented dome shape creates intense yet non-damaging heat which is perfect for pizzas, bread, roasts, cooked dishes, grills, and others.
6" long spout with flu/damper - a longer chimney with rain cap(shown in pictures) can be easily added
The inside of this oven has ROCKWOOL insulation, and the outside is made with refractory cement and 100% natural clay
There is no need for additional exterior insulation
Dome and floor are completely built-in refractory bricks
Retains heat, with the door closed, more than 3 hours
Keeps its superb appearance even after many years of use - can be painted, tiled, or built in -  just cure it first and use 'high heat' products
To simplify oven's shipping and prevent damages, the Lisboa oven is delivered with a wood frame protection

Your Lisboa Oven will include:
500° Celsius Thermometer (0-932°F) - know when your oven is the perfect temperature for cooking your entrees
Ultrafire Patch Kit - all of the ovens by Authentic Pizza Ovens are 100% insulated with ROCKWOOL

and cracking will not affect your oven. 

 Your oven will be delivered with a special Ultrafire product patch kit to address superficial cracks that may develop. However, it is normal for authentic handmade ovens to crack, and is considered seasoned and most desired in Europe! Cracks do NOT affect the function of the oven and your pizzas will still be marvelous!

Rotisserie Capable - you can add a rotisserie for added cooking options (spitfire rotisserie can be purchased separately)
Free Terracotta Baking Dish!
 This quick FAQ will show you how to set up your Lisboa brick oven.

Stainless Steel Chimney with Cap
This chimney is custom made at 5.5" diameter to fit the Lisboa PREMIUM Brick Pizza Oven.
A chimney isn't functionally required for a pizza oven, but chimneys with caps direct the smoke up and away from you and your cooking area. As a bonus, the chimney cap keeps dew and rainwater out of your oven. And, the beautiful chimney creates a really cool focal point for your brick oven.
Features:
Material: Stainless steel (can be painted with high-heat paint)
Single-walled Chimney with cap
Product Type: Chimney for Portuguese Brick Ovens
Heat Resistant: Yes
Measures 39.4" long x 5.5" wide
Custom Lisboa Cover
You have the Pizza oven of your dreams! Don't let it get ruined out in the weather!
Wood fire ovens are a big investment and something which should last nearly a lifetime. Take care of it and keep it out of the harsh weather elements with this durable black nylon cover.
Material: Nylon
For wood fire pizza oven
Top quality
Easy to put on and take off
Drawstring closure
This oven cover is 31" H x 39" W x 39" D.
5-pc 48" Long Peel Set
The Professional Pizza Peel - The aluminum pizza peel is the perfect combination of technology, performance, and design. The Pizza Peel is perforated to get rid of the extra flour, just like professional chefs do. This is used to slide pizzas in and out of the oven; a flight of the wrist and there you are!
Stainless Steel Turner Peel (9") - You can use the round pizza peel to rotate pies in the oven. Never mind, with some practice you will quickly become a pizza-meister!
Brass Bristle Brush Peel (2" W x 6" L)- The brush comes with brass bristles for better cleaning without damaging the oven floor.
Stainless Steel Rake Peel (1" W x 14" L)- The ember rake allows you to prepare the cooking floor and to move ash, embers, and burning wood safely to the oven sides.
Shovel (8.5" W x 9" L) - The shovel is perfect for removing your ashes for a clean oven.

Fire Starter
The Qwik Wik is a premium box of fire starter to get that boost you need for your pizza oven in order to achieve a cook-ready environment for your next pizza party!
It is the fastest, cleanest and easiest way to start a fire! It leaves no mess, environmentally safe, odorless, and tasteless.
Video: Watch this video on how this Lisboa Brick Oven is masterfully built.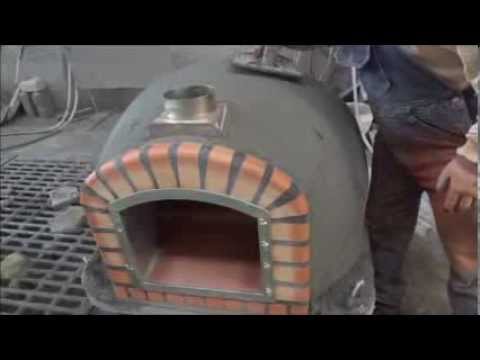 Authentic Pizza Ovens - Unique and Authentic!