Perfect Entry Into Wood Fired Oven Cooking!
You don't need to buy a plane ticket to experience authentic European cuisine. When you create an amazing outdoor escape that includes a Premium Lisboa Brick Outdoor Pizza Oven, you are magically transported across the pond!
What makes the Lisboa Bundle so great?
Ready for the pizza party
There's no need to figure out what you need because this bundle comes with everything necessary to get set up and cook quickly. Purchasing as a bundlesaves you $$$ over purchasing separately.
This bundle includes:
Lisboa Premium (APO-LISPREM) - Gather the family around for a cooking experience you won't forget. With its great cooking space (31" W x 31" D), the Lisboa allows you to cook 2-3 pizzas at a time. Or, enjoy baking loaves of bread, desserts, steaks, or any other dish you'd typically cook in your indoor oven.
Stainless Steel Chimney with Cap (APO-CHMSS / APO-CHMCPSS ) - Move the smoke away from your cooking space with the chimney extension while keeping dew out with the chimney cap.
Custom Cover (APO-COVER100 ) - Keep your oven investment protected from rain and sun so you can use your ovens for years and years!
5-pc 48" Peel set  (AC-5PSET48BK) - All the tools you need to create pizzas and cook them to perfection.  You'll get a peel for putting the pizzas in the oven, a turning peel, an ember mover, and a great ash brush for cleaning the cooking floor.
Fire Starter (QWIKWIK) - Allows you to start your fire easily and quickly to give you more time to enjoy wood-fired cooking!
Premium Hardware:
The Premium Lisboa has a HIGH-QUALITY STAINLESS STEEL Chimney Flue and a black NON-RUST ALUMINUM Door.   The door has a high-heat window pane that allows you to see the food you are cooking. The door on the Premium Lisboa Oven opens from left to right and is split like a barn/dutch door.
The oven makers in Lisboa have been making these wood-burning pizza ovens by hand for generations, and the love, care, and skill are evident in their craftsmanship. Our Lisboa ovens are 100% handmade and hold the original patent for their dome shape.
For a limited time, when you order the Lisboa Pizza Oven, you'll also get a FREE Clay Roasting Pan great for cooking chicken, beef, fish, veggies, bread and so much more in your wood-fired oven.


Lisboa Brick Pizza Oven Premium Features
The patented dome shape creates intense yet non-damaging heat which is perfect for pizzas, bread, roasts, cooked dishes, grills, and others.
Can be used indoors (with proper ventilation)
6" long spout with flu/damper - a longer chimney with rain cap(shown in pictures) can be easily added
The inside of this oven has ROCKWOOL insulation, and the outside is made with refractory cement and 100% natural clay
There is no need for additional exterior insulation
Dome and floor are completely built-in refractory bricks
Retains heat, with the door closed, more than 3 hours
Keeps its superb appearance even after many years of use - can be painted, tiled, or built in -  just cure it first and use 'high heat' products
To simplify oven's shipping and prevent damages, the Lisboa oven is delivered with a wood frame protection

Lisboa Premium Specifications
External: 39" W   x   39" D   x   31″ H
Internal: 31″ W x 31" D x 19" H
Chimney outlet diameter: 5.5″ ø   x   6" H
Oven door: 15.5" W   x   12" H
Weight: 1,200lbs
Note: As these ovens are handmade, no two are exactly the same - the dimensions may not be exact but are close.
Productivity: 30 pizzas per hour. Cooks pizza's in 60-90 seconds and has the capacity to cook two 12″ pizzas at a time. The oven uses approximately 4-6 lbs of hardwood per hour depending on the moisture and wood type.
All Authentic Pizza Ovens brick ovens are made with steel eyelets in each corner for hoisting into place. These can be easily cut off after it's put into position. 
Some areas of the base of the oven may appear to be chipped when you first receive it but do not worry because it is perfectly normal. It is not damaged. The base is designed to protect the oven itself especially while in transit. The chipped part can easily be painted using the Ultrafire Repair Kit once the oven has been placed in position and it will look good as new!

Your Lisboa Oven will include:
500

° 

Celsius Thermometer (0-932°F) - know when your oven is the perfect temperature for cooking your entrees
Ultrafire Patch Kit - all of the ovens by Authentic Pizza Ovens are 100% insulated with ROCKWOOL

and cracking will not affect your oven. 

 Your oven will be delivered with a special Ultrafire product patch kit to address superficial cracks that may develop. However, it is normal for authentic handmade ovens to crack, and is considered seasoned and most desired in Europe! Cracks do NOT affect the function of the oven and your pizzas will still be marvelous!

Rotisserie Capable - you can add a rotisserie for added cooking options (spitfire rotisserie can be purchased separately)
Free Terracotta Baking Dish!
 This quick FAQ will show you how to set up your Lisboa brick oven.
These ovens are one of our fastest sellers and don't last long!  Buy yours today before they go out of stock again! Don't delay - scroll up and add to cart today!
** We pay all shipping!   If delivering to a residential address where a lift-gate is necessary, simply select "Free US Shipping - Residential/Lift-Gate Freight Delivery" when checking out and we'll handle the rest!
Video: Watch this video on how this Lisboa Brick Oven is masterfully built.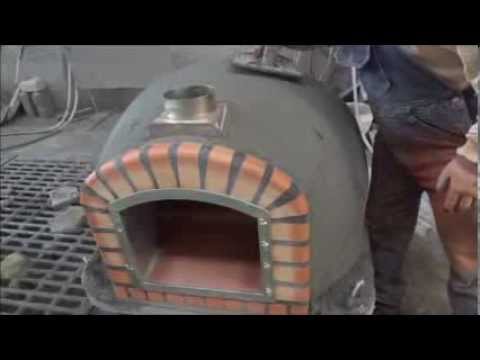 Authentic Pizza Ovens - Unique and Authentic!