Direct-Vent Gas Fireplaces DRT3500
From its stunning, unobstructed view, to the high-efficiency heating that only comes from advanced engineering, the DRT3500 Pro Series direct-vent gas fireplace offers the ultimate in style and performance.
Standard features, like ceramic glass and a built-in blower, keep living areas warm and inviting, while optional accessories bring added style to any room. As versatile as it is efficient, the DRT3500 Pro Series is the choice for affordable comfort without compromise.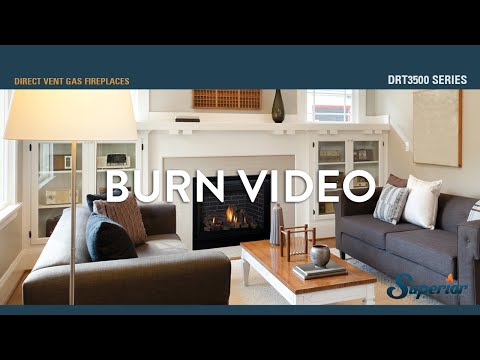 Aesthetics
Select from 3 sizes - 35", 40" and 45" - to accommodate the size of your room and heating needs.
Mid-size 17" depth saves installed floor space
Combination top/rear flue configuration
Electronic Ignition with seamless battery backup and provides continued operation in the event of a power outage (IPI/CPI switch standard)
Outstanding heating efficiency for increased comfort and lower operating costs
Ceramic glass for optimum heat transfer and a protective screen*
Beautifully crafted high-definition log set
Interior selections consist of black porcelain and a variety of ceramic fiber liners (required)
Mood-enhancing interior illumination with six distinctive settings
Factory-installed blower with six-speed settings to fine-tune your heating needs
Full-function remote control included (IPI/CPI, thermostat, flame heat, blower, lighting)
Durable textured powder coat finish
20-Year Limited Warranty
Comfort
Heat-circulating design increases warm air distribution for exceptional supplemental heat.
Standard built-in blower kit enables higher efficiency and heat delivery to the living space.
Ceramic glass provides more radiant heat than standard tempered glass.
Ease of Operation
Full-function remote simplifies operation.
Energy saving intermittent electronic pilot ignition system reduces gas usage and provides reliable operation.
Standard high/low flame control allows you to control the ambiance in the room.
Uninterrupted operation even during a power outage.
Design Versatility 
Combo (top/rear) venting for maximum installation flexibility.
Approved for use in any room including bedrooms.
Select from a variety of required liners for a more customized look.
Natural gas and propane models give you your choice of heating fuel.
All applicable models comply with ANSI Z21.50/88 barrier requirements.
Model
DRT3535
DRT3540
DRT3545
Venting Type
Direct Vent
Direct Vent
Direct Vent
Framing Width
35-7/8"
40-7/8"
45-7/8"
Framing Height
36-1/4"
41-1/4"
41-1/4"
Framing Depth
18-1/2"
18-1/2"
18-1/2"
BTU (LP/NG)
NG: 17,000-26,000
LP: 18,000-23,000
NG: 23,000-33,000
LP: 20,000-27,000
NG: 24,000-35,000
LP: 23,000-30,000
Style
Traditional
Traditional
Traditional
View Style
Front View
Front View
Front View
Controls
Remote Control
Remote Control
Remote Control
Rating
Z21.88
ANSI Z21.88
ANSI Z21.88
Warranty
20 Year Limited Warranty
20 Year Limited Warranty
20 Year Limited Warranty
Required Accessories:
Optional Accessories
‣ Decorative Face Surrounds
Recommended Accessories
Glowing Embers
Touch up paint
DRT3500
Specification Guide
DRT3500 Installation Manual