Direct-Vent Gas Fireplaces DRT3000
Modest, yet refined, the DRT3000 Series direct-vent gas fireplaces combine beauty, efficiency and value. These fireplaces offer a clean-face heat circulating design combined with a beautiful energy saving flame, glowing embers, and oak logs for a realistic touch.
To suit the mood of the occasion, you have complete comfort and flame control with high and low settings that are operated from the flip of a wall switch. New controls offer energy saving pilotless ignition with standard seamless battery backup, so you can count on your fireplace to provide heat even during a power outage.
DRT3000 Series gas fireplaces are also a leader in heating efficiency and cost less to operate. With optional accessories like remote control and stylish interior liners, you can customize the DRT3000 fireplace to enhance any room.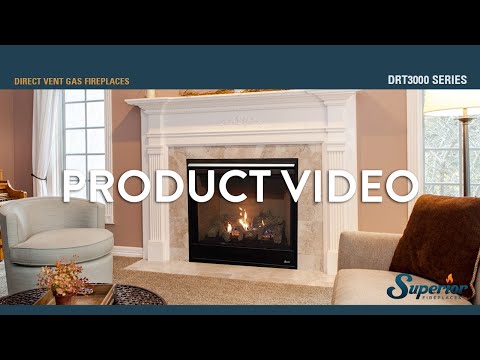 Aesthetics
Select from four sizes - 35", 40" and 45" - to accommodate the size of your room and heating needs.
Aged Oak logs and glowing embers deliver an elegant fire presentation.
A newly designed pan burner produces brilliant flames for a vibrant presentation and hours of enjoyment.
High/Low flame operation allows you to adjust the flame intensity and heat.
Clean, radiant design blend with any style of mantel or trim.
Comfort
Heat-circulating design increases warm air distribution for exceptional supplemental heat.
Optional blower helps circulate warm air into a large room for maximum comfort.
High/low flame control allows you to control the ambiance in the room for maximum comfort and enjoyment.
Ease of Operation
Optional wireless remote controls deliver the ultimate convenience.
Choose from Millivolt ignition system or energy saving intermittent pilot electronic ignition. Both systems provide reliable operation during a power outage.
Wireless wall-mounted control provides variable flame settings (electronic models only).
Standard IPI/CPI switch for easier operation during severe cold temperatures.
Standard on/off and high/low flame control allows you to control the flame in the room from a conveniently located wall switch (provided).
Easy access to control area without having to remove the safety barrier.
Design Versatility
Combo (top/rear) venting (except 33" models) for maximum installation flexibility.
Approved for use in any room including bedrooms.
Add an optional ceramic fiber brick liner for a more traditional look.
All applicable models comply with ANSI Z21.50/88 barrier requirements. 
| | | | | |
| --- | --- | --- | --- | --- |
| Model | DRT3033 | DRT3035 | DRT3040 | DRT3045 |
| Venting Type | Direct Vent | Direct Vent | Direct Vent | Direct Vent |
| Framing Width | 33-3/4" | 35-3/8" | 40-3/8" | 45-3/8" |
| Framing Height | 34-1/4" | 36-1/4" | 41-1/4" | 41-1/4" |
| Framing Depth | 14-1/2" | 18-1/2" | 18-1/2" | 18-1/2" |
| BTU (LP/NG) | 13,000 / 15,000 | 15,000 / 16,000 | 19,000 / 20,000 | 21,500 |
| Style | Traditional | Traditional | Traditonal | Traditional |
| View Style | Front View | Front View | Front View | Front View |
| Controls | Optional Remote | Optional Remote | Optional Remote | Optional Remote |
| Rating | ANSI Z21.88 | ANSI Z21.88 | ANSI Z21.88 | ANSI Z21.88 |
| Warranty | 20 Year Limited Warranty | 20 Year Limited Warranty | 20 Year Limited Warranty | 20 Year Limited Warranty |
Optional Accessories
‣ Liner Kits
‣ Decorative Face Surround
‣ Blower Kits
| | |
| --- | --- |
|   | FBK-100 - Standard Blower, single speed - provides constant velocity forced air circulation |
| | FBK-200 - Variable Speed with Wall-Mounted Switch provides variable speed forced air circulation |
| | FBK-250 - Variable Speed with Thermal Snap Switch - perfect for fireplaces controlled thermostatically |
‣ Remote Control Kits and Wall Switches
 

LCD Display Manual Thermostat Remote 
RC-S-STAT

‣ LCD Display
‣ Receiver wall-mounted or placed in the valve compartment
‣ Up to 9-hr countdown timer
‣ Child Lock
‣ Low Battery Indicator
‣ Batteries Included

Two Button Remote
RC-S-1

‣ LCD Display
‣ Shows room temperature in F and C
‣ Wall clip included
‣ Receiver wall-mounted or placed in the control compartment
‣ White face plate included
‣ Flame icon
‣ Low battery indicator
‣ Batteries included

Remote and Receiver
RCKIT4001

‣ Manual ON/OFF Operation
‣ Works with millivolt and low voltage electronic ignition controls
‣ Kit includes remote and receiver

Wall Mounted 4 Button Timer
WS-S-TMR

‣ 4 Button Timer with 30/60/120/OFF minutes
‣ Wall-mounted
‣ Perfect for rental and resort applications
‣ Connects to wall switch wire

Wall mounted LCD manual
WS-S-STAT

‣ Large LCD Display
‣ Shows room and set temperatures in F and C
‣ Wall-mounted
‣ Thermostatic or manual ON/OFF operation
‣ Connects to wall switch wire

Unit- mountable Rocker Switch
FRS

This rocker switch kit can be installed directly in the control compartment to provide ON/OFF operation in lieu of a wall switch

Wall Switch Kit 
FWSK

The OFF/ON wall switch can be used to control the operation of the fireplace burner or blower. Install the OFF/ON wall switch in a convenient location near the fireplace
DRT3000
Specification Guide
DRT3000
Installation Manual