The perfect heater for all seasons!
The Touchstone Citadel® 40001 Pyramid Patio 40,000 BTU Outdoor Heater adds warmth to an outside patio, deck, or outdoor dining area. Perfect for home, catering, and restaurant use, the 89-inch high Citadel patio heater is elegantly designed, simple to set up, and easy to use. The stainless steel finish works brilliantly with the bright, tall flame. The slim 19.5-inch x 19.5-inch square base is a nice fit for an outdoor entertaining area.
The Citadel 40001 Pyramid Outdoor Patio Heater is ideal for cool evenings in any season. The Citadel® patio heater features commercial-grade components for outdoor use. The heater's stainless steel design and glass flame tube will not rust. The Citadel retains its clean look, even over prolonged outdoor exposure. Includes a 1-year warranty with phone support.
Product Highlights
40,000 BTU outdoor propane heater warms a 100 sq. ft. area.
Ideal for outdoor dining and entertaining on a patio or deck.
Quick and easy AA battery operated piezoelectric ignition.
Commercial-grade design with durable, rust and corrosion resistant stainless steel for outdoor use.
Portable, easy to move with included wheel kit.
89 inches high with slim design for easy placement.
Specifications
Color: Stainless Steel
Dimensions: 89" H x 19.5" W x 19.5" D
Total Weight (without propane tank): 51.8 lb.
Total Weight With Packaging: 60.6 lb.
Packaging Dimensions: 54" H x 21.4" W x 12.2"D
Size of Reflector at Top of Heater: 17.75" diameter
BTUs: 40,000
Heat Range: Approximately 10-11 ft. diameter of space, dependent on outdoor conditions, including wind, outdoor temperature, location
Requires a standard 20 lb. propane tank and AA batteries (not included)
Burn Time: Approximately 8-10 hours
Light assembly required. Tools are not included.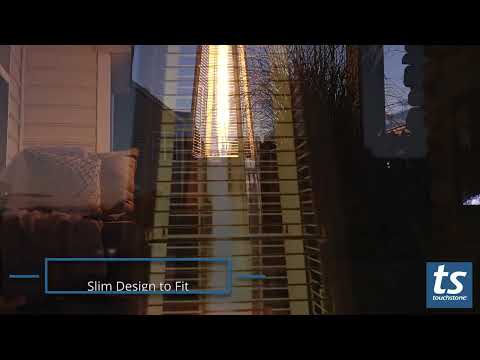 Easy Ignition and Operation
The Citadel upright outdoor heater holds a 20 lb. propane tank. The propane tank can be secured inside the storage area. The chain-held access door allows for quick propane tank exchange. The battery-operated piezoelectric ignition ensures easy, reliable control. Simply hold the button to start the flame. Adjust the heat with high and low settings. Note, the propane tank and AA batteries are not included.
Built-In Safety
The Citadel® has a built-in auto shut-off. If the heater is tipped or rocked, the propane supply cuts off and the flame is extinguished.
Versatile Set Up: Can Be Mounted or Wheeled
Add the included wheel kit to the base of the heater for easy mobility. Alternatively, you can choose to mount the base securely to your patio or deck.

Key Product Features
Stainless steel, commercial-grade design
Lightweight aluminum frame
Tempered glass quartz fire display tube
Electric Piezo ignition for easy, reliable control
Wheel kit for easy positioning and movement
Chain-held access door for propane tank access
Easy assembly and phone support
CSA approved
Adjustable heat setting providing up to 40,000 BTUs
Covers approximately 10-11 ft. diameter of space, dependent on outdoor conditions, including wind, outdoor temperature, and location
Approximately 8-10 hour burn time with 20 lb. propane tank (not included)

What's Included?
The Citadel® Patio Heater
Propane hose and regulator
Wheel kit
User manual
1-year warranty with phone support
Assembly required. Tools not included.

Touchstone Citadel 40001 Pyramid Outdoor Patio Heater
Installation Manual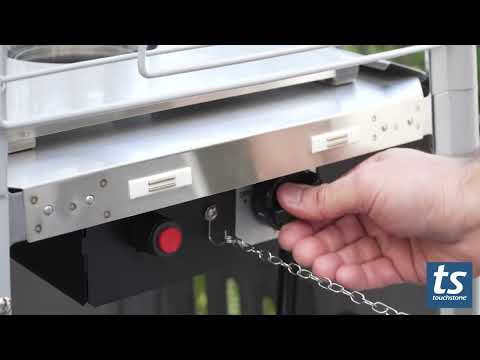 Important Safety Information
For full safety recommendations, please refer to the product manual
This heater shall not be installed or used indoors, in buildings, garages, or any other enclosed area.
DO NOT place articles on or against this heater.
DO NOT use or store flammable materials near this heater.
Children and adults should be aware of the high surface temperature hazard and should keep a safe distance away to avoid clothes burning or igniting.
Children should be carefully supervised when they are in the area of the heater.
NEVER hang anything including clothes or other flammable items on the heater.
DO NOT operate this heater unless it is fully assembled with the reflector in place.
DO NOT SPRAY AEROSOLS IN THE VICINITY OF THIS HEATER WHILE IT IS IN OPERATION.
Installation and repair should be done by a qualified person. The heater must be inspected by a qualified person before use and at least annually. More frequent cleaning may be required as necessary. It is imperative that control compartments, burners, and circulating air passages of the heater and light be kept clean and free from insect/spider infestation