Ignite your home with the Chesmont Electric Fireplace (Alexa/Google Compatible)
The Chesmont has all the great features you've come to love about Touchstone electric fireplaces, like the modern hearth set, realistic flames, multiple heat settings, and simple installation. The fully finished mantel makes the fireplace a great fit for kitchens and modern interiors.
The Chesmont Smart Electric Fireplace features the same 60-color flame display, heat settings, and Wi-Fi-enabled smart home technology as the Sideline Elite® collection. This three-sided fireplace is framed by a mantel and mounts directly on the wall.
Overview
Touchstone's Chesmont 50" electric fireplace features a fully finished mantel design. Housed within the three-sided mantel is the industry's leading lifelike LED flame technology that is sure to complement the existing decor in your home. This 50" wide electric fireplace can be mounted on the wall of your bedroom, family room, or anywhere in your home to offer the aesthetic appeal of a finely crafted fireplace without the troubles and stress of an actual fire and is available in a crisp white or modern black look.
Product Features
3-sided design featuring front and side viewing area framed with a modern black mantel.
Wi-Fi enabled, Smartphone compatible
Turn on or off by voice using Amazon Alexa or Google Home.
Realistic LED flame display with 60 flame/base color combinations, 5 light intensity settings, and 3 flame speeds.
Two heat settings (750W/1500W) with a thermometer (68-88°F) or constant on.
Includes crystals and driftwood.
Designed for wall-mounted installation. Easy wall surface installation.
Can be plugged in or hardwired.
Cool to the touch tempered glass.
Remote control for heat and flame setting (batteries not included)
Built-in timer mode for shut off in 30 minutes to 7.5 hours
Front-facing vent allows for zero-clearance installation

Dimensional Drawing
Specifications
Frame color: 80033 - White | 80034 - Black
Fireplace dimensions: 50" wide x 20.5" high x 7" deep
Firebox dimensions: 43" wide x 12" high x 3" deep
Shipping carton dimensions: 54" W x 12" D x 25" H
Fire Dimensions: 43" wide x 12" tall
Part number:  80033 and 80034
Watts: 1,500
BTU's: 5,000
Room Coverage: 400 ft.
Fireplace Weight: 62 lbs
Shipping Weight: 70 lbs
Voltage: 120v
Amperes: 11 and up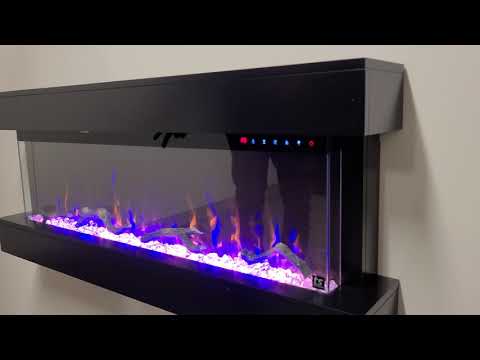 Realistic LED Flame Display
The Wi-Fi-enabled Chesmont in combines the comfort and authentic look of a traditional fire with the ease of an electronic fireplace. This smart technology fireplace features the industry's leading lifelike LED flame technology with 6 flame colors, 10 media bed colors, 5 light intensity settings, and 3 flame speeds – the same LED flame display as the Touchstone Smart Sideline® Elite and Infinity Electric Fireplace collections.
Adjust the flame and bed settings with a touchpad on the front of the unit, remote control, or mobile app. Includes driftwood and crystals for easy customization to match your style.
Yes, it does heat your room
Offering both a high and low heat setting, the Chesmont can quickly add heat to a room up to 400 sq. ft. Please note the heater isn't designed to be the primary heat source in your room or home. It is designed to warm up an area on a cool evening or bring the temperature of a room up a few degrees. You will find that the heat and style of your electric fireplace combined with your home's primary heating will offer just the right amount of warmth and ambiance for a cozy atmosphere. You can control your electric fireplace's heat setting by using the unit's remote control or by simply using the control options on the front face of the fireplace. The Chesmont also gives you the option of using the built-in timer to control the heat settings so that you have the ability to time the fireplaces heat duration for up to 7.5 hours.
Year-Round Use
The heat and flame settings work independently so you can enjoy the relaxing flames, with or without heat in any season or climate.
Multiple flame colors
To create the cozy atmosphere of a traditional fireplace, this electronic unit emits authentic-looking flames that emulate a real fire. The flames that Touchstone Home Products™ fireplaces create are natural enough to have friends and family thinking that you own a traditional wood-burning fireplace. This fireplace has three color-changing options (orange, blue, and blue-orange), along with five settings, from a soft ember glow or an intense blaze. The lighting and heating options of this fireplace offer you the ability to customize your atmosphere to your liking. With both its look and performance, the Chesmont gives you the total package. Both the heat and flame settings can be operated through a remote control. (Batteries not included)
Cool to the Touch Tempered Glass
The glass front and sides remain cool to the touch, offering a truly relaxing experience compared to a gas or wood burning fireplace. Perfect for allergy sufferers, the Chesmont Electric Fireplace does not require venting and does not emit smoke or gas odors.
Smart Wi-Fi Connectivity
Easily control the Chesmont Electric Fireplace by touchpad, remote, or mobile phone app. Turn the fireplace on and off by voice commands with a Google Home or Amazon Alexa smart device.

Mounting and Use
Mounting your Chesmont fireplace to your wall is simple and it usually only takes one person to get the job done. Installation instructions are included with the unit and are clear and easy to understand. The Chesmont's easy mounting bracket is included and once it has been mounted on your wall, all you need to do is hang and secure your fireplace with the included screws. In many room settings, it is popular for customers to mount their Chesmont on the wall below their wall-mounted flat-screen television.
Chesmont 50" 80033 / 80034 50" Wall Mount
Electric Fireplace User Manual