Enjoy cooking with your indoor gas fire oven 
For centuries Europeans have used wood fired ovens in homes and restaurants.  Now you can have the same opportunity with a gas pizza oven!  The EarthStone pre-assembled ovens are designed with you in mind! 
This pre-assembled oven comes as either wood fired or gas fired giving you the best of both worlds.  This oven is perfect for your home kitchen or restaurant.  Additionally, this pre-assembled oven can be decorated to match your decor.
The cooking area in this wood-burning oven is 35" diameter - plenty for the following food capacities:
8" Pizzas: 3-4
12" Pizzas: 2-3
16" Pizzas:  1
Eight medium size steaks on 17" x 20" grilling rack
Six large steaks on 17" x 20" grilling rack
Unlike a conventional oven, the Earthstone gas-fired oven will help you achieve a combination of smoking, baking, and roasting, techniques that will translate into delicious, healthy, and extremely flavorful food.
The Model 90-PAGW gas/wood combination oven contains all the same high quality features and components as the Model 90-PA wood fire oven. In addition to the Model 90-PA, the Model 90-PAGW has three modes of operation: gas fired, gas and wood combination and wood fired.
Order your gas or wood-fired oven today and start preparing delicious, innovative, and nutritious foods just like your favorite restaurants! 
Features & Benefits
The top is stainless steel and the bottom is black, so it is easy to keep clean and will look good in any kitchen.

It has a digital temperature controller, so you'll have complete temperature control to make sure your meals are cooked perfectly.

It has a gas burner system that's recessed in the floor, so it's easy to use and clean.

It comes with ceramic fire logs (over the gas burner), so you'll be able to create an authentic pizza oven experience.

The door is cast aluminum, so it's lightweight and easy to manage

Black granite shelf
S/S Hood cover
S/S Shelf apron
S/S Flue adapter
Stainless pizza peel
Black perforated grill (Optional three tier shelf available)
5 year limited warranty
The Model 90-PAGW gas fired oven has a 35" interior cooking diameter and a 20" wide by 9½" high oven entrance. The body parts are a cast 4 to 6 inch thick dense, high-temperature refractory material with an 80% alumina content and additional special additives which stop deterioration from acids emitted by wood combustion.
The Model 90-PAGW is U.L. listed for installation with a 1-inch side clearance to combustible materials.
The steel support frame and enclosure are constructed of heavy gauge welded tube steel and angle iron members. All precisely fabricated and attractively designed. The void area between the cast oven body and steel circular enclosure is entirely filled with 4 to 20 inches of a hardened lightweight insulation mixture, which forms a secondary molded body. The combination of our thick cast refractory body and an outer insulation shell maximizes the thermal mass or heat storage capacity of the oven which allows for an extremely efficient oven that cooks at even non fluctuating temperatures. The temperature probe is placed 3½" into the dome or top of the oven in lieu of on the floor in order to avoid temperature readout fluctuations caused by food items placed on the floor.
A stainless steel adapter sleeve is placed over the standard eyebrow hood, which comes with either a stainless steel or copper hood cover.
The hearth floor tiles, "Pierre de Boulanger" (Bakers Tiles), which are used in industrial bread baking ovens all across Europe, are refractory material pressed at 8,500 p.s.i. and kiln fired at 2,800 degrees which ceramitizes the material to create a hard and extremely durable tile. Both the body pieces and floor tiles are cast and assembled individually which allows for continuous joints throughout the entire oven. This greatly reduces the possibility of stress cracks due to normal heat expansion and contraction. In addition this allows the ovens to be serviceable which extends their usable life.
Earthstone Model 90 Specs

Exterior Diameter: 50"
Height: 80"
Weight: 2,500 lbs.
Interior Diameter: 35"
Oven Entrance Opening: 20"W x 9½"H
Clearance to Combustible Sidewalls: 1"
For Model-90-PAGW (Gas Fired Oven):
Gas Requirements:
¾" gas outlet – 7" W.C. (LP GAS 10")
BTU's:
90,000
Electrical Requirements:
120 VAC/ 3 AMP
The heavy duty gas burner system is engineered for optimum performance and long term reliable operation through a straightforward design and the use of high quality components. The solenoid based burner control automatically adjusts flame height and intensity to maintain the preset temperature. All our PAGW models are manufactured in Los Angeles.
Installation Manual
Model 90-PAWG Gas Fired Specification Guide
Residential Venting Guide
Earthstone Ovens Video
Watch this video to learn more about the Earthstone Ovens incredible offerings!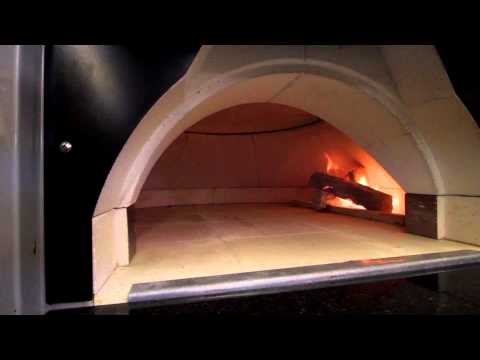 Earthstone Warranty
This oven comes with a limited warranty.