"The Cafe" Gas Fired Oven
Earthstone's wood and gas-fired combination ovens are a chef's best friend. Classical European design meets western technology in this versatile fixture for both inside and outside kitchens.
As a wood-fired oven, the Cafe-PA cooks can achieve that smokey, natural taste, the Cafe PAGW evokes ancient cooking methods where there was just food and fire; as a gas-powered machine, it operates with the well-balanced efficiency of any restaurant cornerstone. 
The Cafe Benefits:
The 35-inch cooking area offers high-end heat distribution, with enough room for 6 large steaks. The cooking area itself comes with a number of features, including stainless steel finishes that won't wear for a long time,
Its digital temperature controller allows control of cooking operations without constant involvement, freeing up hosts to tend to their guests until the food is ready. Its 'solenoid' burner--a modern apparatus that uses electromagnets to produce heat--will automatically adjust the flame to meet your predetermined temperature.
The Cafe-PAGW offers the same specs as the larger 90-PA oven, only with a compact design that allows it to fit into tight spaces. The design makes the Cafe-PAGW an ideal add-on to fill an empty wall or enhance a nearly-complete kitchen setup.
The oven contains a cutting-edge gas burner system that sits embedded into the cooking area floor for ideal heating performance. Above it, ceramic fire logs provide a rustic appeal to the oven's aesthetics as well as a practical addition to its cooking capabilities.
The Cafe-PAGW gas/wood combination oven contains all the same high-quality features and components as the Cafe-PA wood fire oven. In addition to the Cafe-PA, the Cafe-PAGW has three modes of operation: gas fired, gas and wood combination and wood fired.
Order your gas or wood-fired oven today and start preparing delicious, innovative, and nutritious foods just like your favorite restaurants! 
Features
Ovens come standard with:
Factory finished stainless steel top with black bottom
Digital temperature controller
Gas burner system recessed in the floor
Ceramic fire logs (over the gas burner)
Cast aluminum door
Black granite shelf
S/S Hood cover
S/S Shelf apron
S/S Flue adapter
Stainless pizza peel
Black perforated grill (Optional three-tier shelf available)
5-year limited warranty
Specs
Exterior Diameter: 48¼"W x 44¼"D
Height: 72 1/4"
Weight: 2,500 lbs.
Interior Diameter: 35"
Oven Entrance Opening: 20"W x 9½"H
Clearance to Combustible Sidewalls: 1"
The cooking area in this wood/gas-fired oven is 35" diameter - plenty for the following food capacities:
8" Pizzas: 3-4
12" Pizzas: 2-3
16" Pizzas:  1
Eight medium size steaks on 17" x 20" grilling rack
Six large steaks on 17" x 20" grilling rack
For The Cafe-PAGW (Gas Fired Oven):
Gas Requirements:
¾" gas outlet – 7" W.C. (LP GAS 10")
BTU's:
90,000
Electrical Requirements:
120 VAC/ 3 AMP
The heavy duty gas burner system is engineered for optimum performance and long term reliable operation through a straightforward design and the use of high-quality components. The solenoid based burner control automatically adjusts flame height and intensity to maintain the preset temperature. All our PAGW models are manufactured in Los Angeles.
Installation Manual
The Cafe-PAWG Gas Fired Specification Guide
Residential Venting Guide
Videos
Watch this video for more of Earthstone Ovens incredible offerings!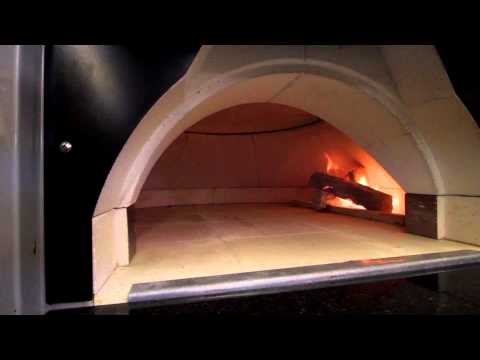 Warranty
This oven comes with a limited warranty.