Superior Quality and Performance!
The DRC2000 Series of direct-vent gas fireplaces offers excellent value and quality. Only available in 33" radiant smooth-faced models and come with a variety of standard features. They also offer increased performance and state-of-the-art technology to ensure many years of beauty and warmth. Additionally, the Millivolt (Remote-ready) or electronic ignition with battery backup allows for operation even during a power outage. So if you are looking for a superior direct-vent gas fireplace, the DRC2000 Series is a great option.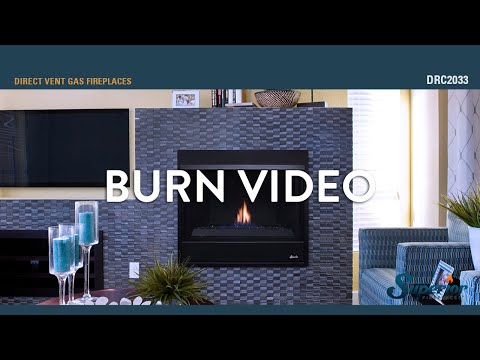 Features
Only Available in 33" (Other sizes are no longer available)

Compact 14" depth is perfect for small spaces

Dedicated Top or Rear Flue Configuration (45" model is a combo top/rear)

Millivolt (Remote-ready) or Electronic Ignition with Battery Backup

Operates in the event of a Power Outage

A Beautiful Flame that Rises Through Reflective Black Crushed Glass Media

Up to 65.5% AFUE

Standard Tempered Glass

Fireplace Includes Standard Barrier Screen

Black Painted Interior

Durable Textured Powder Coat Finish

Optional Blower

Optional Remote Controls and Wall Switches available for All Models

20 Year Limited Warranty

Venting: Uses 4.5" / 7.5" Secure Vent Rigid and Secure Flex Direct-Vent Components

Electronic Control Valve with On/Off Switch

Remote Ready
This fireplace meets all 2015 ANSI barrier requirements.
Firebrick Liner
Optional Accessories
‣ Standard Blower (FBK-100) - provides constant velocity forced air circulation
‣ Variable Speed with Wall Switch (FBK-200) - provides variable speed forced air circulation
‣ Variable Speed with Thermo Snap Switch (FBK-250) - offers variable speed control and a heat-activated switch; perfect for fireplaces controlled thermostatically
 Remote Control Kits and Wall Switches
 

 

Touch Screen Thermostat Remote
RC-S-TOUCH

‣ Backlit LCD Display
‣ Transmitter wall-mounted docking station
‣ Receiver wall-mounted or placed in the control compartment
‣ Thermostatic or manual ON/OFF operation
‣ Programmable weekday/weekend modes
‣ Flame icon
‣ Low battery indicator
‣ Batteries included

 

LCD Display Manual Thermostat Remote 
RC-S-STAT

‣ LCD Display
‣ Receiver wall-mounted or placed in the valve compartment
‣ Up to 9-hr countdown timer
‣ Child Lock
‣ Low Battery Indicator
‣ Batteries Included

 

Two Button Remote
RC-S-1

‣ LCD Display
‣ Shows room temperature in F and C
‣ Wall clip included
‣ Receiver wall-mounted or placed in the control compartment
‣ White face plate included
‣ Flame icon
‣ Low battery indicator
‣ Batteries included

 

Remote and Receiver
RCKit4001

‣ Manual ON/OFF Operation
‣ Works with millivolt and low voltage electronic ignition controls
‣ Kit includes remote and receiver

 

 

Wall Mounted 4 Button Timer
WS-S-TMR

‣ 4 Button Timer with 30/60/120/OFF minutes
‣ Wall-mounted
‣ Perfect for rental and resort applications
‣ Connects to wall switch wire

 

Wall mounted LCD manual
WS-S-STAT

‣ Large LCD Display
‣ Shows room and set temperatures in F and C
‣ Wall-mounted
‣ Thermostatic or manual ON/OFF operation
‣ Connects to wall switch wire

 

Unit- mountable Rocker Switch
FRS

This rocker switch kit can be installed directly in the control compartment to provide ON/OFF operation in lieu of a wall switch

 

Wall Switch Kit 
FWSK

The OFF/ON wall switch can be used to control the operation of the fireplace burner or blower. Install the OFF/ON wall switch in a convenient location near the fireplace