Blaze is proud to announce the new Blaze 4 Burner Marine Grade LTE Grill
Blaze introduces a commercial style grill that was designed with coastal BBQ challenges in mind. Blaze is also proud to announce that this unique grill is now rated for Multi-User Applications!
The Marine Grade 4-Burner LTE is now available and approved for multi-family dwellings, apartments, hotels, and similar applications. With the heavy use of grills located in common areas, we made sure to add in an extra layer of protection for this grill - our innovative flame guard.
This perforated piece sits in the drip pan of the grill, reducing the chance of a grease fire in the pan. With the frequent use of multi-user areas, this is a great extra safety feature to have. In addition to our Lifetime Warranty, Blaze will now be covering labor charges in the new and improved multi-family warranty!*
This unique grill is constructed out of marine grade 316 stainless steel. The Blaze 4 Burner Marine Grade LTE showcases all the same great features owners come to expect from the Blaze LTE Series grills: cast stainless steel burners, stainless steel flame tamers, heat zone separators, double-lined hood, and our unique triangular cooking grids all of which are upgraded to 316L stainless steel.
Blaze knows the summer fun never stops on the coast and residents there love to grill year-round, and we designed this grill with those customers in mind. Blaze offers the 4 Burner Marine Grade LTE in natural gas and propane and is also available as a cart model.
Blaze Marine Grade 4-Burner Grill Dimensions
‣ Overall Dimensions: 21 1/4" H x 32 1/2" W x 25 3/4" D
‣ Cut Out Dimensions: 8 1/2" H X 30 5/8" W X 21 1/4" D
These dimensions create the required air gap underneath this appliance. This air gap serves multiple purposes, such as preventing a build-up of heat in the island cavity and helping provide proper airflow for combustion and/or cabinetry.

GRILL OVERVIEW
All stainless steel components are marine grade 316L Stainless Steel
4 commercial quality 316L cast stainless steel burners
Available and Approved for Multi-User Applications. Including, but not limited to: apartments, hotels, condominium complexes, fire stations, etc.
14,000 BTUs of cooking power per burner, for a total cooking surface of 56,000 BTUs
10,000 BTU infrared rear rotisserie burner
Heavy 9mm triangular stainless steel cooking rods maximize durability
Push and turn flame-thrower primary ignition system delivers a fast start every time
Flash tube ignition and crossovers provide an alternate ignition option
Heat zone separators divide the cooking surface into individual temperature zones
Flame stabilizing grids minimize flare-ups while adding a grilled flavor
Full-width drip tray for a quick clean up
Illuminated control knobs for evening gatherings creates a sophisticated appearance
Interior lights help navigate the grilling surface at night
Double-lined grill hood protects the outer layer from heat discoloration and maintains more heat

Grill Specs
BTU Output
14,000 BTU per Burner x4
Infrared Back Burner
10,000 BTU
Total BTU
66,000 BTU
Primary Ignition
Push N' Turn Flame Thrower
Secondary Ignition
Flash Tube
Cooking Grid Dimensions
29 1/2" X 17 7/8"
Total Cooking Area
740sq.in
(includes warming rack)
Flame Tamer
Flame Stabilizer Grid
Zone Cooking
Removable Heat Zone Separators
Rotisserie Kit (Motor & Forks)
Optional
Burner
Commercial Quality Cast Stainless Steel
Gas Type
Each grill contains an NG/LP Orifice Kit

Take a look at the Blaze Marine Grade Grill in Action 🔥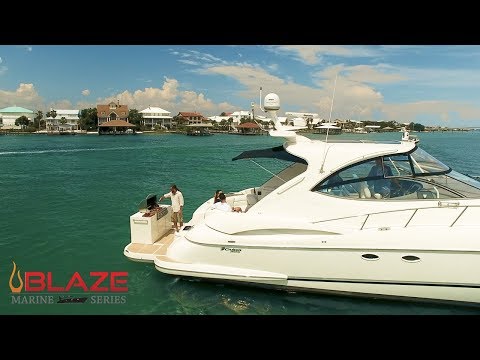 Blaze Marine Grade 316L 4-Burner Premium LTE Grill
Installation Manual