Indoor Fireplace And Pizza Oven Combo
Heat Your Entire Home With Less Wood
Finish Exterior with Tile, Brick, Rock, Stone or Combination
The Most Efficient Wood-Burning Technology
Optional Pizza Oven For High Heat and Low Heat Cooking
Optional See-Through Fireplace Design
Optional Heated Bench 
Have you been through a winter where you lost your heat source, or worse, total power? Traditional indoor fireplaces are a hassle. You have to constantly feed the fire with wood, and then you're left with ashes that need to be cleaned up. Not to mention, they only provide heat when the fire is going and they typically can't help you with dinner.
The Temp-Cast Indoor Fireplace is the solution for you. But, this isn't just any traditional fireplace. This fireplace includes a pizza oven!
This unique fireplace and pizza oven combination uses a masonry heater design that allows you to enjoy radiant heat all day long rather than just when your fire is blazing. As a bonus, you can also enjoy cooking meats, roasting vegetables, baking bread, and making cobblers in the stunning pizza oven feature! This heating system allows you to heat your home with wood in the morning and come home after work to a warm, cozy house in the evening without the need to fuel the fire in between. And even bake a dozen cookies if you want! These stunning units not only add a strong visual impact to your indoor living space, they also provide delicious home-made meals that bring families together. 
Since the oven in this kit is surrounded by a masonry heater, this oven will hold heat longer than a traditional indoor wood-fired oven AND use less fuel. Hours after your fire has gone out, you will still have enough residual heat to bake things like cookies and breads to share with friends and family or enjoy as a tasty treat on your own. With the option to add glass doors to both the pizza oven and fireplace, these kits truly do add an extra level of cozy and functionality to any home.


"Now after three winters, I'm eager to report that our Temp-Cast 2000 has exceeded expectations. This technology is rare in Virginia; several friends, visitors and subcontractors became immediately impressed with the performance and the aesthetic impact."
"Aesthetics versus performance? I cannot say which feature is best; it's all wrapped up in one. Having only experienced wood stoves and such, my wife was concerned about indoor air quality. She was astonished by the masonry heater's total lack of combustion odor."

"As a professor in Wood Science, my career revolves around wood. I cannot explain the satisfaction it brings to heat our home with the most efficient, environmentally responsible, wood-burning technology available to homeowners. We love it."
     - Chip Frazier T.M. Brooks Professor, Wood Science and Forest Products, Virginia Tech
WHAT IS A MASONRY HEATER FIREPLACE?
The main difference between a masonry heater and other wood-burning appliances is that a masonry heater can store a lot of heat. This means that you can quickly and cleanly burn a load of wood, and the heat will slowly radiate into your house for the next 18 to 24 hours. Masonry heaters are also safer and more efficient than traditional fireplaces since they don't produce creosote or harmful emissions in the chambers or flue.

How Does A Masonry Heater Work?
Hot air from the fire flows through a series of baffles to heat up the surrounding masonry.  This heat is "soaked up" in the heater walls and then slowly released into your home.
Watch the video by the Masonry Heater Association (MHA) to see how the masonry heater design works to heat your home efficiently.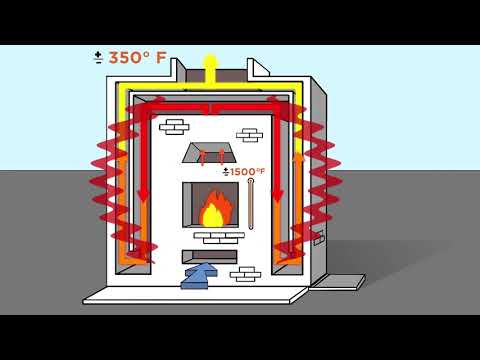 Fireplace With Indoor Wood Fired Pizza Oven Features
Design: DIY / Ready to Finish - create the look you want for your fireplace and indoor pizza oven by finishing in brick, soapstone, or stucco.  You control the budget for your finish of choice.
Construction:  Castable refractory material with interlocking features allows the fireplace to be "site-built" and installed with refractory mortar.
Fuel Efficiency:  These heaters can heat a well insulated house for 12 to 24 hours on one firing of wood. This is much more efficient than wood boilers, which use 10-12 cords of wood, or wood burning stoves, which use 6-8 cords.
Safety: Temp-Cast heaters are acceptable in many areas that have restricted or banned other types of stoves and fireplaces.
Comfort:  Radiant warmth helps alleviate sinuses and dry skin in the winter. The warm walls and heated seats create a cozy retreat in your living space for reading a book or relaxing with family.
Optional Integrated Pizza Oven:  The roaring fire from the fireplace is perfect for heating your wood-fired pizza oven.  Use different techniques to cook at high, baking, and slow cook temperatures in your warm kitchen.
Installing The Temp-Cast Fireplace
The indoor fireplace kit shown in this video by Temp-Cast is really simple to build. Watch the video to see how to construct the fireplace resulting in the final gorgeous stone fireplace.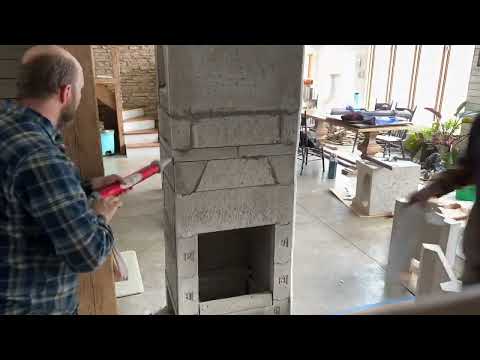 Included With Every Temp-Cast Fireplace Kit
Refractory Modules
Refractory Mortar
Ceramic Fiber
Corrugated Spacers
1 Black Arched Firebox Glass Door
2 Cast-Iron Clean-Out Doors
1 Cast-Iron Fire Grate
1 Air Intake Door
Door Fasteners
Gasket
Tape
Construction Manual
✓ Clean, Renewable Fuel
Having a renewable energy source that you can harvest locally gives you peace of mind. You can burn it cleanly to heat your home without relying on electricity. Testing showed that the Temp-Cast heater has a transfer efficiency of 65.4% and a combustion efficiency of 94.4%.

✓ Ease of Assembly
The modules are manufactured from a castable refractory material. They have a unique interlocking feature so that one piece is precisely keyed to fit the next one. This allows the kit to be quickly and accurately erected and ensures that the completed core is structurally stable and independent of the facing material.

✓ Health & Quality of Life
There is no safer wood-burning fireplace than a well-made masonry heater. It can be fired for a few hours per day while you're awake and never at night when you sleep. Because they burn the fuel so completely, they produce little ash or harmful emissions which keeps your home's air cleaner.

✓ Beautiful Fire Feature
One of the most distinctive features of a masonry heater build is the outstanding fire-viewing. When the fire is lit, it catches quickly and burns fiercely, creating a spectacular show. If a pizza oven is incorporated, you can see the burning gases accelerating through the gas slot, creating an exciting "spark shower" and adding to your enjoyment of the fire.

✓ HEATING PERFORMANCE
Masonry heaters are a household word in colder parts of Canada, Northern Europe, and Australia. Temp-Cast masonry heaters can serve as the primary heater in a well-insulated 2000 square foot home while using less wood, therefore using less storage space.
Radiant heat from a masonry heater is very similar to the radiant heat from the sun rather than the convection heat from a traditional fireplace. Just as the sun warms the earth, the masonry stove heats by warming solid objects in the home, such as walls, floors, furniture and people.
Don't let winter, rising energy costs, or busted pipes keep you from enjoying warmth while still feasting on your favorite wood fired foods! A Temp-cast Indoor Fireplace With Pizza oven is the perfect addition to your home that will allow you to spend quality time in your entertaining space despite the weather outside.
COMMON QUESTIONS ABOUT MASONRY HEATERS

What are masonry heaters?
Masonry heaters are also called Finnish masonry stoves, German tiled stoves, Russian stoves, Kachelofens, and Russian heaters.  Wood heats the fireplace and stores heat for hours of warmth. Although less used in to North America

Are masonry heaters worth it?
If you want to cut, haul, split, store and burn less wood, then YES! The masonry heater will pay for itself with one bad power outage in the winter. They can also act as backup heat for a passive solar home and as a primary source in times with little sunlight.

Are masonry heaters safe?
They burn so clean that they are exempted from wood-burning bans in the US. The unit burns hot, but stays safe to the touch while radiating a gentle, soothing warmth. You'll often find family members and pets hanging around the fireplace long after the fire is out due to it's warming effect.

Do masonry heaters work?
Yes! Most people typically build one to two fires per day, and the heater uses stored heat for over 24 hours after a fire burning. Never be cold or hungry since you also can bake in the oven, regardless of ice storms and power outages!

How efficient are masonry heaters?
Masonry heaters are far more efficient at heating your home than a fireplace insert. Because they are more than 90% efficient at turning fuel into heat, they only require one or two small fires a day to warm a 2,000 sq ft. house.

Do masonry heaters need a chimney?
Yes. Even though the heater baffles can be routed in various directions, a chimney is needed for a draft and smoke exiting the heater. It is best to use an 18' minimum chimney height on an indoor chimney to get the best draft.

What are the pros and cons of a masonry heater?
They are large and heavy but the larger the size/mass, the more heat they can store, and the warm sides and heated benches make for a warm, cozy environment. They need pre-planning to put in the best location in your house. However, due to their high heating efficiency, the initial legwork is worth it. They are more expensive than traditional wood stoves and fireplaces. This upfront expense pays for itself with the convenience of day and night radiant heat without consent for fire tending.