When You Want The Very Best Pizza Oven For Your Gourmet Kitchen!
Imagine creating restaurant-quality gourmet meals in your own kitchen! If you're feeding a large Italian family who loves hearty helpings of pizza, lasagna, or eggplant parmigiana, you'll love serving them up from this wood fired pizza oven. 
Unlike a conventional oven, this pizza oven will help you achieve a combination of baking, roasting, and smoking techniques that will give you delicious, healthy, and extremely flavorful food. The intense heat created by the fire sears the flavor in and seals the juices for tastes, unlike any others!
What makes the Earthstone Model-130 special?
Earthstone Ovens Modular Wood Fire Oven Model 130 is UL-listed for residential kitchens which means it can be installed indoors. These ovens are simple to install and can be decorated to match the appearance of your home or business.
The oven material, wall thickness, and insulation method allow for a higher, wider door opening without heat loss which means you have plenty of room for larger pizzas and maximum visibility into the oven.
The cooking area in this magnificent oven is 52" diameters - plenty for the following food capacities:
8" Pizzas: 9-10
12" Pizzas: 6-7
16" Pizzas: 3-4
Eight medium size steaks on 17" x 20" grilling rack
Six large steaks on 17" x 20" grilling rack
Earthstone Model-130 Features
4-inch thick advanced refractory elements with superior mass for high thermal resistance which means the oven stays hot for much longer so you can bake or roast for many additional hours.
12"X12" "Pierre de Boulanger" industrial bakers hearth tiles which are the same as those used in industrial bread baking ovens all across Europe. They are cold-pressed at 8,500 PSI and ceramitized at 2,800 degrees which produce an extremely durable cooking surface so you get the perfect crispy crust on your pizza.
Mechanical built-in temperature gauge - the probe is sunk into the top of the oven dome which gives a more stable temperature reading so you always know the right time for cooking your dishes.
Oven heats up quickly for low fuel consumption so you don't need to use as much wood!
Easy to install and comes with complete installation video and booklet, operation and maintenance instructions.
Hood designed to remove smoke & odors efficiently for cleaner cooking.
Five-year limited warranty for less worrying and more entertaining!

Earthstone Model-130 Specs
Floor Tiles (36)

(6) 12" X 6" X 1 1/2"
(30) 12" X 12" X 1 1/2"

Oven Pieces:

Primary Hood
Dome Pieces (2)
Side Wall Pieces (5)
Front Entrance Piece
Lower Support Pieces (4)
Lower Support Entrance Pieces (2)
Steel Entrance Plate (black)

Also includes:

Thick Cast Aluminum Door With Teflon Handles
Dial Temperature Gauge (Range 0-1000F)
Refractory Cement (22 lb / 10 kg Bag)
Galvanized Metal Flashing
High Heat Silicone Tube
Plywood Spacers
Refractory Cement (container)
Package of Fire Starters
Stainless Steel Pizza Peel
4" x16" Screened Vent
Installation Instructions and Video/DVD

See How The Earthstone Ovens Are Built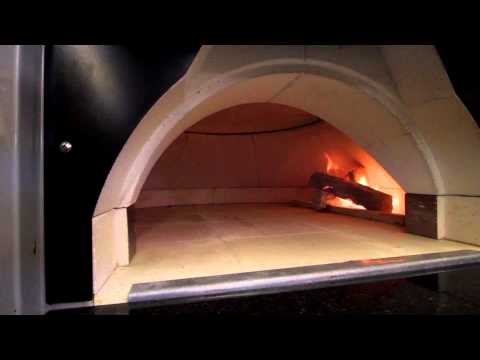 Order your wood-fired oven today and start preparing creative, innovative, and nutritious foods!
Similar Pizza Oven Comparisons
Earthstone Ovens Modular 90 

- Shipping Weight: 1,200 lbs
- Dimensions: 43.5"W x 43.5"D x 22"H
- Cooking Space: 35" diameter
- Door Opening: 20" W x 9 3/4" D
- Food Quantities: (3-4) 8" Pizza, (2-3) 12" Pizzas
Earthstone Ovens Modular 110

- Shipping Weight: 1,700 lbs
- Dimensions: 51.5"W x 51.5"D x 22"H
- Cooking Space: 43" diameter
- Door Opening: 20 1/2" W x 10 1/4" D
- Food Quantities: (6-7) 8" Pizzas, (3-4) 12" Pizzas, (2) 16" Pizza