Revolutionize Your Cooking with Alfa Moderno 2 Pizze
Introducing the Alfa MODERNO 2 Pizza Oven, the ultimate cooking tool for the modern outdoor space. With its functional design and meticulous attention to detail, this oven combines the best of Alfa technology to deliver exceptional cooking performance like no other!
Perfectly suited for those who may have limited space on their outdoor patio, the compact size and easy-to-use features of the 2 Pizze oven make it the ideal choice for outdoor cooking enthusiasts. Now, you can experience the joy of cooking delicious meals in the great outdoors without sacrificing valuable space.
Say goodbye to long preheating times and hello to instant gratification with the 2 Pizze oven. This incredible piece of culinary equipment heats up quickly and is ready to use in no time, allowing you to whip up a variety of recipes and impress your closest friends and family with delectable pizzas that rival those from your favorite pizzeria. Constructed with a stainless-steel vault and ceramic fiber insulation, combined with a refractory tile top, the 2 Pizze oven ensures unmatched cooking performance and consistent, perfect results with every use.
But the innovation doesn't stop there. Thanks to the practical Hybrid Kit, you have the freedom to choose which fuel source to utilize for each cooking session. Whether you prefer the aroma and authenticity of wood-fired cooking or the convenience of gas-fired cooking, the 2 Pizze oven offers you the flexibility to tailor your cooking experience to suit your needs.
Become the master of your outdoor kitchen and elevate your cooking game with the Alfa MODERNO 2 Pizze Gas Oven. Let your creativity soar as you experiment with different flavors, textures, and cooking techniques. With this remarkable oven, you have the power to create extraordinary culinary masterpieces right in your own backyard!
IMPORTANT NOTE: The Moderno 2 comes configured in LP. However, an NG conversion kit is included for installation by a certified technician if you decide to change to Natural Gas in the future.
The Alfa Ovens MODERNO 2 Pizze
---

Soft, rounded curves, trendy colors, and Alfa technology characterize the MODERNO line ovens, making them perfect for furnishing young and dynamic outdoor spaces. Check out this quick side-by-side comparison between the Alfa Moderno 2 Pizze and the rest of the Alfa Moderno line
MODERNO 2 Pizze

A compact wood-burning or gas pizza oven ideal for cooking fragrant pizzas and more.
Dimensions:
  37.4" W x 27.5" D x 41.5" H
Cooking Floor:
  24" x 20"
Weight:
  174 lbs (79 kgs)
Pizza Capacity:
  (2) 12" Pizza
Maximum temperature:
  500 °C
Gas Type:
  LP (NG Conversion Kit included)
Colors:
  Antique Red, Fire Yellow
MODERNO Portable
A light, compact, and portable gas pizza oven.
• Fits (1) 12" Pizza
• 21.7" W x 20.4" D x 35.9" H
• 16" x 16" Cooking Floor
• Weighs 77 lbs (35 kgs)
• Comes in LP only
• Available in Antique Red, Grey
MODERNO 3 Pizze
A wood-burning or gas pizza oven that can cook multiple recipes and 3 pizzas at the same time.
• Fits (3) 12" Pizza
• 42.5" W x 28.7" D x 44.9" H
• 31" x 20" Cooking Floor
• Weighs 214 lbs (97 kgs)
• Comes in NG (LP Kit Included)
• Available in Antique Red, Fire Yellow
MODERNO 5 Pizze
A semi-professional wood-burning or gas pizza oven for those who want to share countless recipes.
• Fits (5) 12" Pizza
• 46.6" W x 40.2" D x 58.7" H
• 34" x 28" Cooking Floor
• Weighs 385 lbs (175 kgs)
• Comes in NG (LP Kit Included)
• Available in Antique Red, Fire Yellow

Different sizes, different designs, same Alfa technology
The Alfa range of home pizza ovens is designed to satisfy the personality and needs of those who own them. Whether it's a party with friends, a romantic dinner, or a family lunch, Alfa has the perfect solution: each stylistic line offers different sizes and types of fuel to be used, consistently guaranteeing high cooking performance.
Functional and versatile accessories such as the Hybrid Kit are particularly useful for transforming the 2 Pizze, 3 Pizze, and 5 Pizze models into a hybrid oven, thus allowing you to decide from time to time whether to cook using wood or gas for maximum freedom of expression in the kitchen.

Heat Genius®. The secret to savoring a pizza at home like in a pizzeria
To allow you to cook a pizza at home just as good as that of your favorite restaurant, Alfa researchers have developed the innovative Heat Genius™ technology, thanks to which the condiments cook at one temperature and the dough at another, resulting in each pizza being consistently fragrant and well cooked.
This is because heat is slowly released from the refractory brick and irradiated evenly through the oven's curved walls. In this way, the condiments cook faster, releasing even part of their moisture, and the dough becomes crispy without burning, thus reaching the perfect balance.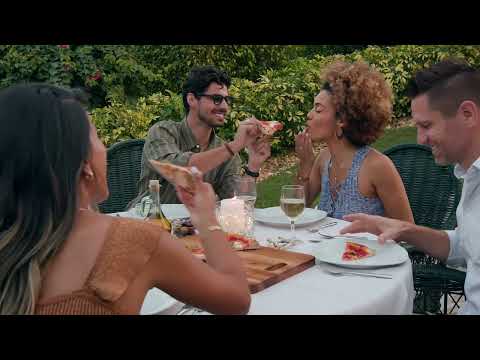 The Alfa MODERNO 2 Pizze Base
---

Don't settle for ordinary. Upgrade to extraordinary with the Alfa MODERNO 2 Pizze Base. Experience the convenience, style, and versatility that this base has to offer. Your outdoor cooking dreams are just a click away. Embrace the Alfa MODERNO 2 Pizze Base - the ultimate companion for your outdoor entertaining adventures.
Imagine effortlessly moving your oven from one spot to another, thanks to the convenient professional wheels with brakes. Whether you want to reposition it for optimal cooking conditions or simply create more space for your guests to mingle, the Alfa MODERNO 2 Pizze Base has got you covered. No more heavy lifting or awkward positioning - just smooth and easy mobility.
What's included?
Stainless steel cylinder cover or wood holder panel
Ergonomic epoxy resin handle
4 professional wheels with brakes.
The packaging is designed to be loaded into the boot of a car
Weighs just 65 lbs (29.5 kgs)

Alfa Moderno 2 Pizze Gas Oven
Specifications Sheet

Alfa Moderno 2 Pizze Base
Specifications Sheet