Get Italian restaurant-quality pizzas in just 30 minutes
Are you ready to improve your outdoor parties? Look no further than Alfa MODERNO 3 Pizza Oven! This state-of-the-art oven is perfect for entertaining guests with delicious and perfectly cooked pizzas, and its modern design is sure to turn a few heads. The best part? This oven takes just 30 minutes to get ready to cook the first pizza!
You don't have to worry about uneven or poor cooking. Thanks to Alfa's unique Full Effect Full Circulation Flue System®, the Alfa MODERNO 3 Pizza Oven guarantees homogeneous cooking temperatures and retention of heat in its refractory tiles. And just in case you weren't sure, this oven is made in Italy with top-notch materials, ensuring you the best quality possible.
For people who love to throw parties, the 3 Pizze by Alfa is just right for your outdoor kitchen. Plus, if you're out of one fuel type, the Hybrid Kit allows you to transform the gas version to a wood-burning oven, whatever suits your recipe or the availability of fuel. So don't think twice and even up your party game with Alfa MODERNO 3 Pizza Oven.
IMPORTANT NOTE: The Moderno 3 comes configured in NG. However, an LP conversion kit is included for installation by a certified technician if you decide to change to LP in the future.
The Alfa Ovens MODERNO 3 Pizze
---

Soft, rounded curves, trendy colors, and Alfa technology characterize the MODERNO line ovens, making them perfect for furnishing young and dynamic outdoor spaces. Check out this quick side-by-side comparison between the Alfa Moderno 3 Pizze and the rest of the Alfa Moderno line
MODERNO 3 Pizze

A wood-burning or gas pizza oven that can cook multiple recipes and 3 pizzas at the same time.
Dimensions:
  42.5" W x 28.7" D x 44.9" H
Cooking Floor:
  31" x 20"
Weight:
  214 lbs (97 kgs)
Pizza Capacity:
  (3) 12" Pizza
Maximum temperature:
  500 °C
Gas Type:
  NG (LP Conversion Kit included)
Colors:
  Antique Red, Fire Yellow
MODERNO Portable
A light, compact, and portable gas pizza oven.
• Fits (1) 12" Pizza
• 21.7" W x 20.4" D x 35.9" H
• 16" x 16" Cooking Floor
• Weighs 77 lbs (35 kgs)
• Comes in LP only
• Available in Antique Red, Grey
MODERNO 2 Pizze
A compact wood-burning or gas pizza oven ideal for cooking fragrant pizzas and more.
• Fits (2) 12" Pizza
• 37.4" W x 27.5" D x 41.5" H
• 24" x 20" Cooking Floor
• Weighs 174 lbs (79 kgs)
• Comes in LP (NG Kit included)
• Available in Antique Red, Fire Yellow
MODERNO 5 Pizze
A semi-professional wood-burning or gas pizza oven for those who want to share countless recipes.
• Fits (5) 12" Pizza
• 46.6" W x 40.2" D x 58.7" H
• 34" x 28" Cooking Floor
• Weighs 385 lbs (175 kgs)
• Comes in NG (LP Kit included)
• Available in Antique Red, Fire Yellow

Different sizes, different designs, same Alfa technology
The Alfa range of home pizza ovens is designed to satisfy the personality and needs of those who own them. Whether it's a party with friends, a romantic dinner, or a family lunch, Alfa has the perfect solution: each stylistic line offers different sizes and types of fuel to be used, consistently guaranteeing high cooking performance.
Functional and versatile accessories such as the Hybrid Kit are particularly useful for transforming the 2 Pizze, 3 Pizze, and 5 Pizze models into a hybrid oven, thus allowing you to decide from time to time whether to cook using wood or gas for maximum freedom of expression in the kitchen.

Heat Genius®. The secret to savoring a pizza at home like in a pizzeria
To allow you to cook a pizza at home just as good as that of your favorite restaurant, Alfa researchers have developed the innovative Heat Genius™ technology, thanks to which the condiments cook at one temperature and the dough at another, resulting in each pizza being consistently fragrant and well cooked.
This is because heat is slowly released from the refractory brick and irradiated evenly through the oven's curved walls. In this way, the condiments cook faster, releasing even part of their moisture, and the dough becomes crispy without burning, thus reaching the perfect balance.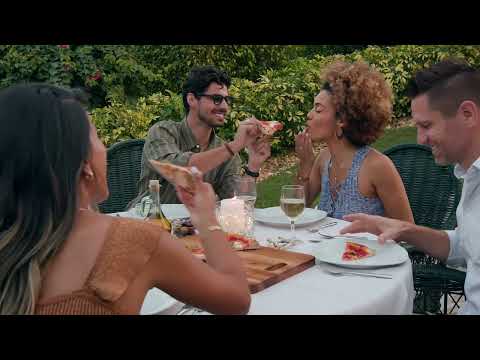 The Alfa MODERNO 3 Pizze Base
---

Don't settle for ordinary. Upgrade to extraordinary with the Alfa MODERNO 3 Pizze Base. Experience the convenience, style, and versatility that this base has to offer. Your outdoor cooking dreams are just a click away. Embrace the Alfa MODERNO 3 Pizze Base - the ultimate companion for your outdoor entertaining adventures.
Imagine effortlessly moving your oven from one spot to another, thanks to the convenient professional wheels with brakes. Whether you want to reposition it for optimal cooking conditions or simply create more space for your guests to mingle, the Alfa MODERNO 3 Pizze Base has got you covered. No more heavy lifting or awkward positioning - just smooth and easy mobility.
What's included?
Stainless steel cylinder cover or wood holder panel
Ergonomic epoxy resin handle
4 professional wheels with brakes.
The packaging is designed to be loaded into the boot of a car
Weighs just 81.5 lbs (37 kgs)

Alfa Moderno 3 Pizze Gas Oven
Specifications Sheet

Alfa Moderno 3 Pizze Base
Specifications Sheet