Live in a coastal area? This is the perfect Electric Heater for you!
Made of high-quality AISI316 Marine-Grade Stainless Steel, the Platinum Electric Marine heater series is built to be exceptionally durable and able to withstand the corrosive elements of coastal and marine environments.
Why Platinum Marine?
To counteract the hurdles of installing an outdoor heater near the coast where standard stainless steel can rust and deteriorate, Bromic engineered the Platinum Electric Marine heater series.
What are corrosive elements?
The high level of relative humidity in coastal areas can add to the deterioration of metals, accelerating the electrochemical reactions that cause rusting and other forms of corrosion. Some of the major threats include those made primarily of sodium chloride such as salt spray from breaking waves and onshore winds, or other atmospheric pollutants like sulfur dioxide within fog, mist, and dew.
Built to withstand corrosive environments with high-grade materials, a fully enclosed heater body to protect internal elements, and an easy to maintain, ceramic-glass surface, this exceptional heater is backed by an industry-leading 5-year warranty offering peace of mind that this heater is built to last. (5-year warranty is for land-based applications only and does not cover installations on marine vessels).
Available in a white or black finish with a variety of mounting options including wall, ceiling, and recessed, the Platinum Electric Marine heater is the ideal solution to enrich the comfort experience of owners of coastal residences and superyachts as well as guests on cruise ships.
2300W MARINE SERIES
Specifications:
Product Width: 33"
Product Height: 7"
Weight: 7.5kg (16.5lbs)
Fuel Type: Electric
Color Options: Black, White
Heat Area: 65 ft2
(Black) Part Number: BH0320015
(White) Part Number: BH0320017
3400W MARINE SERIES
Specifications:
Product Width: 50.2"
Product Height: 7"
Weight: 10kg (22lbs)
Fuel Type: Electric
Color Options: Black, White
Heat Area: 108 ft2
(Black) Part Number: BH0320016
(White) Part Number: BH0320018
4500W MARINE SERIES
Specifications:
Width: 53.2"
Height: 10.1"
Weight: 10kg (22lbs)
Fuel Type: Electric
Color Options: Black, White
Heat Area: 143 ft2
(Black) Part Number: BH3622002
(White) Part Number: BH3622003

Bromic Platinum Smart-Heat Electric Marine Heater Features
AISI316-grade Stainless Steel Construction
Adjustable Mounting Brackets
Compact and Elegant Design for Seamless Integration
Slim-Line Design
Tinted Glass Ceramic Fascia
Simple and Easy to Use
Single Switch Activation
Smart System Compatibility
Ceiling, Wall and Flush Mounting Options
On/Off Control
Minimum Floor Clearance: Wall 72" / Ceiling 96"
Ceiling Mount: 8" Included
Wall Mount: Included
Rated Current:
2300W - 220 - 240V/9.6A
3400W - 220 - 240V/14.2A
4500W - 220 - 240V/18.8A

Standard Benefits
The heater for coastal areas
The perfect heater for small spaces.
Even heat distribution.
Save energy with a heater that's up to 30% more efficient than other heaters on the market
Keep your space warm and comfortable no matter what the weather is outside
Never have to worry about getting cold again while outside!

Recommended Controls and Accessories
Mounting Options:
Flush Mounted (Recess Kit):
Seamlessly integrate your Bromic Platinum Smart-Heat™ Electric units with these unique recess kits which permit flush-mounting in roof cavities as small as 7.1". The Standard Recess Kit is ideal for new build projects that allow for more cavity clearance space with a sleek, simple design.

NEW! Suitable for both new build or retrofit, the UL Certified Low Clearance Recess Kit has a built-in frame for temperature control, allowing for reduced cavity installation clearances and ease of install.

These kits include the parts and hardware needed for recessed mounting of our Platinum series, allowing you to easily install the heater so that it doesn't interfere with your streamlined aesthetic.
Ceiling Mounted (Ceiling Mounting Pole):
Our Platinum Electric Mounting Poles ensure that your Platinum Electric heater will be suspended at just the right height (between 8′ and 9′), so it delivers the optimum amount of heat. Available in two sizes (2′ and 4′), these poles can be ordered in addition to the 8″ pole that is provided complimentary with every Platinum Electric heater.
Wall Mounted (Wall Mounting Bracket):
Our stainless-steel Platinum Electric wall mounting bracket is provided complimentary with every Platinum Electric heater and ensures that your heater can be easily mounted on walls and structures while meeting the necessary clearance requirement. The bracket will allow the heater to be mounted straight or at a 28-degree angle.
Control Options:
On/Off Controller
Bromic Heating independent 'On/Off' controller with wireless 4-Channel Remote can control up to two electric or four gas heaters across two separate circuits from up to 100 FT away. The wireless remote is fully portable or can be easily mounted with the included double-sided adhesive/screws.
Dimmer Controller
With our Dimmer Control and wireless 7-Channel remote, you'll be able to precisely adjust the output of your electric heaters in 1% increments, or quickly jump by 25% increments for perfect comfort and complete flexibility from up to 100 FT away.
Master Remote
The Bromic Master Remote gives you full control over an unlimited number of heaters in up to six zones of heaters with unlimited heaters per zone from a single remote control. Dimmer control is required. Works with dimming controllers. Remote control operates within 100ft of heaters.
Smart-Heat Link Home Automation
Pair Bromic's heating control options with the Bromic SmartHeat Link to create seamless communication between Bromic outdoor heaters and your smart home controls technology. The Bromic Smart-Heat Link requires an RS232 port and is compatible with the leading home automation systems on the market, such as Control 4, and Crestron. Lutron, Nomad, and many more!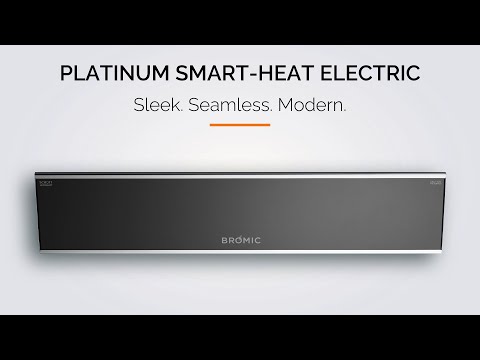 Platinum Smart-Heat Electric
Marine Specifications
Installation/User Manual 
Installation must be carried out by a licensed and authorized technician in accordance with local building codes. Please refer to our clearance requirements and consult the installation manual for further details.