The 90-PA-CT is Earthstone's Outdoor Countertop Wood-Fired Oven

It offers a 35′′ interior cooking diameter and a 20-1/4" wide by 9-3/4′′ high oven entrance. Internal dome and walls are a cast 4" thick high-temperature refractory material. This maximizes heat storage retention which is a necessity for proper bread baking and roasting. This is the oven for all your baking, grilling, and roasting needs. You can also use the oven to double as a fireplace.
Features include:

• 4" thick commercial-grade refractory wall and dome interior
• 1-1/2" thick stone hearth tiles atop 5" thick subfloor
• 90 min heat up time
• Dial temperature gauge (0 – 1000 F range)
• Cast aluminum door with Teflon handles
• Decorative stainless steel facade
• Granite mantle
• Fully insulated with a hardened insulation mixture
• Factory cured and ready to use
• Small footprint for easy installation in tight spaces
• 4 Stainless steel support legs with anchor holes
A thick cast refractory body and an outer insulation shell maximize heat storage retention. A necessity for bread baking and roasting which require longer periods of time in the oven.
The baking stone hearth tiles, which are used in industrial bread baking ovens all across Europe, are pressed at 8,500 p.s.i. and kiln fired at 2,800 degrees which ceramitizes the material to create a hard and extremely durable tile.
Both the body pieces and floor tiles are cast and assembled individually which allows for continuous joints throughout the entire oven. This greatly reduces the possibility of stress cracks due to normal heat expansion and contraction.
This oven can accommodate most high-heat cookware for baking and roasting.
Oven Specs
Exterior Dimensions 


Diameter
  50" ⌀
Height
  40"
Internal Dimensions 
  35" ⌀ 
Oven Entrance Opening
  20-1/4"  -  9-3/4"
Weight
  2,000 lbs

 

Food Capacity

‣ 8" Pizza: 3-4
‣ 12" Pizza: 2
‣ 14" Pizza: 2

‣ 6-8 Steaks on 17" x 20" Supplied Grilling Rack
Ovens come standard with:

• Factory finished and ready for color coat or tile
• Cast aluminum door with Teflon handles
• Dial thermometer (0 to 1000F range)
• Black granite mantle
• Stainless steel pizza peel and grilling rack
• 5-year limited warranty on refractory
IMPORTANT NOTE: This oven does not come with tiles. You can use any normal thin set to glue the tiles to the oven.
Model 90-PA-CT
Specification Guide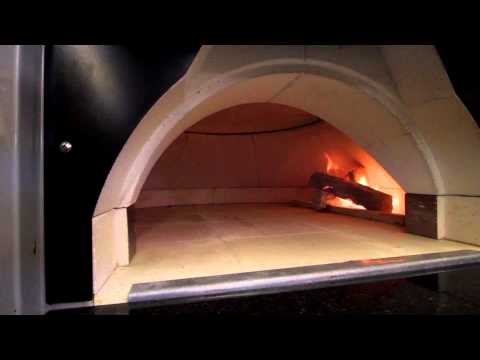 Warranty
The complete Warranty is further subject to the following qualifications:
The oven must be installed in accordance with EarthStone Ovens installation instructions and local building codes
Moisture can cause significant damage to the oven/hearth. Therefore, the enclosure/shroud (stone, brick, stucco, etc.) that surrounds the oven/hearth must be sealed and waterproof. Failure to do so will void this warranty.
The oven is subjected to normal use, including burning such natural wood fuels as non-treated wood. Fuel products with abnormal burning characteristics including, but not limited to, fuel such as driftwood, coal or plywood and wood products using a binder, may burn at excessive temperatures and may cause damage to the oven or may cause damage to the oven or may cause it to function improperly. EarthStone Ovens does not warrant the oven when such fuels have been used.