Feels like we are on vacation in our own backyard...
If you are looking for the best outdoor wood-fired pizza oven for your backyard, catering, or a food truck, this is the perfect large pizza oven!  We personally use this wood-fired oven and LOVE IT!

The Maximus Prime ARENA is the upgraded style that has a slate front look rather than the traditional brick look.
Don't be fooled by the chimney at the back of the oven.  The Prime Arena Stainless Steel Wood-Fired Oven has an aluminum dome with a stainless steel 316 dropped ceiling inside the oven.  This ceiling directs the fire/heat from the back of the oven to the front of the oven and then up through a ceiling opening that goes back to the chimney. 
This design sends the heat over your food which allows for convection cooking and better heat retention as you can see in the video below!
Authentic Pizza Ovens is the recipient of the Best Wood-Fired Oven
Producer in the US! Awarded by LUXlife Magazine in 2022 ⭐️

Why Choose a Stainless Steel Pizza Oven?
Unlike a brick oven, a stainless steel pizza oven heats up in 30-45 minutes so you can fire it up after work and be ready for cooking before you finish your first glass of wine.   Handmade in Portugal, this oven produces superb wood-fired pizzas as well as any other dish you can imagine!  The larger cooking floor fits up to 5-6 pizza pies at a time and they will cook to perfection in less than 2 minutes.
We've found that our Maximus Prime Pizza Oven (old style above) creates a family cooking atmosphere because, unlike a grill that involves one person doing all the cooking, this large pizza oven lets all family members get involved from firing up the oven to food preparation to cooking delicious meals.
Cooking in the Maximus Arena pizza oven (note: the smaller Maximus Arena is shown in the video below)
You can read our review of the Prime Wood Fired Oven here!
The Maximus Prime Arena Large Patio Bundle Includes
Maximus Prime Arena Large Pizza Oven (Black/Red);
Custom Cover;
Pizza Oven Tools Starter Kit; and
A Box of Carolina Pizza Oven Wood

Prime Specifications
COOKING STYLE

Wood-Fired cooking creates a delicious flavor and is way more fun than grilling because the whole family gets involved!

ORIGIN

Hand-made in Portugal

OUTSIDE DIMENSIONS

39" W x 39" D x 30.3" H (to top of flue w/o chimney)

39" W x 39" D x 45" H (from base to the top of the 14.17" chimney)

5.5" H chimney flue outlet

COOKING SURFACE

35.4" W x 35.4" D - Plenty of space for (4) large pizzas, large grill, or multiple cast iron skillets

COOKING HEIGHT

12.5" H from floor to upper false ceiling

DOOR OPENING

20" W x 11" H - Plenty of space for (4) large pizzas, large grill, or multiple cast iron skillets

NUMBER OF PIZZAS

Cook 4 pizzas in less than 2 minutes!

WEIGHT

300lbs - Very portable (with strong friends) or remove the inside tiles during relocation to decrease by around 100 lbs - perfect for catering and tailgating!

OUTER WALL

Outer wall is 1.4mm Aluminum - holds up better in wet, salty Florida weather!

INNER WALL

304-2B grade Stainless steel double wall with a total 1mm (x2 0.5mm) - built to withstand the elements better than stainless steel 304, giving you a lifetime of entertaining

INSULATION

High-temperature ceramic blanket and a special fire-blanket with safety homologation, bio-soluble, and asbestos FREE,  between inner and outer wall to hold in the heat

The thickness of the insulation between the dome of the oven and the inner layer is 3 cm / 1.18" thick

OVEN INCLUDES

Chimney (100% 304-2B Stainless steel), Oven Door (100% 304-2B Stainless steel), Thermometer, Clay Baking Dish, Pizza Peel, 1 Extra Floor Tile

Prime Pizza Oven Features
Sleek design - A pop of

red

or an elegant black
Output: Up to 150 unit. ( 10″) or 80 unit. ( 12″) Pizzas Hour -large enough to use as a commercial pizza oven!
Pizza Capacity: 6 pizzas 9″- 12″Pizzas
Wood consumption: 5-7 lbs+ Hour - we use around 6 pieces of wood per evening of cooking (we bought a big bunch of wood for $10 and have been using it for over 7 nights of cooking) 
Chimney Diameter:  5.9″
Outside: Beautiful Red or Black Aluminum wall - high oxidation and corrosion resistance (we've used ours in the Florida weather for years w/o any issues!)
Inside: Stainless Steel 304-2B DOUBLE wall containing a high-temperature special ceramic blanket. Stainless Steel 304-2B is better due to its resistance to salt and sea corrosion.
Floor: Refractory Tiles
Front: Cast stone in refractory cement (Lafarge) and inside a structure made with a forged iron to reinforce the cast stone
Chimney:100% Stainless steel
Shipped securely in a custom box inside a wood crate
Shipping Crate Size: 43"w x 43"d x 39"h

Included With Your Prime:
Removable Stainless Chimney with Valve and Cap - directs smoke up and away from you; cap protects your oven from dew and rain
Stainless Oven Door - use when you are cooking at slow heat to make perfectly crusted loaves of bread!
Thermometer (

0-932°F

) - helps you know when the oven is ready for cooking
Ash/Wood Holder - helps block wood and ash from your pizzas
Free 12" Metal Turning Peel
Free Clay Roasting Pan (14.5″ x 10″ x 3″)

Custom Cover for the Maximus Prime
Don't let your Prime pizza oven get ruined by the weather!
Wood-fired ovens are a big investment and something which should last nearly a lifetime. Take care of it and keep it out of the harsh weather elements with this durable black nylon cover.
Maximus Prime Large Pizza Oven Cover Features
Material: Heavy-duty polyester with PVC backing
For wood fire pizza oven
Easy to put on and take off
Drawstring closure

Pizza Oven Tools Starter Kit
These pizza oven tools are exactly what we personally use when baking pizzas in our oven. The pizza toolkit contains:
American Metalcraft 2512 14-gauge aluminum pizza peel with wood handle - Blade (12″L x 14″W), Handle (19")
Authentic Pizza Ovens Wooden Pizza Peel 12" x 14" with 8" Wood Handle
Authentic Pizza Ovens 27" long wooden handled oven brush
Authentic Pizza Oven Ash Shovel is a total of 1 foot 7 1/2 inches. The length of the handle is 9"
32" Aluminum Bubble popper & pizza turner

Box of Carolina Cooking Wood
If you're a pizza oven chef or just an aspiring backyard BBQ connoisseur, Carolina Pizza Oven Cooking Wood is here to make your culinary dreams come true.
Made of high-quality white oak splits measuring between 10-12 inches each, this premium wood is perfectly sized for smoking, grilling, and baking in any pizza oven. It creates ample heat to give you the most delicious smoky flavor in all your recipes.
With 18-22 pounds of Carolina Pizza Oven Cooking Wood in a box, you can have plenty of fuel for a night full of fun outdoor cookouts with family and friends or a whole summer full of incredible dinners.

Prime Oven Videos
Setting up a Maximus Arena pizza oven (note: the smaller Maximus Arena with the base is shown in the video below)
Breakfast Casserole Cooking in Prime Pizza Oven
We don't like wasting good heat in our wood-burning ovens so after the pizzas are cooked, we often throw in a good breakfast casserole in preparation for the following morning!  Here's a video of a scrumptious southwestern breakfast casserole complete with eggs, cheese, and salsa! Check out the large cooking space!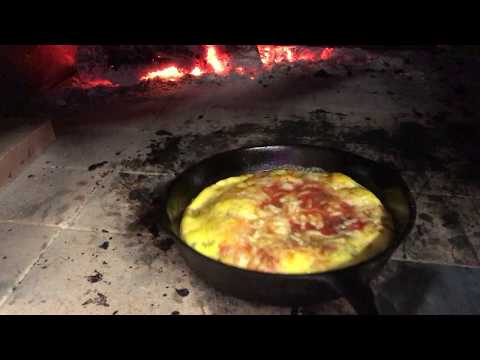 Here's another video showing a couple of pizzas cooking in the Maximus Prime oven.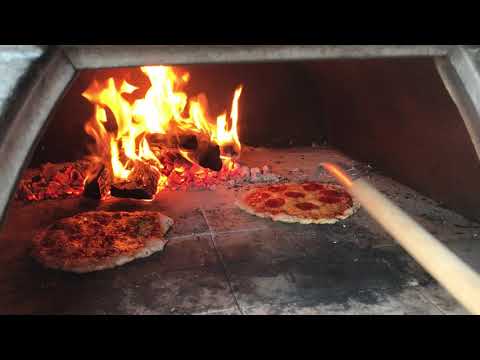 Warranty
Read Authentic Pizza Ovens Warranty here
IF YOU ARE PLANNING TO USE THIS OVEN FOR A FOOD TRUCK OR TRAILER, IT MUST BE MODIFIED IN ORDER TO HANDLE THE CONSTANT MOVEMENT AND VIBRATIONS. YOUR VEHICLE MUST HAVE SATISFACTORY SUSPENSION AND THE FACE OF THE OVEN MUST BE SECURED WITH ADDED BOLTS FROM THE DOME INTO THE FACE. WE HAVE AN INSTRUCTIONAL VIDEO WHICH WE CAN PROVIDE. THIS IS AN AFTER PURCHASE MODIFICATION. WE ARE NOT RESPONSIBLE FOR ANY DAMAGES IF NOT PROPERLY MODIFIED.