Never get cold toes again while enjoying your outdoor space! 
If you're looking for a way to keep your guests warm on those cool nights, look no further than the Bromic Platinum Smart-Heat Electric Heater. This heater has a sleek, stainless steel design that will look great in any room. Plus, it has black or white color options to match any décor. The Platinum Smart-Heat Electric Heater also disperses heat evenly throughout its space, making it perfect for small areas.
This heater is a great option for anyone looking for an easy way to add some extra warmth to their home. It's simple to operate and can be controlled with a remote, so you can stay comfortable no matter where you are in the room. Plus, the Platinum Smart-Heat Electric Heater is energy efficient, so you can rest easy knowing that you're doing your part to save energy. If you're looking for a way to keep your guests warm this winter, the Bromic Platinum Smart-Heat Electric Heater is the perfect option.

Bromic Platinum 2300W | 3400W Smart-Heat Heater Features
Premium 304 Stainless Steel Construction
Adjustable Mounting Brackets
Compact and Elegant Design for Seamless Integration
Slim-Line Design
Tinted Glass Ceramic Fascia
Simple and Easy to Use
Single Switch Activation
Smart System Compatibility
Ceiling, Wall and Flush Mounting Options
On/Off Control
Optional Ceiling Recess Kit
Optional Tube Suspension Kits for Ceiling Mount Installations
Optional On/Off and Dimmer Controls
Heating Area:
2300W - 65 Ft²
3400W - 108 Ft²
Rated Current:
2300W - 220 - 240V/9.6A
3400W - 220 - 240V/14.2A
Minimum Floor Clearance: Wall 72" / Ceiling 96"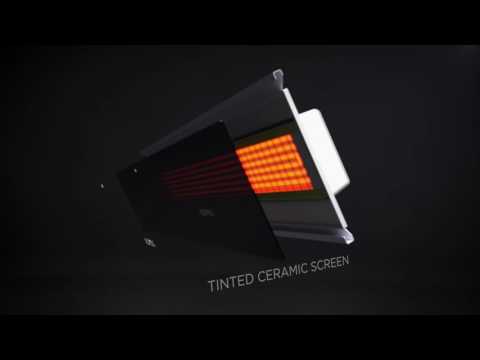 Standard Benefits
The perfect heater for small spaces.

Even heat distribution.

Save energy with a heater that's up to 30% more efficient than other heaters on the market

Keep your space warm and comfortable no matter what the weather is outside

Never have to worry about cold toes again!
Technical Specifications
Platinum Smart-Heat Electric
Specifications
Installation/User Manual 
Installation must be carried out by a licensed and authorized technician in accordance with local building codes. Please refer to our clearance requirements and consult the installation manual for further details.