The Original Sunheat Patio Heater

Whether it's a family gathering or a business party The Original SUNHEAT patio heater will add warmth and style to any occasion.
The Original SUNHEAT Restaurant quality patio heater in a Golden Hammered and Stainless Steel finish features a traditional round design to heat up any outdoor gathering. The round shape provides functionality and style that will warm and accentuate your patio or deck. The 23-inch round reflector hood evenly spreads the 11,000 BTUs of heat across your outdoor space, up to 5 feet in diameter.
You can adjust the heat output by simply turning the temperature control knob. The push button ignition system makes this unit simple and safe to operate. This industrial quality heater will run up to 3 hours on the highest setting.
Both the Golden Hammered & Stainless Steel model comes with a one-year warranty. 
Key Features
11,000 BTUs that will heat up to 8' in diameter
Burn time up to 3 hours
Adjustable Heat Control
The base can be loaded with sand to weigh the heater down on windy days
Great for camping!
Push button ignition system
Traditional Round Design with Metal Frame
Variable Temperature Control Knob
Thermocouple & anti-tilt safety device
Uses standard 1lb propane tank (not included)
Product Specifications
  »  Height: 37"
  »  Width: 27"
  »  Depth: 12"
  »  23" Round Reflector
  »  Gas Type: Propane
  »  Net weight: 13 lbs (without tank)
  »  Mounting Type: Tabletop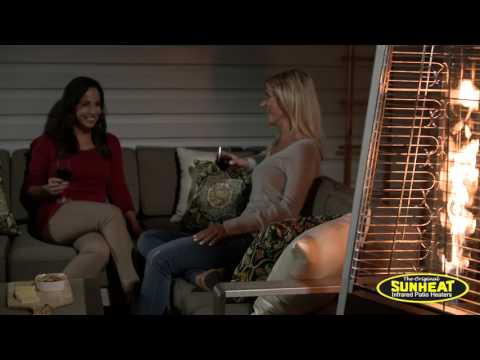 This product comes with 1 year limited warranty