Clean your dirty ash without the hassle with the Cougar Vaccum
Tired of getting dirty when cleaning your pizza oven, grill, fireplace, or wood stove? Want an easy way to clean your wood-fired oven without a shovel?  Wouldn't it be nice if you could just use a VACUUM and not have to worry about the fine ash all over the house or yourself?
Every year we get calls from people just like you who are tired of dealing with the dirty mess of maintaining or cleaning their outdoor oven, wood stove, or fireplace.  Trying to use an ordinary Shop-Vac or home vacuum leads to ash flying out the exhaust creating even more of a mess.  Even worse, picking up warm ashes can lead to a fire in an ordinary vacuum. With the Cougar Ash Vacuum, you can safely eliminate shoveling ashes or any dirty ashes flying around your room!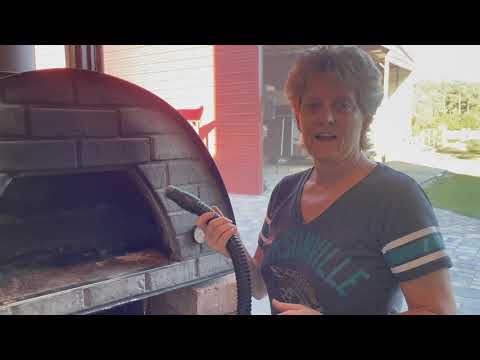 What we love about the Cougar Ash Vacuum
Considered one of the best ash vacuums on the market, the Cougar vacuum is made to pick up ash from all of your wood-fired appliances.  This vacuum is the ultimate AshVac system for quietly removing warm and cold ash from your home.  
This vacuum's patented filter system can remove even the smallest particles of ash while perfectly sealing it in its metal bin.  Each filter is designed to protect against fire and trap extra-fine ash particles.  This allows you to clean without the fear of adding ash particles back into the air you breathe.
The Cougar Ash Vaccum is made in the USA and the pros #1 choice because it is heavy-duty and can withstand harsh environments.  This vacuum is the best-selling vacuum since 1998 and was also ranked as a top gift in the 8 Best Gifts For Your Wood Fired Chef.
INCLUDES: 
Cougar Ash Vacuum to make your ash cleanup simple and quick
Inner Filter to capture ultra-fine ash particles keeping your air cleaner
Outer Filter is flame resistant to 1,000 degrees (F) and coated to prevent ash from clinging or clogging preventing you from breathing in ash-filled air
5-Foot Metal Flex Hose allows you to cover a larger area
13" Metal Nozzle to easily reach hard to get places
8 Piece Tool Kit with different sized adapters and brushes for easier vacuuming in a variety of places
Drawstring Tool Bag to easily carry your accessories
USE WITH: 
Wood Fired Oven
Fireplaces
Pellet stoves
BBQ Grills
Biofuel Stoves
Pizza Ovens
Fire Pits
Cougar Ash Vacuum Features
Proudly Designed and Assembled in the USA with a 10-year limited warranty
Large capacity canister allows you to clean multiple times before emptying
For use with cool to warm fine ash
Patented filter system designed to filter the finest ash particles
The sealed design will never leak ash through the exhaust
Go between wet and dry without switching filters
Clean the filters without opening the unit
Includes full set of accessories engineered to capture dust from tight places
Ideal for pizza ovens, fireplaces, wood stoves, pellet stoves, fireplaces, and BBQs
Cougar Ash Vacuum Specs
Length: 15 inches
Width: 15 inches
Height: 22 inches
Weight: 17 lbs
Color: Black, Red, Green, Winter
Water Lift: 55.00 in
Air Flow: 90.00 CFM
Voltage: 120
Amps: 6.00
Noise Level: 80.00 dB
Cord Length: 6.00 ft
Hose Length: 5.00 ft
Warranty: 10 Years
Port Size: 1.25"
Loveless Cougar Ash Vacuum Specification Guide
This is an easy decision!  Buy today to make your life so much easier!
Cougar Ash Vacuum Warranty
The Cougar Ash Vacuum is warranted for 10 years from the date of the purchase.