Give your grill the respect it deserves with a Grand Island Grill Surround

When you bought your home, did you have dreams of spending days and evenings on the patio barbecuing in your backyard? Make those dreams a reality with an outdoor living space! The Necessories™ Grand Island Grill Surround turns your ordinary grill into a unique bbq station.
A great addition to the Necessories™ 4' Grand Island, the Grand Island Grill Surround has a 60" opening and allows you to house your standing grill while offering counter space for cooking, displaying food, or prep. 
The Necessories™ Grand Island Grill Surround can be assembled in an afternoon, but still, have the polished look of a professional install. It comes with all the pieces and step-by-step instructions, and there is no cutting, guesswork or hassles involved.
The kit includes:
Everything you need to complete the project
WYSIWYG: What You See Is What You Get - if you like it in the picture, you're going to love it in your backyard!
Easy to follow instructions allows anyone to build, regardless of skill level
Most kits can be built by two people in an afternoon or less!
Pair with other Rockwood kits like the Necessories corner piece and the Grand Island Bar 4' section to create your entire outdoor kitchen space!

Necessories Grand Island Standard Features
Easy to read, step-by-step instructions
Rockwood's multi-piece Lakeland/Riverland block
Silver Creek's hand-chiseled limestone mantels and tops
Concrete precut and sized to fit
Steel reinforcements
VOC compliant adhesive
Gloves
Necessories Grand Island Surround Specifications

96" W x 48" D x 46" H
Fits 60" Freestanding Grill
4" Footrail, 96" W x 18" Top Bar, 18" W x 30 Side Tops
2.25" H Silver Creek Chiseled Edge Wet Cast Tops
Island Type: Straight
Material: Brick | Cut-Concrete | Super-Stik Mortar
Weight:
Build Time: 4 hours
*Build time assumes two people with limited skills and base work is completed prior to construction.
Grand Island Grill Surround Color Choices
Necessories kits feature Rockwood Retaining Walls' multi-piece, tumbled Lakeland and Riverland wall systems. Their earthy color variations and aged appearance enhance the architectural style of any home. All kits are available in three color choices.
Three standard color choices: Bluestone, Sante Fe, Beechwood
Three-piece block system
Authentic drum tumbled
Wet cast, faux Indiana Limestone mantels, and tops with hand-chiseled edges

Necessories mantels, caps, and tops come from Silver Creek Stoneworks and look and feel like hand-chiseled natural stone. All caps and tops come in Indiana Limestone (gray) color.

The Grand Island Bar Series is modular, making it easy to design and build large kitchen and entertainment areas. Here are sample configurations below:

Installation Video
Watch this time-lapse installation to see how quickly and easily two DIYers installed the Grand Island Bar Corner Section, another of Necessorie's DIY kits.  All the kits come complete with cut, pre-formed bricks, as well as Super-Stik mortar for a simpler assembly;  at less than 1.5 hours, it's the perfect afternoon project!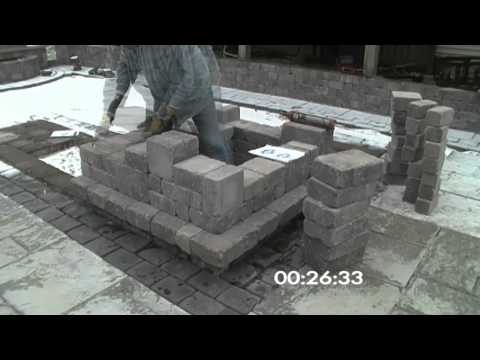 Suggested Materials and Tools:
Gravel Base
Shovel
Rubber Hammer
Level
29 oz. Glue Gun
Stiff Brush
Safety Glasses
Gloves (Included)
Plate Compactor/ Hand Tamper