Commercial Pizza Oven (Model 110-Due-PAGW)
Not only is the Earthstone 110-Due' high capacity commercial pizza oven perfect for pizzerias and restaurants, but it also allows you to install in a space with limited depth.  This is due to the Model 110-Due's oval-shaped cast body which, unlike rectangular-shaped cooking interiors, has a curved and domed oval interior allowing for optimal convection.
The Earthstone Model-110-Due has comes with either single or double oven openings. The Gas-fired models include two burner systems with individual controls that allow you to evenly heat the oven from both sides. 
Features
The cooking area in this commercial wood-burning or gas oven is 80.5" x 42.5" oval diameter giving you plenty of space for cooking the following:
12" Pizzas: 11
16" Pizzas:  6
18" Pizzas:  6
Eight medium size steaks on 17" x 20" grilling rack
Six large steaks on 17" x 20" grilling rack
The Earthstone wood-fired (or gas) oven will help you achieve a combination of baking, roasting, and smoking, techniques that will produce healthy and extremely delicious dishes.
The Model 110-Due-PAGW gas/wood combination oven contains all the same high-quality features and components as the Earthstone Model 110-Due-PA wood fire oven. In addition to the Model 110-Due-PA, the Model 110-Due-PAGW has three modes of operation: wood-fired, gas-fired, gas/wood combination.
Don't let your business wait another day - order your Earthstone Model-110-Due-PAGW Oven today! 
Specs
Model-110-Due' Dimensions:
Exterior Dimensions: 92 ¼" x 54 ¼"
Interior Diameter: 80 ½" x 42 ½"
Weight: 5,000 lbs.
Clearance to Combustible Sidewalls: 1″
Oven entrance opening:
Single Entrance - 31" x 10½"
Double Entrance - 20 ½" x 10½"
Fuel Options:
110-Due'-PAG – Gas Fired (Dual Burner)
110-Due'-PAGW – Gas/Wood Fired (Single Burner)
Utilities Required for Model-110-Due-PAGW (Gas/Wood Fired Oven):
175,000 BTU - 7" W.C. - LP GAS 10" (for PAG and PAGW only)
1" female NPT Gas Inlet (for PAG and PAGW only)
Two - 120 VAC/ 3 AMP electrical connection (double burner option)
Venting Requirements
Direct connection to a power-ventilated ETL/UL listed grease duct rated chimney or ETL/UL listed Type 1 exhaust hood. 
Earthstone Commercial Venting Guide
Ovens come standard with: 
Single or Double Oven Door Openings
Factory finished black powder coat paint
Heavy duty commercial-grade gas burner system with ceramic fire logs
Digital Thermometer Controller
Cast aluminum door with Teflon handles
Granite shelf
Hood cover (stainless or copper trim)
Stainless steel pizza peel
Installation Manuals
Model 110-Due-PA/PAGW Wood/Gas-Fired Specification Guide
Model 110-Due-PA/PAGW Wood/Gas-Fired Assembly Installation Manual
Videos
Watch this video to learn more about the Earthstone Ovens incredible commercial pizza ovens!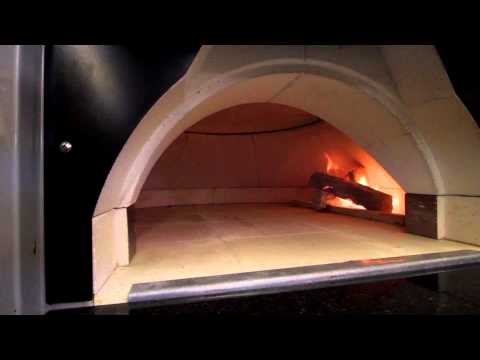 Warranty
5-year limited warranty on refractory
1-year limited warranty on gas and electrical