The CBO-750 Pizza Oven Creates A New Family Dining Experience
Your patio is missing something. That beautiful countertop, seating area, covered furniture, and gorgeous garden are just begging for an extra helping of charm, uniqueness, and usability; so why not grace your backyard with a truly one-of-a-kind countertop pizza oven from Chicago Brick Oven?
It's a traditionally-inspired, yet contemporary design that will make your outdoor space shine beyond all expectations. You'll be able to cook delicious wood-fired pizza, like the kind you get from restaurants, in the comfort of your own home and look good doing it at the same time.
Constructed for style, speed, and longevity, the CBO 750 is a compact, yet powerful addition to any outdoor living space that you and your family will cherish for years. Delicious pizza has never been easier to cook!
What makes the 750 so great?
Pre-assembled countertop design
This stunning copper brick oven arrives ready for you to set up on any suitable platform, whether it's inside a custom-built enclosure, or right on top of a patio island next to your barbecue. This pre-assembled style also leaves you with options, allowing you to move your oven to a better location later on without a costly removal process.
Quick cooking
The CBO 750 can reach temperatures as high as 1000 degrees, making it possible to cook two Neapolitan pies in just 90 seconds! Whether you're feeding a ravenous crowd of friends, family members, or restaurant guests, the CBO 750 will keep up with every mouth in the room to ensure there's plenty of slices to go around. Up to 60 pizzas an hour can be peeled out of the 750, so the sky really is the limit when it comes to how many people you want to invite to the next cookout. (Just don't get upset when the whole neighborhood shows up next year.)
Appealing aesthetics
A brick oven by design, but a sleek, burgundy centerpiece by appearance, the 750 is a stylish choice for just about any space. Match its earth tones to the scenery outdoors, or give an added touch of sophistication to your kitchen. A curious combination of geometric position and sweeping features gives this oven an unassuming, yet eye-catching quality that your guests will definitely notice.
Endless possibilities
The 750 doesn't like to be held down. It's a highly versatile oven, ready for indoor and outdoor installations, and can cook a whole lot more than just pizza. Roasted vegetables, pastries, empanada, and so much more make great matches for the delicious flavor of wood-fired cooking, and the 750 delivers every time.

CBO-750 Countertop Specifications
Overall Oven Width: 35.5"
Overall Oven Depth: 40"
Overall Oven Height: 23.5"
Door Width: 17"
Door Height: 9.25"
1,064 sq in Internal Space
Cooking Width/Diameter: 28"
Cooking Depth: 38.25"
Internal Height: 12.5"
Insulation Thickness: 3"
Item Weight: 625 lbs.
Overall Height (+chimney & cap): 48.25"
Iron Chef Restaurateurs, Tim Love and Edward Lee, advocate the superior cooking performance of the CBO Pizza Ovens!

"Cooking with wood fire adds an entire new vocabulary to my cuisine, one that is primal, instinctive and adventurous. With my Chicago Brick Oven, I can achieve this with a consistent heat source that I could not live without. It's my favorite oven to cook with. The menu changes weekly but the CBO-750 is a mainstay!"

- Chef Edward Lee
Iron Chef America

CBO-750 Countertop Features
Type: Countertop - pre-assembled giving you benefit of the permanent wood-fired oven without time and expense of full custom installation
Construction: Refractory Cement | Stainless Steel Fibers | Metal Hood - high-tech composite - designed to hold heat for faster and longer cooking times
Insulation:  Unique insulating design creates a heating envelope that allows your oven to reach high temperatures quickly while remaining cool on the outside
Finish: Copper, Silver, or Black 
Fuel Type: Wood - there's nothing like authentic wood-fired flavors!
Certification: NSF Rated | UL Listed - safe for indoor and outdoor use. For commercial consumers, it has never been easier to drive sales with a one-of-a-kind dining experience.
Pizza Oven Items Included: Prefabricated refractory oven on Metal Counter Top Base with Metal Hood
Bonus Cooking Kit Includes: Pizza Peel, Brush, Infrared Thermometer Gun
Clearance to Combustibles: 10" to Sides | 18" to Ceiling | 30" from DoorThe CBO-750 model which offers approximately 28" x 39" of cooking surface
This outdoor pizza oven provides over 1,064 square inches of cooking surface which is perfect for the patio pizza parties! 

This size is our most popular oven from this line!

Don't hesitate - Add To Cart now to get your own Chicago Brick Oven CBO-750 countertop oven today! Have more questions?  Give us a call.
Videos
Benefits of a Chicago Brick Oven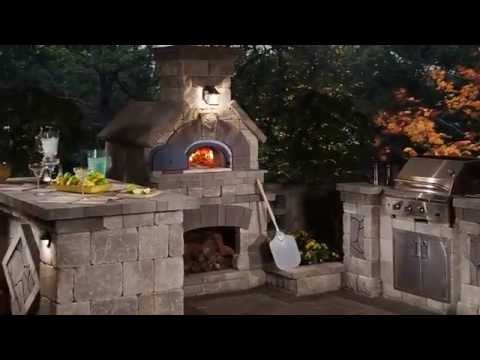 Firing Your Outdoor Pizza Oven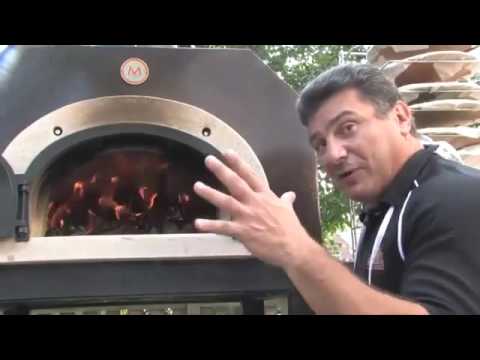 Warranty
Chicago Brick Oven has a limited warranty that warrants their products to be free from defects in materials and workmanship for a period of three (3) years from the date of shipment.
Local regulations about wood burning equipment should be consulted.