Save time and money with this pre-fabricated combo unit!
Fire up the gas fireplace and wood fired brick oven in days rather than weeks!  Rather than spending months building a pizza oven or fireplace, you can have a completely manufactured ready-to-finish combo delivered and setup in a day.  Finish with the material of choice to create a beautiful backyard focal point that your client's will love.  
This amazing outdoor fireplace with pizza oven was featured on This Old House in 2021.  The Round Grove fireplace/brick pizza oven combo unit blends the best of the leading ready-to-finish, quality products.  The advantage of the Baha Brick Oven is the set-back for the brick oven.  This creates a 12" deep shelf below the brick oven door which is handy when putting in or removing dishes from the oven.
The Round Grove ovens are featured in four models; Baha, Baha Alfresco (all gas version of the Baha) Fiesta, and Kiva. Made from 18-gauge galvanized steel U-channel framing, with glass-fiber reinforced sheathing and factory-applied scratch-coat on all sides. They not only feature heavy duty steel construction, but are resistant to corrosion, are non combustible, and are built with inert materials so there is no rotting, swelling, or rusting. They can easily be finished with your choice of stone or brick veneer to match your home or building exterior.
IMPORTANT:  On the day of delivery you will be required to provide a forklift or Bobcat to off load your unit from the truck.
See how the Round Grove fireplace with pizza oven is delivered and setup in 60 seconds.
div class="yt-wrapper">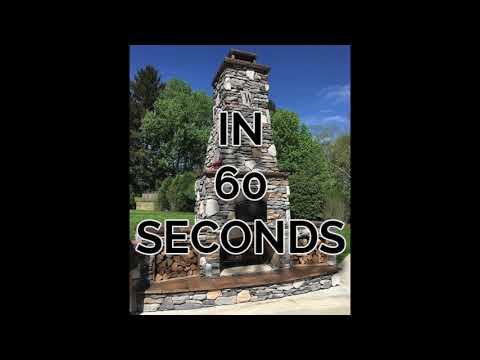 The Baha combination unit features a wood-burning brick oven above a vent-free gas fire feature in the lower firebox. The key valve and gas line is included in the price. The lower firebox is built to accept either a linear burner with colorful glass beads or one of our distinct gas log species.
The Baha model combination unit is perfect for homeowners that prefer either a gas log set or a gas linear burner in the fireplace, but still want a wood-fired brick oven. It is designed to be a zero-vent firebox in the fireplace burning gas only rather than wood. The brick oven is wood-fired only.
There is one flue in the chimney for the brick oven only. This simple design permits a lower price point so it is also budget-friendly alternative. Plus there's no need to chop, stack, or store firewood for the fireplace - all you need is wood for the brick oven!!
Note:  You can not use wood in the Baha fireplace.. If you wanting to burn standard wood order the Fiesta Largo instead. 
The Baha Mini and Baha Poco brick ovens are large enough for a bank of coals and one 14-16" pizza while the Baha Mezzo and Baha Largo can easily accommodate more than one larger pizzas. 
Baha Fireplace and Pizza Oven Combo Features
Weight starts at - 1800lbs

Gas Rough-in and Key Valve included

Brick Oven In-Door Thermometer included

Hinged cast iron door included

Pizza peel included

12' x 12' flue liner

Stainless Steel Chimney Cap included to keep moisture out of the oven

18-Gauge galvanized U-channel framing with glass-fiber reinforced sheathing and factor-applied scratch-coat on all sides.
Heavy duty steel construction, corrosion resistant, non-combustible and are built with inert materials.
Fire brick installed on the interior rather than a precast refractory insert that is prone to crack.
Built to UL127 material standards
IMPORTANT: Please note these units arrive with JUST a scratch-coat on the exterior and must be finished to your liking upon installing.
Round Grove Products Baha Gas Fireplace and Wood Pizza Oven Combo Size Chart
| | | | |
| --- | --- | --- | --- |
| Size | Overall Dimensions | Oven Dimensions | Weight |
| Mini | 39" w x 42" d x 120" h | 21" x 25" | 1800lbs |
| Poco | 48" w x 42" d x 120" h | 29" x 25" | 2000lbs |
| Mezzo | 55" w x 42" d x 120" h | 37" x 25" | 2200lbs |
| Largo | 63" w x 42" d x 120" h | 45" x 25"  | 2400lbs |