Enjoy quick heating times with the 5 Minuti Pizza Oven
The Alfa 5 Minuti is a compact, incredibly efficient stainless steel oven designed by Italian artisans to meet the needs of families and businesses alike.
By taking only 15 minutes to heat and cooking 2 pizzas in only 90 seconds, the Alfa is an incredible time-saver and a piece of remarkable engineering that will last a lifetime!
All of the punch packed into the surprisingly wieldy Alfa pizza oven makes it one of the best wood-fired pizza ovens for residential use you can find on the market today. Read on to learn about the exciting features of the Alfa 5 Minuti wood-burning oven!


Alfa Ovens 5 Minuti Specifications
Oven External Width: 32.3"
Oven External Depth: 28.85"

Oven Height: 23.1"
Oven Height with Chimney: 44.2"
Cooking Space: 23.6 W x 19.7 D x 31.5" tall
Oven Opening Width: 18"
Oven Weight: 188 lbs
Fuel Type: Wood
Max temp: 500°C (1000°F)
Color Options: Copper
Chimney Length: 21.1"
Chimney Width: 5.9" ⌀
Heating time: 15 minutes
Pizza Capacity: 2 Pizzas
Bread Capacity: 4.4 pounds
Pizzas every 15 minutes: 6 Pizzas!
Recommended fuel: Max 1.9 inches in diameter, trimmings
Average Fuel Consumption: 6.6 pounds/hour
Smoke Temperature: 395°C / 743°F
Alfa 5 Minuti Countertop Pizza Oven
Technical Sheet  |  User Manual

How the Alfa 5 Minuti Works
Alfa Forno's 5 Minuti pizza oven has a unique baffling airflow system that provides more circulation of the flame and heat which allows the oven to reach higher temperatures must faster!
What makes the Alfa 5 so great?
1. Rapid heating time
The Alfa 5 heats up in just 15 minutes, giving you more time to craft the perfect pizza instead of tending to a stubborn fire.
2. Flexible and compact
Available in two configurations of oven and base, or just the oven top, the Alfa can be customized to suit your needs. It makes the perfect stationary oven, complementing all kinds of architectural styles, or an exemplary mobile oven on a portable, wheeled base to meet all your outdoor oven needs, no matter where you need to go.
3. Refractory tiling
High-heat cooking is made possible through the interchangeable refractory tile on the dome's cooking floor, allowing you to test out all of those scorching recipes a regular oven can't handle.
4. Timeless style
The craftsmen at Alfa have put their creative chops on full display with the 5, combining sleek stainless steel with wood finishes and powder-coated color to create an oven that will always look in fashion, no matter where it goes.
5. Easily adjusted cooking
Fitted with an ergonomic handle for controlling the drought and temperature inside the oven, the Alfa 5 can cook food to a crisp with an open door or slowly roast it using convection with the door and the drought closed.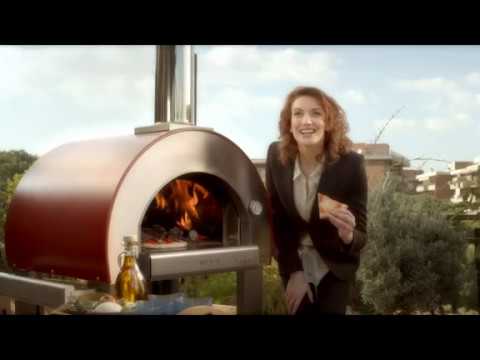 Similar Pizza Oven Comparisons
- Weight: 198 lbs
- Removable Door
- Dimensions: 35.9"W x 25″D x 18.9″H (w/o chimney)
- Cooking Space: 27.6″W x  15.7″D x  18″H

- Oven door: 19.7″W x 8.1″H
Alfa Ovens 5 Minuti Portable Pizza Oven
- Weight: 220 lbs
- Removable Door
- Dimensions: 36.6"W x 32.3″D x 70.1″H (with cart and chimney)
- Cooking Space: 23.6″W x  19.7″D x  20″H

- Oven door: 18″W x 9.8″H
Alfa Ovens 4 Pizze
- Weight: 264 lbs
- Removable Door
- Dimensions: 39.3"W x 30.2″D x 26.7″H (w/o chimney)
- Cooking Space: 31.5″W x  23.6″D x  26″H

- Oven door: 26.7″W x 8.6″H