The 36" Thompson Deluxe Direct Vent Linear Gas Fireplace
The stylish Thompson 36 direct vent gas fireplace can really put out the heat – at 36″ x 15″ in size, it is a compact gas fireplace that has on output of 26,000 BTU's.
Stanford Fireplace Dimensions
Height:  28 1/2"
Width:  39 1/2"
Depth:  13"
Weight:  125 lbs
Height:  37"
Width:  38"
Depth:  15"
Height:  16 1/2"
Width:  29"
Fireplace Features
•   BTUs
Hi 26,000 NG | 26,000 LP
Low 18,000 NG | 18,000 LP
•   Venting **
4" Flex Vent on Exhaust Side
7" Flex Vent on the Air Intake Side
**Venting - Any certified 2-ply flex piping can be used. Certified on Duravent, Selkirk, Metal Fab, ICC
•   Ceiling/Mantle Height
Min from Top of Unit: 52"
Mantle Height: min 42"
Black trim & safety barrier(both attached to unit)
26,000 BTU
Electronic ignition
Borosilicate glass
100% Safety shut off
Top vent only
Black Porcelain panels
4 piece log set
Deluxe digital remote control
Fan kit
Modulating valve
Ideal Applications
New Builds & Renovations
Commercial Spaces
Restaurants
Condominiums
Included Accessories

Optional Accessories
Venting
SKU: TERM-KIT
Termination kit for 4" & 7" vent Includes: 1 wall thimble, Horizontal term vent, No flex included.
* Must supply own flex or purchase 10' 4" x 7" flex length only
Size: 4"
Termination kit for 4 x 7" venting

Venting Requirements: This unit requires a venting pipe with an inner diameter of 4 Inches.
---
SKU: SF94217405
If 5' of flex is required, use this kit:

"4"X 7" Horizontal Flex Termination Kit w/ 5' of Flex, Horizontal Termination, Wall Thimble.
Includes Coaxial flex lengths, horizontal termination, wall thimble, screw package, sealant
---
4" x 7" Coaxial Flex, 10' Length

SKU: SF94207410
To extend SF94217405 an additional 10' purchase this:

4" X 7" Coaxial Flex
10' Length Extends SF94217405 – 5' Flex Kit Couplers Sold Separate – SF942074C
---
SKU: SF942074C
4" X 7" Flex Extension Coupler Kit (1-4" & 1-7")
Includes 2 couplers, 1 for the inner flex and 1 for the outer flex

Size: 4"
Color: Stainless Steel
One 4" flexible vent pipe coupler
One 7" flexible vent pipe coupler
4" x 7" flexible vent pipe extension coupler kit
---
Dura-Hard Vent Pipe Adapter
SKU: DURA-HARD
For Hard pipe only installations
Adapter to use hard pipe off of fireplace
Transitional adaptor
Constructed from galvanized steel
Connects flexible vent pipe to rigid vent pipe
Size: 4"
---
Dura-Flex Vent Pipe Adapter
SKU: DURA-FLEX
To convert from flex to hard pipe
Galvanized adapter to go from flex to hard pipe
Transitional adaptor
Safely transitions flexible vent pipe to rigid vent sections
Size: 3"
Watch this Thompson 36 Gas Fireplace Video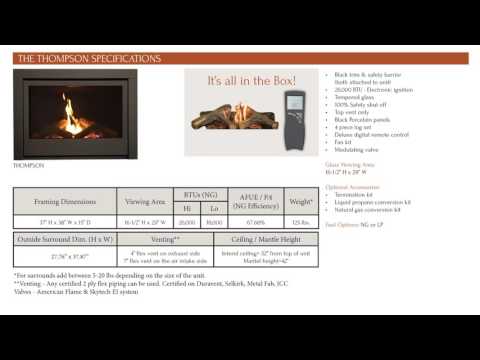 Gas Fireplace Warranty
Sierra Flame Gas Brochure
Thompson 36 Specification Guide
Thompson 36 Installation Manual