The 45" Bennett Direct Vent Linear Gas Fireplace
The stylish Bennett 45L gas fireplace offers you a choice of black metal surround with safety barrier or decorative stainless steel surround with safety barrier. Your choice. The Bennett 45 is gorgeous either way! It will keep you warm.
Bennet Fireplace Features
• BTUs
Hi 30,000 NG / 27,000 LP
Low 22,000 NG / 19,500 LP
• Venting **
4" Flex Vent on Exhaust Side
7" Flex Vent on the Air Intake Side
**Venting - Any certified 2-ply flex piping can be used. Certified on Duravent, Selkirk, Metal Fab, ICC
• Ceiling/Mantle Height
Internal Ceiling: 58"
Mantle Height Minimum: Minimum 42"
Ceramic Glass
69.5% Natural Gas Efficiency
Black Porcelain Panels
Flush mount design
Black reflective fire glass & 9 piece decorative rock media set
7 stage modulating valve (flame control)
Linear style burner
Electronic ignition
7 day programmable thermostat deluxe remote
100% Safety shut off
NG or LP
Top vent only
Deluxe digital remote control
Dual fan kit with 6 stage adjustable control
Dual stainless steel pan burner
Ideal Applications
New Builds & Renovations
Commercial Spaces
Restaurants
Condominiums
 
Fireplace Dimensions
Height: 29.86"
Width: 44 1/4"
Depth: 14 1/2"
Weight: 170 lbs
Height: 39"
Width: 44 1/4"
Depth: 16 1/2"
Height: 16 1/2"
Width: 42"
Included Accessories
Surround Options:
Trim & Barrier Required to complete the fireplace installation.
26.10" H x 49.46" W
Weight: 30 lbs
30" H x 53. 17"W
Weight: 30 lbs
Optional Accessories
Fire Glass & Designer Media Kits
RUSTIC - 14 Piece Design Media Kit. This includes:

Decorative Media Fire Glass


Our decorative fire glass media is a beautiful addition to your fireplace. Turn your fireplace into a expressive work of art by simply adding our
decorative fire glass media. Our fire glass adds a distinctly modern feel to your gas fireplace - mix colors and textures for a unique appearance.

Our decorative fire glass is tempered and will not melt or degrade, some discoloration is normal on glass that is placed directly on the flame.
Always wear protective gloves when handling fire glass media.

One 5lb container of media will cover 1 square foot.
Venting
Termination kit for 4" & 7" vent Includes: 1 wall thimble, Horizontal term vent, No flex included.
* Must supply own flex or purchase 10' 4" x 7" flex length only
Size: 4"
Color: Black
Termination kit for 4 x 7" venting

Venting Requirements: This unit requires a venting pipe with an inner diameter of 4 Inches. Please see the Venting Components section on this page if available for the venting pipe that must be used with this unit.
---
SKU: SF94217405
If 5' of flex is required, use this kit:

"4"X 7" Horizontal Flex Termination Kit w/ 5' of Flex, Horizontal Termination, Wall Thimble.
Includes Coaxial flex lengths, horizontal termination, wall thimble, screw package, sealant
---
4" x 7" Coaxial Flex, 10' Length

SKU: SF94207410
To extend SF94217405 an additional 10' purchase this:

4" X 7" Coaxial Flex
10' Length Extends SF94217405 – 5' Flex Kit Couplers Sold Separate – SF942074C
---
SKU: SF942074C
4" X 7" Flex Extension Coupler Kit (1-4" & 1-7")
Includes 2 couplers, 1 for the inner flex and 1 for the outer flex

Size: 4"
Color: Stainless Steel
One 4" flexible vent pipe coupler
One 7" flexible vent pipe coupler
4" x 7" flexible vent pipe extension coupler kit
---
Dura-Hard Vent Pipe Adapter
SKU: DURA-HARD
For Hard pipe only installations
Adapter to use hard pipe off of fireplace
Transitional adaptor
Constructed from galvanized steel
Connects flexible vent pipe to rigid vent pipe
Size: 4"
---
Dura-Flex Vent Pipe Adapter
SKU: DURA-FLEX
To convert from flex to hard pipe
Galvanized adapter to go from flex to hard pipe
Transitional adaptor
Safely transitions flexible vent pipe to rigid vent sections
Size: 3"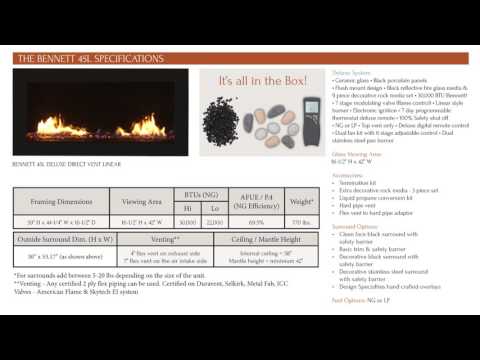 Gas Fireplace Warranty
Sierra Flame Gas Brochure
Bennett Log Placement Guide
Bennett 45" Specification Guide
Bennett 45" Installation Manual