Enjoy more colors and less frame with the Sideline 42 Electric Fireplace
The Sideline® Elite 42 improves upon the Sideline by reducing frame size, increasing flame area, and adding all the features you want and need.
Overview
The Touchstone Sideline Elite® Electric Fireplace was designed to improve upon our popular Sideline series by adding more colors, more features, and less frame around the fireplace.
The Sideline®  Elite delivers the beauty of a fireplace without the fire and smokey smell. The Sideline® Elite has 2 heat settings (high and low) with a thermostat and will heat a room up to 400 sq. ft. Also, the fireplace's flame can be used without the heating feature. The Sideline® 42 Elite is easy to install and comes with simple and understandable instructions.
Wi-Fi Enabled - Control settings with the free mobile app and configure voice commands with Amazon Alexa® and Google Home®.
Compatible with light switches and smart outlets. Remembers flame and media colors.
Can be plugged in or hardwired 120v. Safe, energy-efficient alternative to a gas or wood fireplace.
Built-in heater adds supplemental heat. Two heat settings (750W/1500W) with thermostat (68–88°F) or constant on.
Premium LED flame display with 6 flame colors, 10 media bed colors, 5 flame/media bed intensity settings, 3 flame speeds, and an 8-hour timer.
Enjoy the flames with the heater ON or OFF for ambiance anytime. The glass front remains cool to the touch for added safety.
Customize the look with included faux logs, driftwood, and crystals.
Operate by touchscreen, included remote control and free mobile app. Connect to a compatible smart device for voice commands.
Product Features
Minimal frame with wide 38" x 14 3/8" flame viewing area
Two heat settings (750W/1500W) with a thermometer (68-88°F) or constant-on
6 flame color options and 10 media bed color options
5 flame and media bed light intensity settings
3 flame speeds and timer up to 8 hours
Can be plugged in or hardwired
Smartphone compatibility
Turn on or off by voice using Amazon Alexa or Google Home
Includes a log set, crystals, and driftwood.
2 heat settings (high and low) with thermostat
Designed for recessed mounting in wall
Remote control for heat and flame setting (batteries not included)
Dual-mode operates with or without heat for only flame effect
Built-in timer mode for shut off up to 8 hrs
If mounting under a wall-mounted flat panel TV, mount fireplace at least 8 inches below the bottom of the TV.

Dimensional Drawing

Specifications
Frame Color: Black
Fireplace Dimensions: 41 3/4" wide x 19 1/4" high x 5 1/2" deep
Firebox Dimensions: 40 7/16" wide x 18" high x 5 1/8" deep
Rough Opening Dimensions: 40 3/4" wide x 18 1/4" high x 5 1/2" deep
Shipping Carton Dimensions: 46" wide x  25" high x 10" deep
Fire Dimensions: 38" wide x 14 3/8" tall
Part number: 80042
Watts: 1,500
BTU's: 5,000
Room Coverage: 400 ft.
Fireplace Weight: 41 pounds
Shipping Weight: 56 pounds
Voltage: 120v
Amperes: 11 and up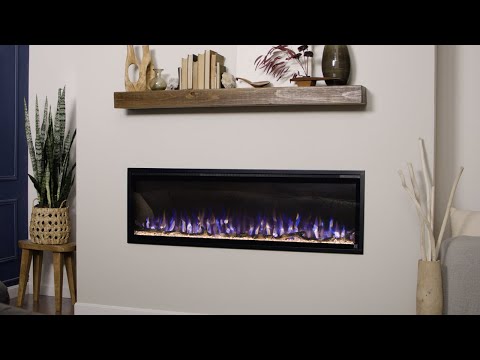 Realistic Flame
The heart of Touchstone's electric fireplaces is the flame itself. We tell our customers the flame will transcend your expectations, and they will not fail to impress. The flames deliver the same relaxing effect as real flames, without the smell or mess, and they look great in any room of the house.

Multiple flame colors
To create the cozy atmosphere of a traditional fireplace, this electronic unit emits authentic-looking flames that emulate a real fire. The flames that Touchstone Home Products™ fireplaces create are natural enough to have friends and family think you own a traditional wood-burning fireplace.
This fireplace has 60 color combinations, allowing you to set just the right mood. The lighting and heating options of this fireplace offer you the ability to customize your atmosphere to your liking. With both its look and performance, Sideline® Elite gives you the total package. Both the heat and flame settings can be operated through remote control. (Batteries not included)

Yes, it does heat your room
What makes the Sideline® Elite unique is its heating capabilities. It allows you to recess your electric fireplace into the wall while also providing heat through the vent in the front of the unit. The Sideline® Elite offers two heat settings that quickly add heat to a room up to 400 sq. ft.
Please note the heater isn't designed to be the primary heat source in your room or home. It's designed to warm up a cool evening or bring the temperature of a room up a few degrees. The visual appeal and heat emitted by your electric fireplace place in addition to your home's primary heating source will provide your room with a cozy and calming aura.
Your electric fireplace's heat settings can be controlled using the remote or the controls on the front of the unit, and you also have the option of controlling the heat by setting up the Sideline® Elite's built-in heat timer.

Mounting and Use
The versatile Sideline® Elite electric fireplace offers two installation options. Although it is essentially designed for insertion in your wall, it can also be mounted on your wall. Instructions for mounting and installation come with the fireplace, and we recommend you follow the simple instructions provided. We recommend placing your Sideline® Elite 42 at least 20" below your ceiling or 8" below your mounted flat-screen TV because of its heating feature.
Sideline Elite 42" Recessed Electric
Fireplace User Manual