Enjoy big flames within a slim frame with the Forte Electric Fireplace
The Forte Electric Fireplace offers a narrower and taller flame display at 31" wide x 17" tall, all in a streamlined design.
Overview
The Forte™ 40" wide Electric Fireplace is a uniquely designed electric fireplace by Touchstone™ that was made to accommodate customers who wanted to see a narrower edition of our Sideline model.
The Forte is designed to be recessed into your wall while also allowing you to use its heating feature.  The Forte™ heating feature is designed so that the heat is released through the front of the unit. Therefore, recessing The Forte™ within your wall is not a fire hazard. The Forte™ is tall and narrow in size making it the perfect shape for smaller walls.
The Forte™ Electric Fireplace gives you the beauty and warmth of a fireplace without the open flame, smell, or cleanup.
This electric fireplace heats up to 400 square feet with 5 flame settings and 2 heat settings (1000W and 1500W). A heat-free setting lets you enjoy the realistic flames of the fireplace all year round.
Can be plugged in or hardwired 120v. Safe, energy-efficient alternative to a gas or wood fireplace.
Built-in heater adds supplemental heat. Two heat settings, timer, and auto shut off.
Realistic LED flame display with 3 adjustable flame colors and 5 flame intensity settings.
Enjoy the flames with the heater ON or OFF for ambiance anytime. The glass front remains cool to the touch for added safety.
Customize the look with included faux log set and crystals.
Operate by control panel or included remote control.
Product Features
Includes remote control for flame color, flame intensity, and heat settings.
Includes faux log and crystals.
Slim frame with a large fireplace viewing area.
Life-like LED flames cannot be rivaled by competitors.
Heats up to 400 square feet (5,000 BTUs)
Dual-mode (2 heat settings), operates on low and high heat
All-season flame display can be enjoyed with the heater turned on or off
Designed for recessed mounting in wall
Remote control for heat and flame setting (batteries not included)
If mounting under a wall-mounted flat panel TV, mount fireplace at least 12 inches below the bottom of the TV.

Dimensional Drawing

Specifications
Frame Color: Black
Fireplace Dimensions: 40" wide x 26 1/2" high x 5 5/8" deep
Recessed Dimensions: 32 1/2" wide x 25 5/16" high x 5 1/4" deep
Rough Opening Dimensions: 32 3/4" wide x 25 9/16" high x 5 3/4" deep
Fire Dimensions: 30 7/8" wide x 17 1/8" tall
Part number: 80006
Watts: 1,500
BTU's: 5,000
Room Coverage: 400 ft.
Fireplace Weight: 44.8 pounds
Shipping Weight: 60 pounds
Voltage: 120v
Amperes: 12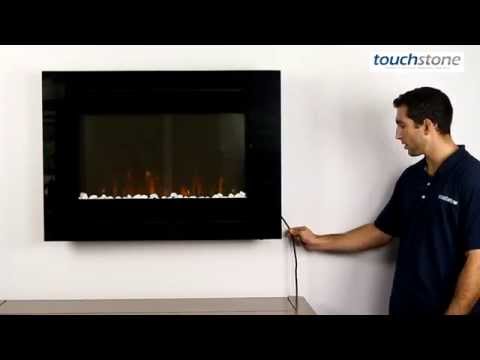 The New Design
Free of distracting buttons and vents, The Forte™ Electric Fireplace features a streamlined mounting design for easy installation inside of a wall. Mounting is available on the back or sides of the unit.
Simple to operate, the fireplace's heat and flame settings are fully controlled by a handheld remote. The 17-inch high glass display showcases the realistic flames beautifully; while small, unobtrusive heat vents on the glass keep the focus on the fire.

Unmatched Realistic Flame
The true-to-life flame sets Touchstone™ Electric fireplaces apart from other brands. The flame of The Forte™ Electric Fireplace is so realistic, friends will think it is a gas fireplace and will be cautious about placing their hands near the flame.
Energy-efficient LED bulbs power the flame. The Forte™ Electric Fireplace has 5 flame settings, from a soft ember to a full raging fire which brings the 31" x 17" flame area alive. With a touch of the remote control, you can adjust the flame intensity to match the lighting of your room or your mood.

Heat Setting
It has two heat settings and is designed to add heat to a room up to 400 square feet. The heating element warms up quickly and creates a cozy setting, especially when used in combination with your home's primary heating source. The heat setting is controllable from the remote control. Versatile for use in any season, you can adjust the fireplace settings to enjoy the flame without the heat in warm weather.

How Does the Forte Electric Fireplace Compare?
The Forte™ Electric Fireplace's design allows both recessed wall installation and wall-mounted installation. The heat vents for both units are on the front glass displays so that the heating features can be used when recessed into your wall. The Forte™ Electric Fireplace boasts our tallest flame display, which gives the look of a more intense fire.

Mounting and Use
The Forte™ Electric Fireplace is designed for insertion in your wall. Complete instructions are available in the downloadable manual. Mounting The Forte™ Electric Fireplace into a recessed position can be accomplished by mounting using its vertical supports (6 screws). The glass display area is securely held in place by four bracket hooks and two screws.
For installation, simply remove this glass cover to access the mounting screw holes. As with all electric fireplaces, Touchstone recommends placement of The Forte™ Electric Fireplace at least 12 inches below your ceiling. In some instances, customers have placed The Forte™ Electric Fireplace under a wall-mounted, flat-screen television. When mounted below a TV, we recommend mounting the fireplace at least 12 inches below the bottom of the TV.
Forte 80006 40" Recessed Electric
Fireplace User Manual