The Earthstone 60 Makes Italian Pizza Possible In Your Own Kitchen!
 At Patio and Pizza, we talk a lot about outdoor ovens. (It is sort of in our name, after all.) However, we believe that delicious, wood-fired food should be available to everyone, even if you like to stay inside to avoid the cold, bugs, or maybe your neighbors.
With that in mind, we are thrilled to offer the incredibly versatile Earthstone Model 60, an oven built to exacting standards that meet the needs of just about anyone under the sun. If you're interested in an oven that can be installed wherever you want, whether it's by the patio furniture or in a world-class kitchen, then read on to learn about the amazing Earthstone Model 60!
What makes the Model 60 so great?
Certified for indoor and outdoor use
Unlike most ovens that can only be safely operated in well-ventilated outdoor areas, the Earthstone Model 60 has been certified by the independent safety testing organization Underwriters Laboratory as safe for use in both indoor and outdoor configurations. This is because of the Model 60's highly advanced refractory material and one-inch clearance between heating elements and its installation location.
Hybrid gas-wood design
The Model 60 was designed by Earthstone to truly be the best of both worlds, whether it comes to its installation location or the fuel used to cook up your dishes. The Earthstone can operate in three cooking modes (wood, wood-gas hybrid, gas) letting you decide how you want to cook on the spot. The hybrid wood and gas mode brings you the rapid heating and consistency of gas, while also allowing you to impart rich, smoky wood-burned notes to what's in your indoor pizza oven.
Heavy-duty materials
Constructed from extremely durable baker's tiles inspired by the pierre de boulanger found inside high-heat ovens in European bakeries, the Model 60 boasts exceptional thermal efficiency and longevity. Food placed on the oven's floor doesn't create a drastic drop in temperature, and these tiles are capable of withstanding just about any level of heat.
The 23" diameter cooking floor allows you to cook the following food capacities:
8" Pizzas: 2
12" Pizzas: 1
Eight medium size steaks on 17" x 20" grilling rack
Order your wood-fired oven today and start preparing delicious, innovative, and nutritious foods just like your favorite restaurants! 
Model-60 Features
The Model 60-PAGW wood fired oven has a 23" interior cooking diameter and a 15" wide by 7" high oven entrance.
The body parts are a cast 3 inch thick dense, high-temperature refractory material with an 80% alumina content and additional special additives which stop deterioration from acids emitted by wood combustion.
The Model 60-PAGW is U.L. listed for installation with a 1-inch side clearance to combustible materials. 
The steel support frame and enclosure are constructed of heavy gauge welded tube steel and angle iron members. All precisely fabricated and attractively designed. The void area between the cast oven body and steel circular enclosure is entirely filled with 4 to 10 inches of a hardened lightweight insulation mixture, which forms a secondary molded body.
The combination of our thick cast refractory body and an outer insulation shell maximizes the thermal mass or heat storage capacity of the oven which allows for an extremely efficient oven that cooks at even non-fluctuating temperatures.
The temperature probe is placed 2 ½" into the dome or top of the oven in lieu of on the floor in order to avoid temperature readout fluctuations caused by food items placed on the floor.
The hearth floor tiles, "Pierre de Boulanger" (Bakers Tiles), which are used in industrial bread baking ovens all across Europe, are refractory material pressed at 8,500 p.s.i. and kiln fired at 2,800 degrees which ceramitizes the material to create a hard and extremely durable tile.
The body pieces and floor tiles are cast and assembled individually which greatly reduces the possibility of stress cracks due to normal heat expansion and contraction. In addition, this allows the oven to be service-able extending its usable life.
The Model 60-PAGW gas/wood combination oven contains all the same high quality features and components as the Earthstone Model 60-PA wood fire oven. In addition to the Model 60-PA, the Model 60-PAGW has three modes of operation: gas fired, gas and wood combination and wood fired.
Specs
Exterior Diameter: 33" x 32"
Height: 64 1/2"
Weight: 1,700 lbs.
Interior Diameter: 23"
Oven Entrance Opening: 15"W x 7"H
Clearance to Combustible Sidewalls: 1"
For Model-60-PAGW (Gas Fired Oven):
Gas Requirements:
¾" gas outlet – 7" W.C. (LP GAS 10")
BTU's:
40,000
Electrical Requirements:
120 VAC/ 3 AMP
The heavy duty gas burner system is engineered for optimum performance and long term reliable operation through a straightforward design and the use of high-quality components. The solenoid based burner control automatically adjusts flame height and intensity to maintain the preset temperature. All our PAGW models are manufactured in Los Angeles.
Installation Manual
Wood Fired Specification Guide
Gas Fired Specification Guide
Residential Venting Guide
Video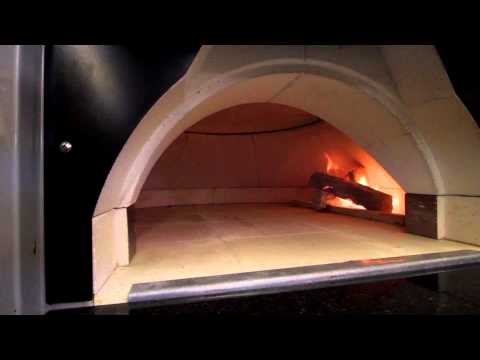 Warranty
The complete Warranty is further subject to the following qualifications.
1. The oven must be installed in accordance with EarthStone Ovens installation instructions and
local building codes
2. Moisture can cause significant damage to the oven/hearth. Therefore, the
enclosure/shroud (stone, brick, stucco, etc.) that surrounds the oven/hearth must
be sealed and waterproof. Failure to do so will void this warranty.
3. The oven is subjected to normal use, including burning such natural wood fuels as
non-treated wood. Fuel products with abnormal burning characteristics including,
but not limited to, fuel such as driftwood, coal or plywood and wood products using
a binder, may burn at excessive temperatures and may cause damage to the oven or
may cause damage to the oven or may cause it to function improperly. EarthStone Ovens does not warrant the oven when such fuels have been used.