A true Italian pizza oven to transport you away from your worries.
Just imagine coming home after a long day of work to fire up the Alfa ONE, a real Italian portable pizza oven.  Crack open a cold one while you light the fire. This stylish oven is compact and has a heat capacity of 30,000 BTU/hr. 
Watch the unboxing of the new Alfa ONE gas pizza oven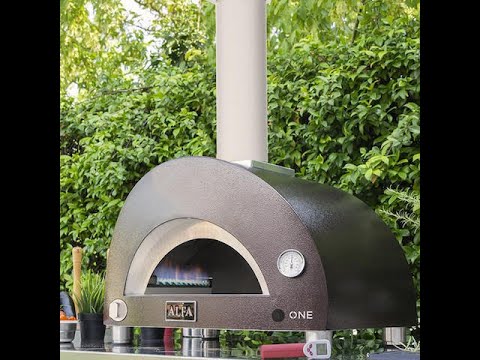 This superbly designed gas fired oven was built to the highest Italian quality. The compact, lightweight oven weighs only 129 pounds with a max oven temperature of 1000 degrees F. 
IMPORTANT NOTE:  The Nano gas oven comes configured for LP.  A NG conversion kit is included for installation by a certified technician if you decide to change to natural gas in the future.

Alfa ONE/Nano Gas Specifications
External Width: 28.8"
External Depth: 21.3"
Oven Height: 18.8"
Oven Height with Chimney: 41.3"
Cooking Space: 19.6 W x 15.7 D
Oven Weight: 123 lbs
Door Opening: 15 ½"W and 5 ¾" H
Fuel Type: LP Gas
Max Oven Temp: 500°C (1000°F)
Color Options: Copper
Chimney Length: 22.6"
Chimney Width: 5.1 ⌀
Heating Capacity: 27,280 Btu/h
Heating Time: 10-15 minutes
Pizza Capacity: (1) 12" Pizzas at a time
Bread Capacity: 2.2 lbs
Average Fuel Consumption: 1.43 kg/hr
Firebricks Thickness: ~1.2"
ONE/Nano Base Dimensions
Base Width: 28.1"
Base Depth:17.2"
Base Height: 34.6"
Base Weight: 55 lbs
Color available: Copper, Black

Oven Features
The pyrometer lets your monitor the cooking chamber's temperature to ensure proper heat for cooking your dishes.
The oven door contains a peephole for monitoring food cooking when it's closed.
The entire cooking chamber is made of reinforced stainless steel.
The double layer of ceramic fiber insulation is the same as used in commercial ovens.  Therefore it retains heat well and keeps the outer wall from overheating.
Note:  If you want a wood pizza oven, click here for the ONE Wood-Fired oven. 

Included with the Alfa ONE Gas Pizza Oven
It takes only five minutes to assemble the Alfa ONE oven. When it arrives, simply screw on the leveling legs to the four corners of the oven.  Next screw the handle to the door and the pizza peel.  Next, place the flue up inside the oven and put the chimney fowl on it.