Grill. Flip. Serve. Enjoy!

If you're looking for a top-quality, durable grill that will make your life easier, the Flip Grill is the one for you. Made with a patent-owned stainless steel grill with its innovative rotating grill system, you can cook your food on both sides without having to turn it over, and its easy-to-clean design means you'll spend less time cleaning up and more time enjoying your meal. 
The Flip Grill also comes with a Pro Accessories Kit + Carrying Case, so everything you need is included. Plus, its compact size makes it easy to transport and store. 
This grill is made in the Portugal! So don't wait any longer, order your Flip Grill today!
Overall Product Dimensions
Weight:  130 lbs
Width:  45.3"
Depth:  21.6"
Height: 38.5"
Grill Cooking Surface Dimensions
Width:  27"
Depth:  15 1/2"
It is important to note that since this product is made of stainless steel, discoloration will happen due to high heat.
In your box, you will get:
✓  Grill Top
✓  4 legs (2 legs with wheels)
✓  Lower Table
✓  Grill Drawer
✓  Grill Inserts
✓  Wood Side Table
✓  Oven Mitt
✓  Cooking Accessories Kit
✓  Screws & Clips
Watch this Flip Grill Video here!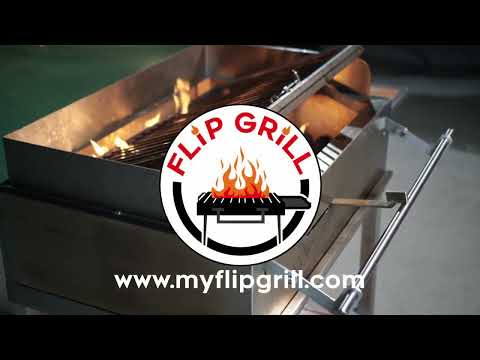 Flip Grill User Guide