Take your party on the road with a DeliVita Wood Fired Oven
Whether you're on your patio, at the beach, tailgating at the ballgame, or camping in the woods, the DeliVita oven is your best friend!  This portable pizza oven is so light (weighing in at just under 70 pounds) it can sit on any sturdy surface.  It's always at the center of the social gathering when fired up.
Even if you're not a fan of pizza, this oven has been used to cook many other dishes.  From budding outdoor chefs to accomplished 'Foodies', the DeliVita oven was designed to complement your versatile culinary demands.  The DeliVita is definitely worth the dough (pun intended) as it was voted the Best Posh Portable Pizza Oven by Ideal Home in 2021.  
The DeliVita has a modern look complemented by a traditional clay lining. Finished in polished fibreglass, the oven is super-insulated for holding heat.  This unique pizza oven's absence of a chimney also helps it retain heat. Using the right wood in the back of the oven, the fire rolls over your food and any smoke drifts out through the top of the oven door.
DeliVita Oven Features:
Fast - Cooks your pizza in 90 seconds!
Portable - Weighing only 66 pounds, you can take camping or tailgating
Safe - The Outershell Technology keeps the outside cool so nobody gets burned
Stylish - Choose from many unique colors to match your patio
Easy - No assembly necessary so you can start cooking quicker
The DeliVita pizza oven is metal but the internal wall of the oven is clay lined; a design based on the traditional Roman ovens. The clay is insulated with a modern thermal blanket before the thick fibreglass exterior shell is added. The DeliVita oven has a completely waterproof shell so the exterior is resistant to hairline cracks.
The cooking floor of the pizza oven is one-piece solid engineered stone, raised to prevent heat transfer from oven to table top.  That means the oven base can be positioned on anything sturdy enough to safely bear the oven weight.
The mouth of this pizza oven is made from one-piece of stainless steel which makes it easy to clean.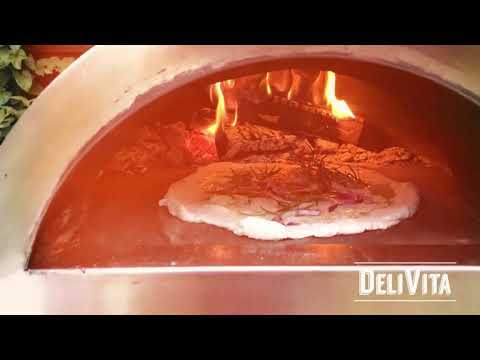 DeliVita Oven Measurements:
Dimensions- 25.6"D x 23"W x 13.8"H (65 x 59 x 35 cm)
Internal Dimensions: 21"D x 20"W  (54 X 50 cm)
Heat up time: 25 minutes
Capacity: 1 large 12 inch pizza / Cast Iron Dish 
Weight: 66lbs (30kg)
Maximum temperature: 1022 degrees F (550 C)
Materials - Fibre-glass, refractory stone, stainless steel
 The Delivita Wood Fired Oven is handcrafted to the highest standards of craftsmanship and authenticity in Yorkshire England.  Built with an insulated fiberglass shell exterior, hand-troweled clay interior walls, refractive stone cooking floor, and a brushed, marine stainless steel front.
Watch this video to learn more about the DeliVita pizza oven.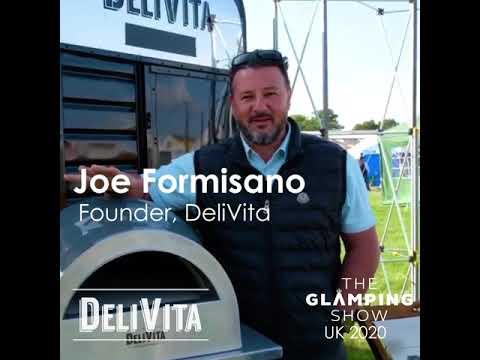 Order a DeliVita wood fired oven today!