Start cooking quicker with the CBO-750 Hybrid Pizza Oven
Building a custom, gourmet outdoor kitchen? Need the best equipment - but also the ability to have a cohesive design.  When you want the best gas pizza oven experience and the ability to customize, you want the CBO-750 Hybrid Bundle!
This outdoor gas pizza oven comes pre-assembled and designed to be enclosed by you to incorporate into your outdoor living space. Whether you have DIY masonry skills or you are hiring a professional, this brick oven is the perfect addition to any backyard paradise. 
The CBO-750 wood gas pizza oven is designed to reach temperatures as high as 1000°F. Using gas only, the oven will maintain temperatures at 650°F and attain temperatures as high as 1000°F when adding wood.
The Infra-Red Burner below the hearth is thermostatically controlled.  This means that if you add wood causing the floor to get hotter, the burner will cut off when the floor temperature reaches 650°F as its no longer needed.  If the floor cools under 650°F, the burner will come back on.  This gives you a base of heat that you can always count on even if the wood temperature cools.
Whether it is for your backyard or a restaurant patio, you can also burn wood at the back or side of the oven to attain that smoky wood-fired flavor that makes Chicago Brick Ovens so famous.
For a limited time, get a free bonus cooking kit, valued at $155 value, including a Pizza Peel, Infrared Thermometer Gun, & Oven Cleaning Brush!
CBO-750 Hybrid DIY Kit Oven Specifications
Because of this unique patented design, you'll be able to use conduction, convection cooking, and radiant heat interchangeably to create gourmet meals, whether you're a backyard or a professional chef.

CBO-750 Oven Features
For quick heating, this new hybrid gas wood pizza oven includes a two-burner gas system, with an infrared burner under the hearth and an ambient burner at the back of the hearth.
Design: DIY / Ready to Finish - create the look you want for your pizza oven
Construction: State-of-the-art High Temp Refractory Cement Reinforced with Stainless Steel Fibers to ensure long-term strength and durability for years of use in all climates
Fuel Type: Gas or Wood - the CBO Flame Roll is eye-catching and visually enticing!
Made entirely in America
CBO Hybrid features our CBO-750 model which offers over 38" x 28" of cooking surface
This outdoor pizza oven provides 1,064 square inches of cooking surface which means you can easily cook (2-3) 12" pizza pies or multiple bread loaves at the same time. 
Hearth burner: 36,000 to keep your oven floor HOT
Ambient Burner: 18,000 BTU (LP) / 27,000 BTU (NG)

This fully assembled gas/propane pizza oven kit is an excellent option for straightforward custom installations. You can use propane (LP), natural gas (NG), or wood with your oven. You must designate either LP or NG gas at the time of order as this oven is shipped from factory complete and cannot be retrofitted in the field.
Don't hesitate - Add To Cart now to get your own Chicago Brick Oven CBO-750 Hybrid Gas/Wood Oven!
Just imagine how the CBO-750 Propane Pizza Oven could be built into your existing outdoor entertaining space.  If you can imagine it, you can build it!
Not sure if a hybrid gas and wood-burning brick oven is right for you? Iron Chef Restaurateurs, Tim Love and Edward Lee, advocate the superior cooking performance of the CBO Pizza Ovens!

"Cooking with wood fire adds an entire new vocabulary to my cuisine, one that is primal, instinctive and adventurous. With my Chicago Brick Oven, I can achieve this with a consistent heat source that I could not live without. It's my favorite oven to cook with. The menu changes weekly but the CBO-750 is a mainstay!"

- Chef Edward Lee
Iron Chef America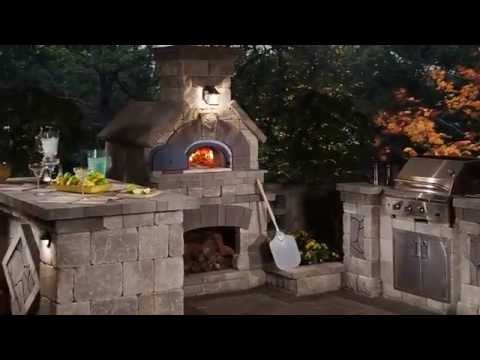 Warranty
Chicago Brick Oven has a limited warranty that warrants their products to be free from defects in materials and workmanship for a period of three (3) years from the date of shipment.
Local regulations about wood burning equipment should be consulted.