Get the best of both worlds with the Dual Fuel CBO-750 Pizza Oven
Whether you are creating a brand new outdoor living space or upgrading your current space, when you want that "wow" factor, you need something unique and special. Look no further than the CBO-750 Countertop Hybrid Gas and Wood Burning Oven!
Restaurants love the hybrid feature for its flexibility, ease of getting the fire started, and minimizing the amount of wood needed to cook.  Inspectors are happy to see the commercial certifications!
Hybrid Burner System
Using TWO gas burners (ambient & hearth), this isn't just an oven - it is a gateway to a new type of backyard experience and lasting, cherished memories. You'll take entertaining and mealtimes to a new level with this Chicago Brick Oven. Made in the USA, the CBO-750 offers the high heat of the signature FlameRoll - the best way to get the true wood-fired taste.
Whether it is for your backyard or the patio of your restaurant, this hybrid wood-burning oven is designed to reach temperatures as high as 1000°F.  Using gas only, the oven will maintain temperatures at 650°F and attain temperatures as high as 1000°F when adding wood.  How? The proprietary low dome design, flue system, and refractory materials create the exclusive FlameRoll. Not only will you get an authentic taste, but it also looks amazing at night!
The Infra-Red Burner below the hearth is thermostatically controlled.  This means that if you add wood causing the floor to get hotter, the burner will cut off when the floor temperature reaches 650°F as its no longer needed.  If the floor cools under 650°F, the burner will come back on.  This gives you a base of heat that you can always count on even if the wood temperature cools. 
If you need the Freestanding CBO-750 Hybrid Oven, click here for that oven.
CBO-750 Wood Burning and Gas Hybrid Oven Specifications
For quick heating, this new hybrid oven includes a two-burner gas system, with an infrared burner under the hearth and an ambient burner at the back of the hearth. You can also burn wood at the back or side of the oven to attain that smoky wood-fired flavor that makes Chicago Brick Ovens so famous.
Made entirely in America
CBO Hybrid features our CBO-750 model which offers over 38" x 28" of cooking surface
Hearth burner 36,000 to keep your oven floor HOT
Ambient Burner 18,000 BTU (LP) / 27,000 BTU (NG)
Certified to UL Standards
This outdoor pizza oven provides 1,064 square inches of cooking surface which means you can easily cook (2-3) 12" pizza pies or multiple bread loaves at the same time.  
At that rate, you can handle 60 pizzas/hour which should satisfy even the hungriest of pizza lovers! 

IMPORTANT Note: Please see the SPECS sheet below and, when ordering, make a note of the following:
Commercial or Residential Installation
Altitude of Install Site (over 2,000 ft requires custom gas orifices)
The bottom switch on the CBO-750 Hybrid controller is for the Hearth Burner down below the hearth (thermostatically controlled) and the top switch is for the ambient burner up in the oven (on/off with the switch).

CBO-750 Oven Features
Construction: State-of-the-art High Temp Refractory Cement Reinforced with Stainless Steel Fibers to ensure long-term strength and durability for years of use in all climates
Fuel Type: Gas or Wood - the CBO Flame Roll is eye-catching and visually enticing!
Clearance to Combustibles: 10" to Sides | 18" to Ceiling | 30" from Door
Certification: NSF Rated | UL Listed - The CBO-750 Wood Burning Model Conforms to UL Subject 2162 & NSF/ANSI STD 4, Certified to ULC STD S627
Bonus Cooking Kit Included:  Pizza Peel, Brush, Heat Sensing Gun
This outdoor wood-fired pizza oven has a low, igloo-like design to create high temperatures and concentrated heat. Because of this unique patented design, you'll be able to use conduction, convection cooking, and radiant heat interchangeably to create gourmet meals, whether you're a backyard or a professional chef.
These pizza oven kits are excellent options for straightforward custom installations that allow you to use either propane (LP), natural gas (NG), or wood with your oven.   You must designate either LP or NG gas at the time of order as this oven is shipped from the factory complete and cannot be retrofitted in the field.
Don't hesitate - Add To Cart now to get your own Chicago Brick Oven CBO-750 Countertop Hybrid Gas Oven! Have more questions?  Give us a call.
Not sure if a hybrid gas and wood-burning brick oven is right for you? Iron Chef Restaurateurs, Tim Love and Edward Lee, advocate the superior cooking performance of the CBO Pizza Ovens!

"Cooking with wood fire adds an entire new vocabulary to my cuisine, one that is primal, instinctive and adventurous. With my Chicago Brick Oven, I can achieve this with a consistent heat source that I could not live without. It's my favorite oven to cook with. The menu changes weekly but the CBO-750 is a mainstay!"

- Chef Edward Lee
Iron Chef America

Benefits of a Chicago Brick Oven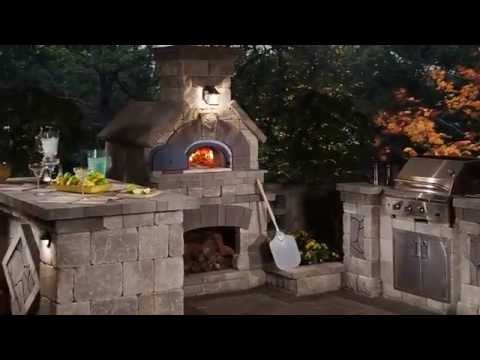 Warranty
Chicago Brick Oven has a limited warranty that warrants their products to be free from defects in materials and workmanship for a period of three (3) years from the date of shipment.
Local regulations about wood burning equipment should be consulted.