The New Pinnacolo L'Argilla Thermal Clay Gas Powered Pizza Oven
The PINNACOLO® L'Argilla in many ways replicates the igloo shape of the ancient Pompeii ovens. The curvature of the dome wraps heat around your food cooking it from all sides.
With 50,000 BTUs of cooking power, the CSA-approved L'Argilla heats the cordierite cooking surface to over 600F in well under 10 minutes, while the outside remains safe to the touch. The 26.5" diameter interior (3.83 ft²) provides the space to easily handle 2+ pizzas at a time.
Since the oven is gas-powered, you have far greater temperature control making it superb for roasting, baking, and searing.
The L'Argilla comes complete with a heavy-duty wheeled stand with rear locking casters, a solid stainless steel door with a stay-cool handle, a built-in ambient thermometer, and stainless steel chimney.
Order this oven and get $500 worth of Pinnacolo Pizza Oven Tools & Accessories!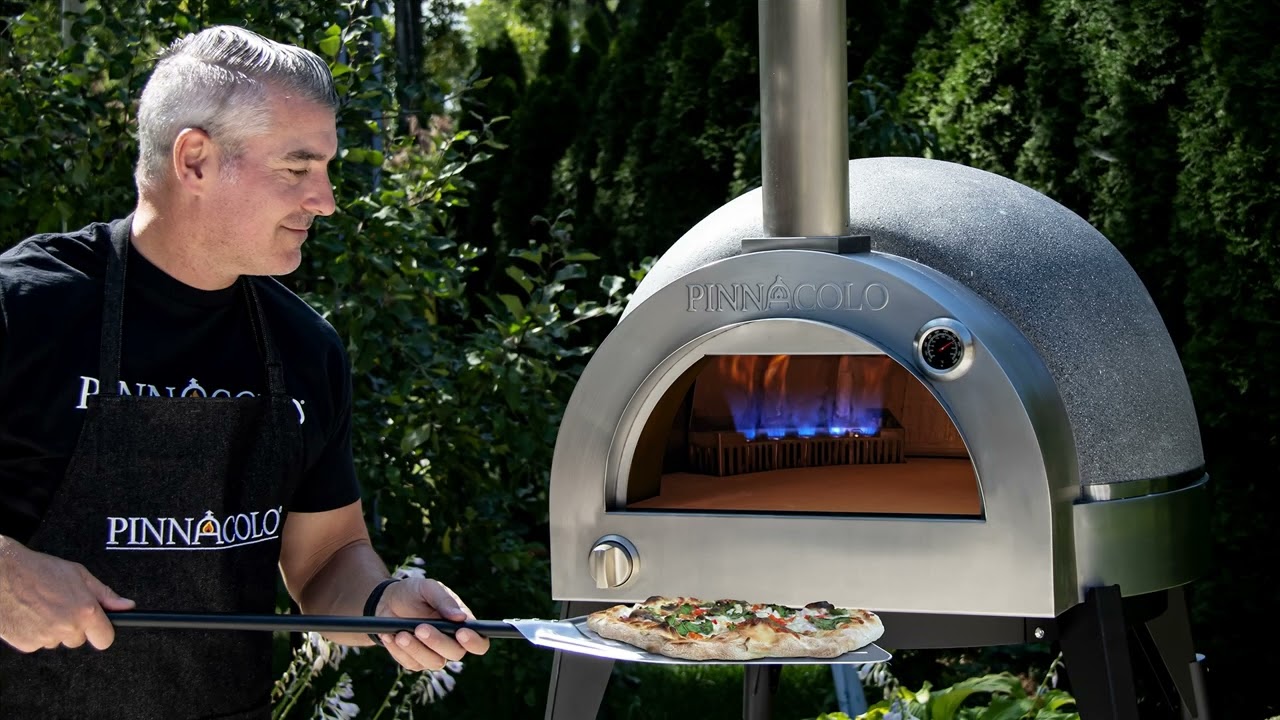 L'Argilla Oven Features:

Thermal Clay Dome
Heats up to over 600F in just under 15 minutes
CSA Approved - means it has been tested to ensure years of safe use
Gas-powered oven allows easier to control the temperature
Easy to use Mechanical Igniter - no batteries required
Cordierite pizza stones - thermal shock resistant and retain heat for a crispier crust
Built-in Amber Thermometer - instant view of the ambient temperature inside your oven
Thermometer reads in both Celsius and Fahrenheit
Solid stainless steel door (19"W x 9.5" H) with a stay-cool handle
Heavy-duty wheeled stand with rear locking casters
Stainless Steel Chimney
Complete selection of Tools - Ready for years of great food
Maximum temperature can reach 1000F (but recommended cooking temperatures should be between 650-800F)
This oven ships from the factory set up for propane. A Natural Gas Conversion Kit is available as a separate purchase (comes with a hose and instructions)
This comes complete with a 1-year Limited Warranty!
50,000 BTU

Specs and Measurements:
Oven Width: 33"
Oven Depth: 36"
Oven Height: 17.8"
Oven Internal Dimensions: 26.5" ⌀ (3.83 ft²)
Chimney Height: 23.7"
Chimney Width: 4.2" ⌀
Chimney Cap Width: 7"
Oven Opening: 18" W x 7.5" H
Stainless Steel Door: 19"W x 9.5" H
Base Width: 47.3"
Base Depth: 40.2"
Base Height: 42.5"
You may find the complete product
dimensions in the User Manual. 

Arrives at your door with:
12" Perforated Pizza Peel - used to move your pizza in and out of the oven.
2 x 12" Acacia peels - used to prepare and serve your pizza.
Infrared Thermometer – used to measure the actual temperature of the cooking surface
High-Temperature Gloves – used to handle hot tools or trays to 932°F
Sharpen-able Rocker Cutter – can be sharpened and used to easily cut right across your pizza
Wire Bristle Brush with Scraper – used to sweep and clean the cooking surface
Tank Cover – used to improve the overall cosmetic look of your oven
Weatherproof Cover – used when your oven has cooled to protect it from the elements.
Hose and regulator – for easy connection to the propane tank you supply.
Plus a one-size full coverage Apron
Check out this video that shows how fast the Pinnacolo L'Argilla Thermal Clay Pizza Oven heats up: