Build a true brick oven starting with the Cortile Barile Pizza Oven kit
Become an oven builder without years of brick-making experience!  The Cortile Barile / Package 2 comes with all the high-end goodies you need – minus the locally purchased refractory materials (firebrick and refractory cement).
You simply press high-temperature castable refractory cement into the foam Cortile Barile molds to create 5 interlocking wood-burning pizza oven pieces (front, back, top, and 2 sides).
Once the refractory cement is dry, simply remove the foam molds and assemble your outdoor wood-burning pizza oven on top of your oven base – attach your oven accessories and enjoy amazing backyard pizza and other delights for years to come! And yes, just like Play-Doh - it really is that easy!
In this package, you will receive Box 1 and Box 2 of the Cortile Barile foam wood-burning pizza oven molds (there are 9 / 1lb bags of Stainless Steel Fibers inside of Box 2)… A top-of-the-line DuraTech double-wall stainless steel exhaust kit by DuraVent (includes 12" double-wall stainless steel chimney pipe)… 50sf of 6lb ceramic fiber blanket to provide 2-layers of extreme-duty insulation for your outdoor wood-burning pizza oven by Harbison Walker, FiberFrax or Kaowool.
The most popular pizza oven tools by American Metalcraft (the leading brand of pizza oven accessories) and of course, our heavy-duty pizza oven door with beautiful red oak handles.
Cortile Barile Oven Specs
| | |
| --- | --- |
| Interior Dimensions: | 30" D x 27" W x 14" H |
| Exterior Dimensions: | 35.5" D x 30.5" W x 16" H |
| Cooking Surface Area: | 810 Sq Inches |
| Oven Type: | Castable Refractory |
| Average PPH (Pizzas Per Hour): | 30-35 |
| Oven Temperature: | 1000+ |
| Avg Time to Build Base (1 person): | 18 Hours (combined) |
| Avg Time to Build Oven (1 person): | 20 Hours (combined) |
| Average Cost to Build Base: | $400 |
| Avg Cost to Build Finished Oven (including Brickwood Form): | $1,300 |
Cortile Barile Benefits:
Great for all occasions large and small!  (1 - 40 people)
Excellent for pizzas, bread, and low-profile foods
Super-easy to build with step-by-step directions
Cooks faster and hotter than firebrick models
It only takes 2 hours to mix, pour and pack!  Really!
Save thousands over comparable models
Build the base and oven in just 2 weekends (or less)
DIY-EZ!
.
Cortile Barile (Package 2) Includes:
Cortile Barile Wood Fired Pizza Oven Forms (2 boxes) & 9lbs of Stainless Steel Fibers
DuraTech Exhaust Kit (Anchor Plate, Chimney Cap, 12" Pipe, Spark Arrestor & Hi-Temp Adhesive)
3 Pack by American Metalcraft: Brush Head & Handle, Aluminum Pizza Peel, & Pizza Peel Holder
Cortile Barile Series 10G Door with Red Oak Handles
50sf of 6# Ceramic Fiber Blanket
Don't hesitate - Add To Cart now to build your own DIY Refractory Brick Pizza oven today!
Have more questions? Give us a call or send us an email.
Video: Building the Cortile Barile Refractory Brick Pizza Oven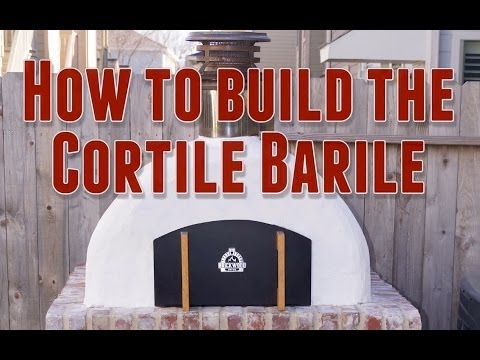 Brickwood Pizza Oven Kit Cortile Barile
Installation Guide
Step 1: Making The Oven
Step 2: Build the Insulated Base
Step 3: Oven Assembly