Blaze 34-Inch Professional LUX 3 Burner Built-In Gas Grill With Rear Infrared Burner
Blaze presents the Blaze Professional Grill as a leader in the industry regarding the thickness of its components resulting in irrefutable durability while providing an effective cooking system.
By the precision mixing of fuel and oxygen, Blaze Professional achieves extraordinary searing temperatures while maintaining low gas consumption per burner when compared to the top-performing grill brands. The Professional's Illumination system compliments its unmistakable style giving an appearance to catch every admiring eye!
This Blaze stainless steel grill cart is specifically designed to house the Blaze Professional 3 burner gas grill. The two stainless steel side shelves keep your BBQ tools at hand and provide a convenient work area while you cook.
A cart is available for this grill. Check out the Blaze Professional LUX 34-Inch 3 Burner Built-In Gas Grill With Rear Infrared Burner and Cart.

3-Burner Professional LUX Gas Grill Dimensions
‣ Overall Dimensions: 24 1/4" H x 34" W x 28 3/8" D
‣ Cut Out Dimensions: 10 1/2" H x 32 1/4" W x 23 5/8" D
These dimensions create the required air gap underneath this appliance. This air gap serves multiple purposes, such as preventing a build-up of heat in the island cavity and helping provide proper airflow for combustion and/or cabinetry.

GRILL OVERVIEW
3 commercial quality 304 cast stainless steel H burners
18,000 BTUs of cooking power per burner, for a total of 54,000 BTUs
10,000 BTU infrared rear rotisserie burner with included rotisserie kit
Rotisserie kit includes a waterproof motor
Heavy 12mm stainless steel hexagon cooking rods maximize durability
816 square inches of total cooking space
Push and turn flame-thrower primary ignition system delivers a fast start every time
Individual flash tube secondary ignition
Removable warming rack
Heat zone separators divide the cooking surface into individual temperature zones
Flame stabilizing grids minimize flare-ups while adding a grilled flavor
Full-width drip tray for a quick clean up
Illuminated control knobs for evening gatherings creates a sophisticated appearance
Interior lights help navigate the grilling surface at night
Double-lined grill hood protects the outer layer from heat discoloration and maintains more heat
Blaze Grills offers an impressive Lifetime Warranty

Standard LUX Features

Heavy-Duty Hexagonal Cooking Rods
12mm thick cooking rods absorb heat, producing deep sear marks.

Cast Stainless Steel Burners
DProfessional-quality, cast stainless steel H-burners to deliver impressive cooking power and durability.


Illuminated Control Knobs
Sophisticated red LED lights illuminate and accent the control knobs.


Perforated Flame Stabilizing Grids
Heavy-duty 12mm flame stabilizing grids cover the entire grill to maximize flavor and minimize flare-ups.


Rotisserie Kit
Included rotisserie kit with waterproof motor provides grilling versatility.


Heat Zone Separators
Removeable heat zone separators divide cooking surface into individual temperature zones putting you in command of every inch of cooking.


Grill Specifications
BTU Output
18,000 BTU per Burner x3
Infrared Back Burner
10,000 BTU
Total BTU
64,000 BTU
Primary Ignition
Push N' Turn Flame Thrower
Secondary Ignition
Flash Tube
Cooking Grid Dimensions
30 13/16 x 19 15/16
Total Cooking Area
816 sq. in.
(includes warming rack)
Flame Tamer
Flame Stabilizer Grid
Zone Cooking
Removable Heat Zone Separators
Rotisserie Kit (Motor & Forks)
Included
Burner
Commercial Quality Cast Stainless Steel
Gas Type
Each grill contains an NG/LP Orifice Kit

Optional Accessories
Blaze LED Light Kit
(SKU:BLZ-3PROLED-(AMBER/BLUE/WHITE))

Customize your Blaze Professional and LTE Products with new LED Light Colors Available in Blue, White, and Amber
These light kits can change the colors of existing lights on the LTE and Professional products only.
---
Blaze Insulated Jackets for Gas Grills
(SKU: BLZ-3PRO-IJ)

Blaze insulated jackets are essential when installing Blaze gas grills into a combustible enclosure such as an outdoor kitchen or BBQ island. This insulated jacket is constructed of stainless steel with a self-supporting ledge around the sides and back that adds one more layer of quality to your outdoor kitchen.
Overall Dimensions: 11 1/4" H x 36 3/4" W x 25 7/8" D
Cut Out Dimensions: 11" H x 34 7/8" W x 24 1/2" D
---
Blaze Drip Tray Flame Guard
(SKU: BLZ-3PRO-DPFG)

The Blaze Drip Tray Flame Guard is the perfect upgrade to your Blaze Grill
This perforated piece sits inside the drip tray to help reduce the chance of a grease fire in the pan.
Extra safety feature
Helps to reduce the chance of grease fire in the drip tray
---
Blaze Professional Smoker Box
(SKU: BLZ-PRO-SMBX)

Made to last with 304 Stainless Steel construction
Adds outstanding smoky flavor to grilled foods, with no charcoal mess
Allows flavor-enhancing wood chips to smolder, not flame
Design allows you to easily add wood chips to your cook out
Welded seams allow the use of liquids for steaming
---
Blaze Wind Guards
(SKU: BLZ-PROWG-34)

This heavy duty 304 stainless steel wind guard easily integrates into outdoor areas by conveniently mounting into your existing cutout or insulated jacket.
Wind guards shield the grill from winds of up to 25 MPH, and are backed by a Lifetime warranty.
The Blaze wind guard is custom designed for high wind situations, such as coastal areas or balconies.
The Blaze Wind Guard allows you to cook on lower settings, keeps the burners lit, and prevents the fire from going out, even in strong winds.
Designed to mount within the existing grill cutout or inside the insulated jacket for easy installation.

Take a closer look at this Grill 🔥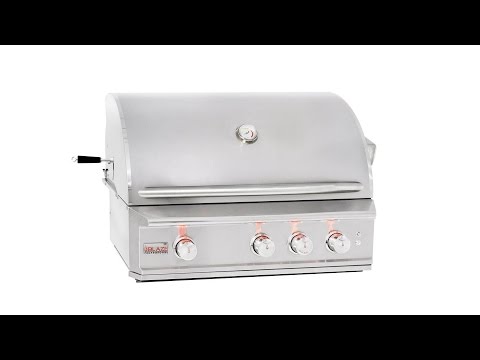 Blaze Professional LUX 34-Inch 3 Burner Built-In Gas Grill
Installation Manual