Alfresco 30" Countertop Gas Pizza Oven
Leave the repetitiveness of the boring indoor oven and become the envy of your neighborhood. Join the world of amateur and professional outdoor chefs that take outdoor cooking to the next level, with the Alfresco Countertop Gas Pizza Oven!  
Setting the standard for creative innovations in outdoor cooking equipment is what Alfresco has become known for. The Alfresco Pizza Oven is an exciting new outdoor pizza and culinary oven engineered to commercial performance caliber.
With a preheat time of only 15 minutes, this Gas Pizza Oven is not only great for cooking pizza, but also is fabulous for baking, broiling, roasting and just about anything else you do in a regular oven. However, it's faster and with much better results!
Whether you're cooking 3-minute Neapolitan pizzas directly on the hearth, thick prime New York steaks pan seared in an iron skillet, herb and spice rubbed pork chops in a ceramic baking dish, skillet-sizzling shellfish, or zesty jalapeno corn bread in a ramekin, it can all be done in Alfresco's Pizza Oven.
Alfresco Gas Pizza Oven Specifications:
High-Tech 20,000 BTU High Heat Ceramic Infrared Hearth Burner
20,000 BTU Tube-Log Burner
Alfresco Exclusive Air-Cooling Plenum keeps Control Panel Cool to the Touch
3/4" Thick High-Quality Ceramic Slab Bottom and Ceiling for Even Intense Radiating Heat
30"W x 30"D x 24"H
Complete 304 Heli-Arc Welded Stainless Steel Construction
456 Square Inches of Cooking Area
Halogen Oven Light
Removable Hinges and Doors
Double Walled Removable Top
8 1 /2 " High Opening
Countertop Rear Exhaust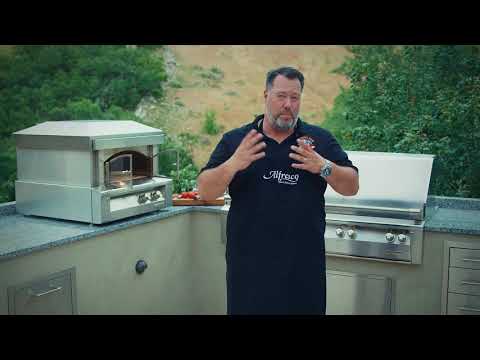 Additional Features
1.  Realistic gas log absorbs heat to speed up preheat time!  It also distributes heat to the ceramic ceiling slab to create intense top-down heat
2.  3/4" thick high-quality ceramic slab hearth and ceiling provide intense radiating heat
3.  Rear exhaust moves heat away from the chef!
4.  304 18-8 heli-arc welded stainless steel
5.  Full 8.5″ high opening for easier cooking
6.  20,000 BTU tube log burner
7.  20,000 BTU High-tech, high-heat ceramic infrared hearth burner
8.  Easy to clean due to removable hinges/doors
9.  Double-walled removable top
10.  Large cooking space! (456 sq. inches)
11.  Halogen oven light provides true cooking colors
12.  Exclusive natural air-cooling plenum keeps control panel cool to the touch so you won't get burned!
Alfresco Gas Pizza Oven Countertop Installation Guide:
Alfresco Gas Pizza Oven Countertop Specifications:
Don't hesitate - Add to Cart now to get your own Alfresco Gas Pizza Oven today!
Have more questions? Give us a call.