This pizza oven and tools are all you need for the perfect picnic day!
The compact Moderno pizza oven is the perfect oven for camping, tailgating or a day at the beach.
In 30 minutes, it reaches up to 1000F allowing you to cook a real Neopolitan Pizza in just 90 seconds wherever you want!
In just 77 lbs of portable weight, like all Alfa Ovens, it has the innovative Heat Genius technology that guarantees superior performance, while optimizing consumption. Thanks to the available carry bag cover, it can be transported anywhere you desire.
Easy to assemble - just insert the flue and chimney cowl and let the party begin! 🎉 
Important Note: The Alfa MODERNO Portable Gas Oven comes factory set for Liquid Propane.  Currently not available in NG.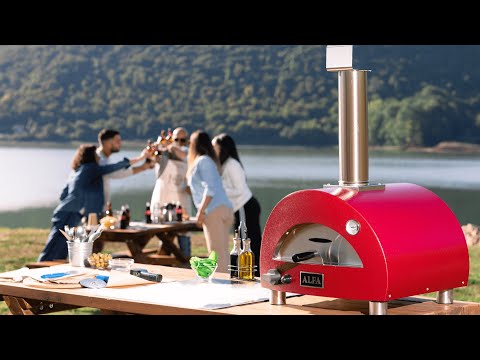 This Picnic Bundle Includes:
The Alfa Moderno Portable Gas Pizza Oven;
Custom Cover; and
The Alfa 2-piece Pizza Tool Set (AC-AC-2PSET24BK/RD)

Alfa MODERNO Portable Specifications
External Width: 21.7"
External Depth: 20.4"
Oven Height: 16.3"
Cooking Floor: 15.5" x 15.5"
Fuel Type: LP
Maximum Temp: 500° C (1000°F)
Color Options: Antique Red & Grey
Chimney Height: 19.6"
Chimney Diameter: 3.9" ⌀
Heating Time: 20 minutes to 1000F
Pizza Capacity: (1) 12" Pizza in 90 seconds
Material: Stainless Steel, iron sheet, Ceramic fiber
Type of Refractory: Alumina silicate HeatKeeper™ Firebrick
In order to allow you to cook a pizza at home as good as that of your favorite restaurant, Alfa researchers have developed the innovative Heat Genius™ technology thanks to which the sauce cooks at one temperature and the dough at another, with the result that each pizza is consistently fragrant and well cooked.
This is because the heat is slowly released from the refractory stone and irradiated evenly through the oven's curved walls. In this way, the sauces cook faster, releasing even a part of its moisture, and the dough becomes crispy without burning, thus reaching the perfect balance.
Despite being extremely compact and easily moveable, the Portable pizza oven also has Alfa Heat Genius™ technology, allowing you to cook a real Neapolitan pizza, virtually anywhere and with reduced consumption.
Making pizzas has never been easier: make the dough, use the condiments you prefer, and ALFA ovens' Heat Genius™ technology will cook it to perfection every time!

Included with your Alfa MODERNO Portable Oven:
Oven Door
Vent and Chimney
Knob to control the gas flame
Ignition Button
Pyrometer to measure the internal temperature of the oven
7kW Burner
4 Feet/Levelling Legs

How to Assemble the Oven
Thanks to its small size, the Alfa MODERNO Portable Oven can be assembled quickly: just screw in the 4 feet, insert the chimney and vent and you are good to go! In the package, you will find everything you need to easily and intuitively assemble your portable gas oven for pizzas. And thanks to the Kit Gas you can easily connect your oven to a gas cylinder.

Custom Cover for the Alfa Moderno Portable Oven
Picnic parties are now even better with a pizza oven on site! This custom cover for the Alfa Moderno Portable allows you to take this 35kg oven anywhere. Say goodbye to soggy pizzas and hello to fresh and piping hot pizzas straight from the oven!
The ALFA oven cover is the best protection for your outdoor oven. Let us look at its features and benefits:
Protective action against bad weather.
Made with waterproof, made with waterproof material.
Easy and quick to fit as it is custom-made.
Suitable for wood and gas-fired ovens.
When not in use, it's always best to cover your pizza oven to keep it in perfect condition.
This cover is custom-made for the Alfa Moderno Portable Gas Pizza Oven! It won't fade in the sun or crack in the cold.

Alfa Ovens 2-PC Pizza Peel Set
The Professional Pizza Peel (9.8")- The aluminum pizza peel is the perfect combination of technology, performance, and design. The Pizza Peel is perforated to get rid of the extra flour, just like professional chefs do. This is used to slide pizzas in and out of the oven; a flight of the wrist and there you are!
Stainless Steel Turner Peel (9") - You can use the round pizza peel to rotate pies in the oven. Never mind, with some practice, you will quickly become a pizza meister!
Alfa MODERNO Portable 
Installation Manual
Alfa MODERNO Portable 
Technical Sheet