Add a luxurious fire bowl to your backyard pool for a relaxing and inviting atmosphere
When it comes to pool design, nothing adds a luxurious and relaxing vibe quite like a pool fire bowl. Whether you opt for a custom colored concrete fire bowl or simply choose to add one of the many prefab pool fire bowls available on the market, these features are guaranteed to make your pool more inviting and your backyard more spectacular.
With the warm flames dancing around in front of you as you relax poolside, you will truly feel as though you're living the high life.
Adding one or more bowls to your pool is a great way to create a relaxing and inviting atmosphere in your patio area. Whether you choose a concrete fire pit or another material, the flames are sure to create a sense of cool comfort and serenity under the stars.
Additionally, modern pool fire bowls can improve the look and usability of your pool, making it more enjoyable for both you and your guests. A pool fire bowl will increase the aesthetic appeal when lounging by yourself at night or hosting pool parties with friends during the day.
How to choose a fire bowl for your pool
With so many different options on the market, it can be difficult to know which decorative feature is right for you. Here are a few things to keep in mind before starting your pool project:
When choosing a fire bowl for your pool, there are several things you need to take into account in order to ensure that you make the best possible choice.
Material - many fire bowls around the pool are made from ceramic or metal, but there are also some made from concrete or stone. Each material has its own advantages and disadvantages. Choose one that will fit your style while also selecting a material that will be durable and able to withstand the elements.
Design - there are a wide range of designs available, so it is important to choose one that will complement the overall look of your pool area. By taking all of these factors into account, you can be sure to choose the right fire bowl for your needs.
Fuel - some bowls come with a built-in gas line, while others require you to purchase a separate gas tank. Be sure to choose a fuel source that is right for you.
Installation - installation is pretty simple and straightforward when you follow the manufacturer's directions but may require a professional.
Cleaning & Maintenance - proper maintenance can decrease problems with your gas fire bowl.
Swimming Pool Fire Bowl Material
There are several different types of swimming pool fire bowls that can be used to add a festive and atmospheric element to your swimming pool area. Some are round or square shaped, while others are shaped like small urns or containers that can be built into a wall or tiled into the floor.
Here is a list of the top 4 materials used for pool fire bowls:
1. Stainless steel is one of the most popular materials used for pool fire bowls. Stainless steel is a durable, corrosion-resistant material that stands up well to high temperatures and direct sunlight. It also offers excellent heat conductivity and manageable size, making it an ideal choice for a wide variety of fire bowl configurations.
2. Corten steel is another popular choice for pool fire bowls. This weather-resistant material has a rich, earthy color that adds warmth and beauty to any outdoor setup, and it boasts high durability, making it a perfect choice for outdoor settings where temperatures may be extreme or conditions unpredictable.
3. Hammered copper is another great option for pool fire bowls, thanks to its beautiful luster and ability to develop an attractive patina over time. Because copper is a relatively soft metal, this material must be handled with care; however, the resulting appearance makes it well worth the extra TLC required to maintain such a stunning fixture in your poolside retreat.
4. Concrete can also be a good choice for building fire pits or other types of pool fixtures like waterfalls or fountains due to its affordability, versatility, and sturdiness when compared to other materials like wood or stone.
Pool Fire Bowl Design
When you are looking for the perfect fire bowl for your backyard, there are a few things to consider as there are plenty of options to choose from that will help make your backyard one-of-a-kind. One of the most important factors is the style and look that you want to achieve.
When it comes to designs for pools in Philadelphia, or wherever you are in the world, it's important to think about your personal style preferences as well as your practical needs when choosing a fire bowl for your new aquatic retreat. If you're looking for a more traditional look, concrete bowls might be the ideal choice. With their simple and classic shape, these classic fire bowls will create a warm and welcoming ambience, perfect for warm summer nights or cozy winter evenings.
On the other hand, if you prefer a more modern aesthetic, a copper fire bowl sitting on the pool's perimeter wall may work better. There are also fire bowls made from steel and cast iron that are perfect for creating a sleek and chic look in any outdoor space. Round fire bowls in particular are great for pool areas, providing warmth and light while giving your backyard a sleek, contemporary vibe.
Additionally, pool gas fire bowls may be outfitted with a variety of different features such as LED lights, temperature controls, and remote control options that allow you to adjust their settings at the touch of a button.
Consider the size of the fire bowl in relation to the size of your pool. It is important to make sure that the fire bowl is not too small or too large for the space available. Perfectly sized fire features will have a jaw dropping effect on all your visitors.
Pool Fire Bowl Fuel Options
When choosing a fuel source for your fire bowl or other outdoor fire feature, you have two main options: liquid propane (LP) or natural gas (NG). Both have their advantages and disadvantages, so it's important to consider which option is best for your needs.  
Many people are unsure of the difference between LP (liquid propane) and NG (natural gas). Here is a brief overview of the key differences between these two fuels:
LP is a compressed gas that is stored in tanks or cylinders. NG is produced at natural gas wells and then transported through pipelines to homes and businesses.
 NG is generally less expensive than LP, but the price can vary depending on the region.
LP produces more BTUs (British Thermal Units) than NG, so it will create a hotter fire. However, NG flames are generally considered to be more visually appealing.
NG fires are not affected by wind as much as LP fires, making them ideal for use in windy areas.
LP is a portable fuel source that can be easily refilled which offers flexibility in terms of placement due to the fact that they do not require a permanent fuel line. This makes it a good choice for fire features that are used infrequently. However, it can be expensive to operate, and you'll need to store the LP tank somewhere safe.
NG is a permanent fuel source that is connected to your home's existing gas line. This makes it a more convenient option for fire features that are used regularly. However, it can be more expensive to install, and you'll need to have a professional handle the installation.
Overall, both LP and NG are suitable choices for use in a fire bowl. It really comes down to personal preference in terms of which fuel you prefer.
Installing a Pool Gas Fire Bowl
Installing a fire bowl into your pool can be a great way to add interest and ambiance to your entertaining space. Before you get started, there are a few key things that you need to keep in mind.
The first step is to select a location for the fire bowl, either in the center of the pool or off to one side.
Measure the dimensions of the fire pit, as well as the depth of your pool, so that you can choose an appropriately sized bowl for your intended setup.
Next, it's important to mark out where all your electrical and gas lines will go so that you can safely run them without disrupting any other aspects of your pool design.
Once all this prep work is done, all that's left is installing the fire bowl and connecting it to the appropriate gas source.
With these steps in place, you'll be able to create a gorgeous and inviting outdoor living area that is perfect for relaxing by the water on warm summer evenings.
Watch this video showing the steps to install a NG fire bowl.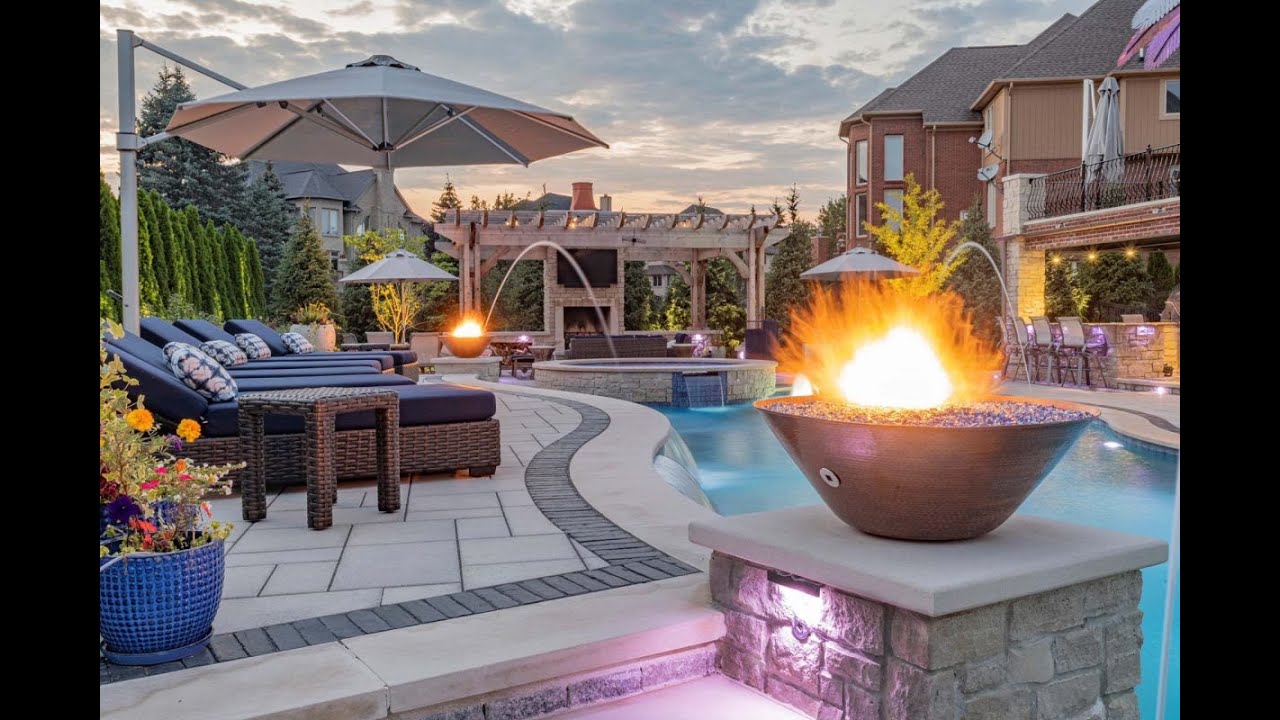 Cleaning & Maintaining a Pool Gas Fire Bowl
Cleaning your gas fire pit is easy and can be done periodically to keep it in tip-top shape. At a minimum, annual cleaning is recommended to avoid any build up of dirt or debris in the burner. This could lead to long-term issues with operation, such as poor performance and heating element reliability.
The easiest way to clean out this area is to let everything cool completely before handling - then spray off all parts including around igniters/burners themselves (just make sure NOT TO SPRAY WATER DIRECTLY onto them!). Lastly wipe down both sides thoroughly.
Next, protect your gas fire pit from harmful elements with a cover. When not in use, make sure you close off any access points so that it does not get contaminated by weather and environmental pollutants
Conclusion
If you're looking for a way to add luxury and relaxation to your backyard pool area, consider adding a fire bowl with water feature. There are many different styles and types of fire bowls available, so you can find the perfect one for your needs.
With a beautiful fire bowl in your backyard haven, you'll be able to enjoy all the benefits that come with having a relaxing outdoor environment. Whether you're looking for something simple and understated or something that captures the eye with its stunning design, the perfect fire bowl is out there waiting to be discovered.
Ready to buy your own pool fire bowl? Check out our selection today.
Commonly Asked Questions About Pool Fire Bowls
What is a pool fire bowl?
A pool fire bowl is a type of decorative outdoor fire pit that is specifically designed to be placed in and around swimming pools. These fire bowls are a unique feature that is gaining in popularity among homeowners and outdoor enthusiasts.
Pool Fire Bowls are typically made from materials like copper, steel, concrete, or cast iron. Fire bowls come in a variety of sizes and styles, making them a popular choice for patio areas, backyards, and other outdoor spaces. They are often installed in groups to create a magical look.
By creating a beautiful and relaxing atmosphere around your swimming pool, a pool fire bowl can help to enhance your outdoor living space and make it the perfect place for entertaining friends and family. So if you're looking for a stunning way to upgrade your backyard, consider investing in a beautiful pool fire bowl today!
How do fire water bowls work?
Fire water bowls are a unique form of fire pit that utilize the qualities of water to create an elegant, yet functional, flame feature. The basic design of these fire water bowls consists of a bowl-shaped container filled with water and fitted with multiple gas jets or spark igniters around its rim. When lit, these jets emit a varying range of flames that can either engulf the entire surface of the bowl, or simply dance above the liquid surface.
The cooling effect of warm water on the flames plays a primary role in creating the spectacular visual effects seen in fire water bowls. Additionally, the constant circulation and mixing created by the movement of water across and around the inner bowl helps to ensure optimal combustion conditions at all points on the surface. As such, fire water bowls offer an impressive display as well as unparalleled safety and efficiency.
For those looking for a soothing soundtrack to accompany these mesmerizing visuals, many fire water bowls come equipped with built-in speakers that can play ambient music or natural sound effects. Overall, there are many different factors that contribute to how a fire water bowl works, but they all combine to create an endlessly fascinating and engaging experience.
So whether you're looking for a stunning focal point for your outdoor space, or simply want to add a bit of ambiance to your next get-together, fire water bowls are a great choice that offer beauty and functionality in equal measure.
How much do fire bowls in a pool cost?
If you're looking for a unique way to light up your pool, fire bowls are a great option. These bowls are typically operated with natural gas or propane, and they can provide a beautiful flame that will add both light and heat to your pool area.
Fire bowls can be placed directly in the pool or on the deck around the pool. High-quality pool fire bowls typically range in price from $1500 to $4000. Installation costs may also be added to the total price.
When deciding whether or not to add fire bowls to your pool, it's important to consider both the cost and the safety of the installation. Fire bowls can add a lot of ambiance to your pool area, but are usually installed by a professional in order to ensure that they are safe.
What are the benefits of having a backyard oasis with a beautiful fire bowl centerpiece
Having a backyard retreat with a fire and water feature offers many benefits for both your physical and mental health. First, the modern pool fire bowls and pool gas fire bowls create a stunning focal point that can help to lift your mood by providing an aesthetically pleasing backdrop for relaxing family gatherings or peaceful solo retreats.
In addition, the gentle sound of water flowing over rocks creates a soothing backdrop for meditation or simply taking some time out to clear your mind after a busy day.
Another key benefit of having this type of backyard oasis is the health benefits of spending time in the calming environment it provides. Studies have shown that simply relaxing in nature has beneficial effects on stress levels and blood pressure, allowing you to recharge both physically and mentally after a long day.
So if you want to enjoy all the perks of modern living with a dash of luxury and relaxation, investing in a backyard sanctuary with fire and water features may be just what you need.
Do fire bowls keep you warm?
The answer to this question depend on a few factors. If you are sitting close to the fire bowl, then you will definitely feel the heat. The further away you are, the less heat you will feel. If there is a strong wind, that can also affect how much heat you feel from the fire bowl.
In general, though, fire bowls do give off enough heat to make a noticeable difference in temperature. But even if you don't feel the direct warmth of the fire, the flickering flames can create a cozy and inviting atmosphere.
So whether you're looking to add a bit of extra warmth to your outdoor space or simply want to enjoy the ambiance of a roaring fire, a fire bowl is a great option.